As Rajasthan goes to polls, one wonders if the state's dwindling cattle trade might play a role in its political future. Rajasthan has a rich history as a cattle trading hub, with cattle fairs in Bharatpur, Jaipur, Pushkar, Ajmer and Alwar attracting dairy farmers from across stateliness, especially from Haryana and Uttar Pradesh. But with a spike in instances of cow vigilantism, the bovine business has taken a hit.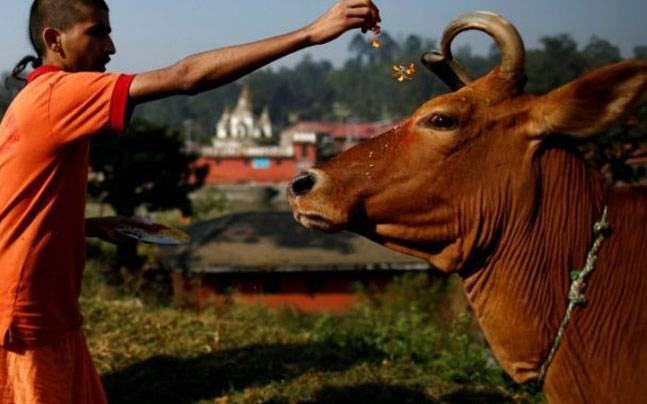 Image: Reuters

Rajasthan's vanishing cattle bazaars
As per the 19th Livestock census 2012, there are 577.32 lakhs Livestock (which include Cattle, buffalo, Sheep, Goat, Horse & Ponies, Mules, Donkeys, Camel, Pig) and 80.24 lakhs Poultry. Dairy cows, bullocks, buffaloes and camels are the most commonly traded animals, though horses and sheep are also traded. Popular govansh (an umbrella term that covers cows, oxen, bullocks and sundry bovines) breeds traded in Rajasthan include Rathi, Kankrej, Nagour, Tharparkar, Sanchori and Mehwati. Murrah is the only buffalo breed traded in the state.

There are 9 major cattle fairs organised across Rajasthan in accordance with State Livestock Fair Act 1963. Apart from Bharatpur and Ajmer, perhaps the most popular animal market the annual Pushkar Fair, that is internationally renowned for its camel market. However, Pushkar is also a marketplace where cows, oxen and bulls are bought and sold. According to the Lokhit Pashu Palan Sansthan, 17,604 animals were sold at the Pushkar fair in 2011 that included 8238 camels, 4403 horses and 4256 cattle. But the number of cattle sold dropped to a measly 8 in 2017!

As per data compiled by Rajasthan's Department of Animal Husbandry, there has been a drop of over 90 per cent in cattle sales between 2012-13 and 2016-17 across Rajasthan's nine state-level livestock fairs. In 2012-13, while 54,423 cattle were brought to the nine state-level fairs, 37,249 of these were sold. In 2016-17, this figure had dropped significantly. Only 10,827 were offered for sale and only 2,973 were bought. As per the same data, cumulative earnings by cattle owners at fairs, which stood at Rs 92.18 crore in 2012-13, dropped to Rs 39.42 crore in 2016-17. Meanwhile, the revenues for the Animal Husbandry Department have also taken a beating. The Department that earns revenue through sales of receipts, made a meagre Rs 1.88 lakhs in 2016-17 as opposed to Rs 7 lakh in 2012-13.

Cow Vigilantism leading to Stray Cattle Menace
Rajasthan has witnessed a series of well documented instances of cow vigilantism and lynching such as Pehlu Khan, Umar Mohammed and most recently Rakhbar alias Akbar Khan. This is why few dairy farmers go cattle shopping in the state. In fact, cow vigilantes have reportedly turned this fear into an extortion racket, where dairy farmers who are taking their newly bought cattle back home are routinely waylaid or lynched unless they cough up a hefty amount to ensure safe travel.

Meanwhile, the inability to get rid of aging and unproductive bovines has meant that many cattle are abandoned by farmers. These stray cattle wreak havoc on standing crops and add to farmer's woes. According to the State government, over 80 per cent of rural families keep livestock in Rajasthan. This is by no means an insignificant vote bank.

So the big question is, if electoral fortunes depend on the blessings of the holy cow, which political party will milk the benefits this election season.