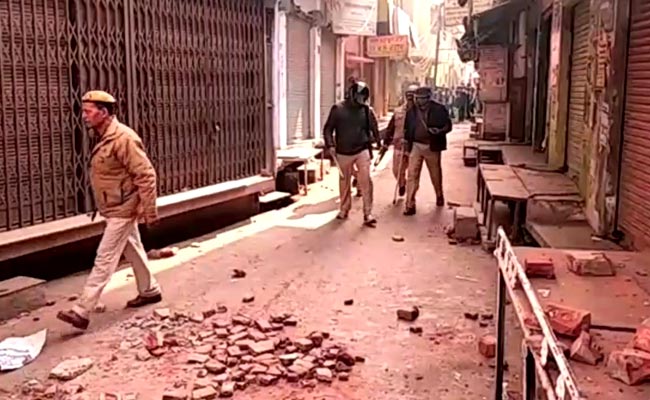 The leader of the Samajwadi Party (SP) MP in the Rajya Sabha, professor Ram Gopal created quite a stir in the Upper House of parliament on Friday, raising the issue of violence in Kasganj and accusing the BJP government in UP of stoking the communal flame. The shouting match that followed resulted in the adjournment of the Rajya Sabha.
Addressing the media after stepping out of the parliament hall, the SP leader asserted: "In Kasganj a Hindu has killed a Hindu but Muslims are being targeted. The police are forcibly entering Muslim homes beating them up and slapping false cases against them". He also alleged that Muslim homes and business premises were being torched in the presence of the police who stood as mute witness.
Gopal slammed the police for accusing Muslims of private firing when it is plain from the video clips accessed by the media as to who was responsible for the private firing in which a Hindu, Chandan Gupta, was killed on Republic Day. He demanded the immediate release of the Muslims, including three brothers from a business family, and action against the actual culprits. Gopal said this was the same demand which he had raised inside the House and exposed the BJP's game-plan which is why the latter raised a din to hide their shame.
When Gopal raised the issue in the Rajya Sabha, the deputy chairperson, PJ Kurian, asked him to issue a notice and seek a reply instead of directly demanding a statement from the government. Given the heated exchanges that followed, the chair decided to adjourn the House.
According to a report in the
Times of India
on January 31, "UP police are studying a
video
that has surfaced, which purportedly shows a group of young men marching towards a Muslim-dominated area in
Kasganj
on the morning of January 26, with guns. Some of them then fire several rounds. The video, shot from the roof of the local tehsil office, also shows many in the group holding clubs and sticks… In the violence that followed, one man was shot dead and two seriously injured." The newspaper claimed to have accessed a copy of the video.
Whatever the merit of the allegations made by Gopal against the perpetrators of communal violence in Kasganj and the role of the police and the ruling party, the fact is that are of a very serious nature. While the allegations have made it to lead news report on the front page of Urdu papers, the rest of the national media appears to have totally ignored it.