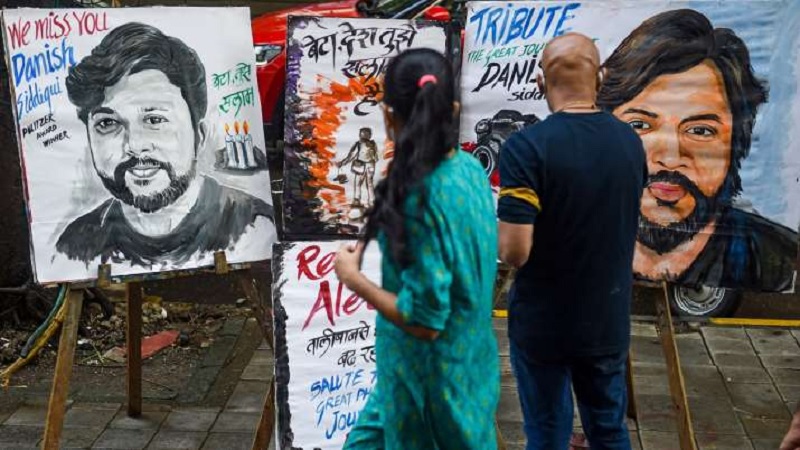 Image Courtesy:indiatvnews.com
While Prime Minister Narendra Modi may not have found time to make a public statement on the brutal killing of Pultizer winning Indian photojournalist Danish Siddiqui, visuals of thousands who gathered at Jamia on Sunday night said more than any official words will. Danish's mortal remains were brought home from Afghanistan, and were laid to rest on Sunday at the Jamia Millia Islamia graveyard in New Delhi. Siddiqui, one of the top photojournalists working with Reuters news agency, was killed on duty while covering clashes between the Afghanistan forces and Taliban in Kandahar.
A sea of mourners gathered to pay their last respects outside his home, and thousands more followed; the images of the final farewell that were shared on social media. Not everyone knew Danish personally, most knew his work however, and the legacy of empathy, fairness, and telling truth to power was the Danish Siddiqui legacy that was evenident. Even the photographs from his funeral were taken with respect, maintaining the dignity of the man and the family that was in deep mourning. There were some top-angle shots, and portraits which seem to reflect his own signature style. Most of all the photographs showed how even in his final moment, a good man can even unite strangers with his legacy of empathy, and humility.
My mind keeps drifting towards Danish Siddiqui. I didn't even know him but it is such a terrible thing to happen. It must be a special kind of person to be in that profession.

— Harsha Bhogle (@bhogleharsha) July 17, 2021
Crowd swelling at Jamia now. Danish Siddiqui's funeral. pic.twitter.com/xuegSipwhE

— Ismat Ara (@IsmatAraa) July 18, 2021
Danish was laid to rest in the neighbourhood where he grew up, as reported by India today, the Jamia graveyard is exclusively meant for university employees, their spouses, and minor children, the university's Vice Chancellor made an exception for the Pulitzer Prize-winning photojournalist. The university stated, "Jamia Millia Islamia (JMI) Vice Chancellor accepted the request of the family of late photojournalist Danish Siddiqui to bury his body at the JMI graveyard meant exclusively for university employees, their spouses and minor child." This venture, too, will have a long standing impact, as his grave will be a constant reminder of his legacy for generations of university students of the future.
Before the burial, Danish Siddiqui's coffin was taken to his Jamia Nagar home, and crowds continued to swell outside despite the sweltering monsoon night. According to reports there was deployment of police personnel in the area. They stayed till the burial was carried out later that night.
Media bodies from across the country have issued statements and held vigils to honour a colleague who practiced the highest standards of journalism.
From the memorial meet for Danish Siddiqui at Press Club of India pic.twitter.com/qTIHeQ4R0Q

— Press Club of India (@PCITweets) July 17, 2021
Today a candlelight vigil was held at Press Club Srinagar in the memory of #DanishSiddiqui pic.twitter.com/102iGeeD2m

— Adnan Bhat (@Adnanmbhat) July 18, 2021
Remembering #DanishSiddiqui at Gauhati Press Club.

Long live true journalism! pic.twitter.com/iJ7GypI8wY

— TRIDEEP LAHKAR (@TrideepL) July 18, 2021
This is what journalism looks like. Not what you see in studios in Noida. #DanishSiddiqui pic.twitter.com/wHYGHRPW4X

— Rohini Singh (@rohini_sgh) July 16, 2021
His alma mater, Jamia Millia Islamia's AJK Mass Communication Research Centre (AJKMCRC) journalism alumni group condolences his passing saying, "We are deeply shocked and saddened by the news of Danish Siddiqui's death. As fellow journalists, we admired his work and celebrated his success. As alumni of AJK MCRC and Jamia Millia Islamia, we are proud of his achievements. He will be remembered not just as an international award-winning photojournalist but also as a human being full of humility and kindness. Many of us have received his guidance and support — both at the university, where he returned frequently for interactions and on the field. Danish's death is a reminder for all media organizations to prioritize journalists' safety. We request the Indian government to support his family in this time of grave loss and help bring his remains back to the country. We extend our condolences to his family and friends. We request everyone to respect his memory by not sharing photographs of his body. Please preserve his dignity in death."
The Committee to Protect Journalists (CPJ) has stated, "Afghan authorities must conduct a swift and thorough investigation into the killing of Reuters photojournalist Danish Siddiqui and do everything in their power to protect members of the press." According to CPJ, Reuters President Michael Friedenberg and editor-in-chief Alessandra Galloni wrote that the agency was "urgently seeking more information" about the circumstances surrounding the journalist's death. Steven Butler, CPJ's Asia program coordinator, in Washington, D.C, was quoted in the report saying, "Combatants need to take responsibility for safeguarding journalists, as dozens of journalists have been killed in this conflict, with little or no accountability."
#Afghanistan: Authorities must conduct a swift and thorough investigation into the killing of @Reuters photojournalist Danish Siddiqui and do everything in their power to protect members of the press.https://t.co/5Yaw1Ceh8u

— CPJ Asia (@CPJAsia) July 16, 2021
Goodbye Danish Siddiqui!
Rest in peace ?
Your commitment shall keep inspiring us forever. Your contribution is immense and your pathbreaking pictures have immortalised you above these mortal remains.
Prayers for the family to bear this loss.#DanishSiddiqui #photojournalist pic.twitter.com/vP1T2WmjRv

— Ravi Choudhary (@choudharyview) July 19, 2021
The last picture of Danish Siddiqui.
Khuda Hafiz, Danish !

PC @Khanaa_badosh pic.twitter.com/QnUIPY99rX

— Arfa Khanum Sherwani (@khanumarfa) July 18, 2021
Related:
Danish Siddiqui's photojournalism captured the soul of the news
Jesuits of India, journalists and academics bid Fr Stan Swamy an emotional farewell
CJP assists sister Kavitha move SC in Gauri Lankesh murder case
From newsrooms to courtrooms
Press Freedom in India – 2021: A half-yearly report