A study of Parliamentary Constituencies reveals that the Opposition could win 133/543 Seats if the serious implementation of Forest Rights under FRA 2006 are made a campaign issue

Image Courtesy: insightsonindia
Poor implementation of the Forest Rights Act, which 
legalises
the land rights of India's 200 million forest dwellers, could be, if made into a vibrant election issue, become a deciding factor in how a fourth, i.e. 25 per cent (133 of 543) constituencies vote in the coming general election. A detailed analysis by the Community Forest resource-Learning and Advocacy Network is illuminating.
In 2014, of constituencies with a large tribal population, as many as 59 % had voted for the Bharatiya Janata Party (BJP). However the conduct of the NDA II government at the centre and the BJP-RSS ruled governments in several states –coupled with very real fears of eviction of forest dwellers from their homes, following a
Supreme Court order (February 13, 2019),
during which the Centre was sharply
criticised
 for its silence during the prolonged proceedings, could push voters towards opposition parties.
That is, if the Opposition consisting of regional parties in some states and the Indian National Congress in others makes a firm commitment on the implementation of the Act and a political push back against the
regressive Supreme Court Order
.  
The Parliamentary Constituencies falling in the first four categorieshave Forest Rights Act as a core issue, which can significantly influence winning margins in these constituencies. There are 133 such Constituencies across the mainland India ………. There are another 124 Constituencies where potential Forest Rights Act rights holders constitute between 10-20% of the eligible voters. In these constituencies, FRA issue can play an important role, in influencing voters,though it is may not be a core issue.  
Value of FRA as an electoral factor
No. of Seats
BJP
INC
Others
Won
2nd
Won
2nd
Won
2nd
Critical Value
30
21
3
0
21
9
5
High Value
20
12
7
1
9
7
4
Good Value
35
18
2
2
22
15
11
Medium Value
48
28
4
2
31
18
14
Total No. of Constituencies where FRA is a core factor (at least 20% voters are also potential Forest Rights Act Rightholders)
133
79
16
5
83
49
34
Constituencies where FRA is a marginal buts substantive issue
124
71
14
11
52
42
58
In the 133 Core constituencies for Forest Rights Act, the current ruling party won as many as 79 PCs in 2014, while the closest Opposition party won a measly 5 PCs though they remain in the running in these 133 constituencies, as it came in 2
nd
in 83 out of 133 constituencies. Other parties won 49 seats, mostly in Odisha, AP, Telangana, Maharashtra and West Bengal. The breakup of others who won in these seats are BJD (17), Shiv Sena (6), TRS (6) and YSSRC (5), AITC (4).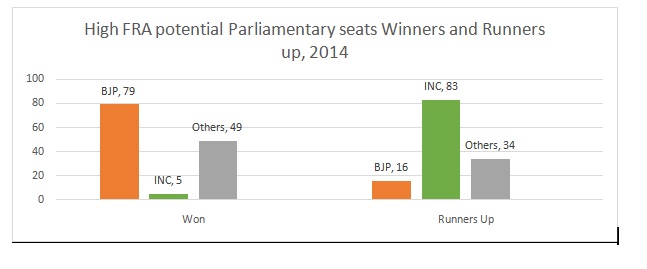 Within these 133 core FRA constituencies, two of India's leading national parties, INC and BJP ran directly against each other in as many as 68 seats, of which INC won only 3.One may safely saythat these 68 constituencies can be decisive in influencing next government formation.
A statewide breakup of the 68 Core FRA PC Constituencies where BJP and INC run against each other is as below:
| | | | |
| --- | --- | --- | --- |
| State | No of Core FRA Constituencies | Won by BJP | Won By INC |
| Chhattisgarh | 8 | 8 | 0 |
| Gujarat | 7 | 7 | 0 |
| Himachal | 4 | 4 | 0 |
| Jharkhand | 4 | 4 | 0 |
| Karnataka | 7 | 6 | 1 |
| Madhya Pradesh | 16 | 14 | 2 |
| Maharashtra | 8 | 8 | 0 |
| Rajasthan | 11 | 11 | 0 |
| Uttarakhand | 3 | 3 | 0 |
In four of the above states, the incumbent BJP state government has been voted out in 2018, implying that these states have become competitive in the Lok Sabha elections also
. In that context, ability to leverage proper implementation of Forest Rights Act becomes extremely crucial. At least in Chhattisgarh, even during the assembly elections, the Opposition party had made poor implementation of FRA as a key issue and this was an important factor in its resounding success.
This was not replicated in MP and Rajasthan by the same Opposition Party with the same strength and vehemence – the FRA remained a small part of the manifesto, and likely therefore the margin of victory for them was very poor.
Also Read:
The Constituencies where a Campaign for Forest Rights could have an Impact: 2019
Except Maharashtra and to some extent Gujarat, FRA implementation in BJP ruled states such as Jharkhand, UK and HP has been shoddy and aimed to subvert the intent of the law. Combined with MOEFCC/Forest bureaucracy led efforts at diluting FRA through CAF Act, the Draft National Forest Policy, changes in Land Acquisition Laws (LARR) have resulted in a dilution of the impact of this emancipatory law.
Parliamentary Constituencies reserved for Scheduled Tribes 
There are
36 ST seats in the mainland Indian states
(excluding NE, L&K and the Islands).  The current ruling dispensation won most of the ST seats and therefore has the most to lose, if FRA which is a core issue in all these constituencies, is raised effectively to be a factor of voting. Combined with MOEFCC/Forest bureaucracy led efforts at diluting FRA through CAF Act, the Draft National Forest Policy, changes in LARR, current ruling dispensation can be put on the back foot to a campaign based around Forest Rights, land rights and transfer payments of CAMPA and other green economy funds.  
| | | |
| --- | --- | --- |
| Party | Won | Runners Up |
| BJP | 25 | 5 |
| INC | 1 | 24 |
| Others | 10 | 7 |
Political parties challenging the incumbent have everything to gain in ST constituencies by using the forest rights and land rights as a core campaign issue. Non BJP parties won only 1 ST seats, but was runner up in 24 of the ST seat in 2014. The campaign issues in these seats, especially the ones in mainland India, would be effective implementation of FRA, specially community rights, implementation of PESA, transfer payments of green funds
[2]
(including CAMPA money) to Gram Sabhas for forest and commons restoration directly, withdrawal of forest cases, effective price for MFPs etc. Given the poor record of incumbent governments, this approach will likely let parties win the majority of ST seats if it makes these issues a central plank in its campaign.
Note:
This analysis is based on two sources of data- the Election Commission data on 2014 Parliamentary  Constituency (PC) results and the PC Wise FRA potential based on Census data (2011) and includes all forest area located inside village boundaries. The assumptions made during calculating FRA potential are in the footnotes
[3]
. The data has been compiled by CFR_LA - (which is a list serve), which is helping collate all data and build the narrative at election time.
The parliamentary constituencies have been categorized in five categories as per the value of FRA as potential influencing factor in the elections, namely Critical Value; High Value; Good Value; Medium Value and Marginal Value. The criteria for the same are provided in the annexure. Based on the data,the following observation are available for the mainland India states accounting for 517 Parliamentary Constituencies (excluding the North-East India, J&K, A&N and Lakshadweep.) The detailed tables are provided in the Annex, with statewise information.
The importance of Forest Rights Act and its transformative potential for securing rights and livelihoods of millions of poorest tribal and forest dwellers remains understated in the political discourse and electoral process. Even though FRA's potential has been unmet (with implementation limited to only 5-10% of the potential), but still ithas emerged as the most important
pro-poorland reforms
in India's history, transforming the life of millions of poorest tribal and forest dwellers. The Community Forest Resource (CFR)Rights provision of FRA is even more revolutionary in replacing the colonial forest governance by a people centered, democratic forest governance. Wherever implemented properly as in Gadachiroli district, Community Forest Resource (CFR) Rights Recognition has dramatically transformed rural economies.  
Unfortunately, in most states Forest Rights Act remains very poorly implemented due to lack of political focus and sometimes necessary political will coupled with extreme opposition by forest bureaucracy. As per various estimates, at least
40 m ha of
forest land (more than 50% of forest area) can be vested as CFRs with Gram Sabhas, securing rights and livelihoods of at
least 20 crore people
, including almost
9 crore
tribals. At least
one fourth of the villages in the country (170,000)
are eligible for CFR rights. The majority of districts with a high number of villages eligible to claim CFR are located in tribal majority and poverty-stricken regions, and face conflicts over land and resources.
Also Read:
Focused campaigning around Forest Rights, land rights and transfer payments of CAMPA and other green economy funds is crucial. This likely will extract a major price from the current dispensation in the forested constituencies.  
Related Articles:
1. Tribal rights unions release charter of
demands against the attack on FRA
2. Former civil servant offers a solution to protect
ST's and FRA, here's what he suggests
[1]
AT least 20% of the eligible voters are also potential Forest Rights Act rightsholders, mainly collective rights  
[2]
Transfer payment to Gram Sabhas for forest protection and restoration: We assume that Rs. 2000/year/ha. would be transferred to the Gram Sabha accounts for their protection of forests; additional costs of plantations/other activities will be over and above this. The funds will come from the Rs. 60,000 CAMPA money and other schemes of greening India.  We estimate that this would transfer at least Rs. 5,000 crores directly to tribal and forest dweller Gram Sabhas for effective and sustainable forest protection and management.  
[3]
All inhabitants of villages having forest areas inside the village cadastral boundary are treated as forest rights holders (for Community rights, specially Community Forest Resource Rights which provides power to govern and manage CFRs). The community rights are also applicable to most of the forests outside village boundaries- however making an estimation of such forest areas is relatively more difficult. This is the reason why we use the term minimum FRA potential