On Thursday, April 11, Wikileaks co-founder Julian Assange was arrested from the Ecuadorian embassy in London, after Ecuador withdrew his asylum. CNN reported that Assange was presented at London's Westminster Magistrate's court, where he appeared "calm and confident".
Assange sought asylum
 seven years ago to avoid extradition to Sweden over a sexual assault case that was later dropped.
Although Ecuador President Lenin Moreno 
said
 that the asylum was withdrawn after "repeated violations of international conventions," Wikileaks 
tweeted
 that Ecuador acted illegally in terminating Assange's political asylum "in violation of international law". The organisation's official Twitter handle had, 
on April 5, tweeted
 that Assange would be "expelled within 'hours or days' using the #INAPapers offshore scandal as a pretext," citing a high-level source within the Ecuadorian state, and saying that Ecuador already had an agreement with the United Kingdom for his arrest. 
 The United States' Department of Justice confirmed that Assange had been indicted over a conspiracy with former US intelligence analyst Chelsea Manning to commit computer intrusion in 2010.
US prosecutors have alleged that Assange "engaged in a conspiracy with Chelsea Manning, a former intelligence analyst in the US Army, to assist Manning in cracking a password" on classified Department of Defence (DoD) computer systems, CNN reported. 
Sweden's Prosecution Authority also
 said
 in a statement that it may re-open its sexual assault probe into Assange.
Assange is an Australian national, and set up Wikileaks in 2006 with the 
aim of "obtaining and publishing"
 confidential documents and images. In 2010, it released footages of US soldiers killing civilians from a helicopter in Iraq.
Many tweeted in support of Assange: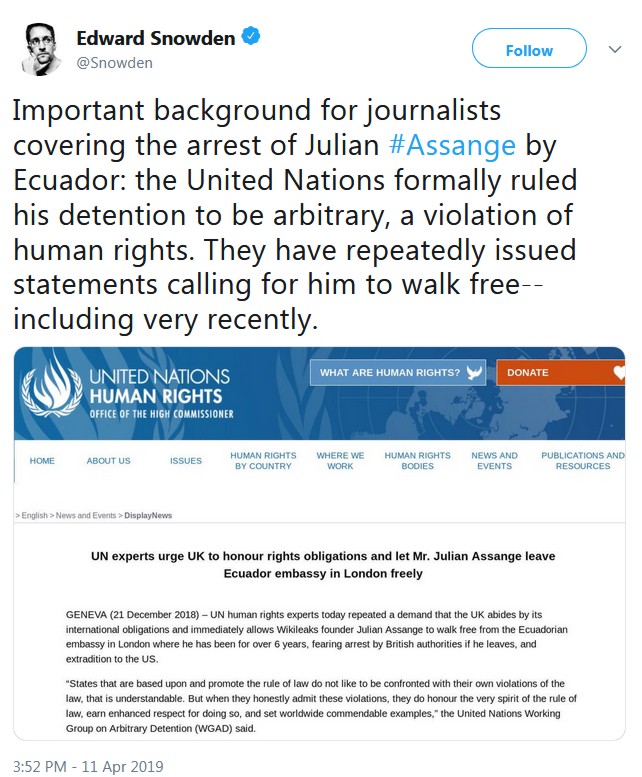 The Intercept's Glenn Greenwald called the move "criminalization of journalism"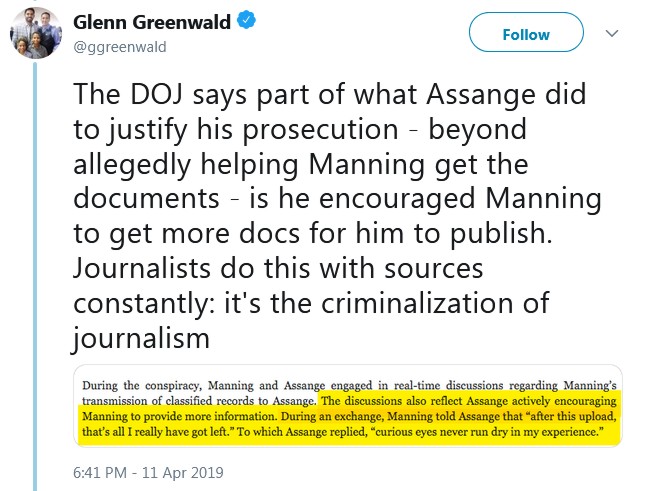 Assange's attorney in the US, Barry Pollack, said: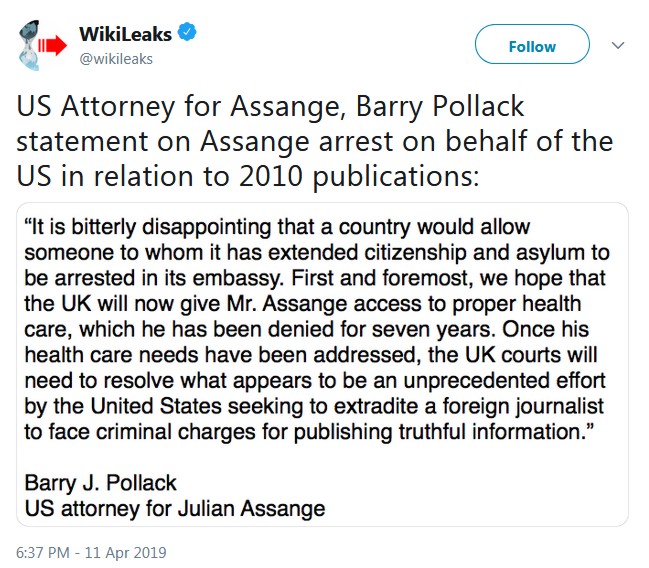 Chelsea Manning a former soldier in the US Army, was arrested in 2010, and convicted in 2013 for 
releasing nearly 750,000
 classified, and unclassified but sensitive, military and diplomatic documents to Wikileaks. Her sentence was commuted in January 2017, but in March 2019, she was 
once again imprisoned
 for refusing to testify before a grand jury investigating Wikileaks.