For decades, the people of Assam have been held ransom to the politics of exclusion, even outright hate. The ongoing citizenship crisis has caused its own share of schisms. Of late, especially since the change of political guard since 2016, hate has been spewed by elected officials. The north eastern state with 61.47% Hindu and around 34.22% Muslim population, throws up powerful tales of denial and discrimination as genuine Indian citizens face an unaccountable state on issues of NRC exckusion, the "D" Voter list (Doubtful voters declared by lower down officials of the Election Commission) and the ever rampant 'Declared Foreigners' notice by the Assam Border Police. CJPO's intrepid Team Assam has been intervening every day each week, converting despair into hope as month on month, thanks to para legal aid and cases fought in the Foreigners Tribunals and even constitutional courts, individuals of varying ethnicity, are declared (after onerous legal battles) Indian.
According to the population census there are just nine (of the total of 33 districts) where the Muslims are in a majority. A state rich in tea estates (fields) and the folk culture of Bodo, Mishing, Phake, Dimasa, Kachari, Khamti, Khamyang, Khelma, Rahba, Tai Aiton, Goriya and other tea-tribes owns up unique local cultures, where people weave the threads of a syncretic canopy.
In the Bodwa Chowk locality of Shivsagar two Muslim men planned the Hajj pilgrimage, which is regarded as one of the mandatory religious duties. There is a tradition of greeting the Hajjis before their departure and then after arrival with token gifts and warm wishes. Friends and relatives meet and wish them to express joy and request for special prayers.
Remarkably, the Hindu well-wishers of the Bodwa Chowk invited Hqajjis on an auspicious feast and presented the traditional 'Gamchha' to compliment them for this devout accomplishment. As reported here, the Hindu community of the Bodwa Chowk also organised a pooja on the feast day. This gesture of humanity and affection to respect and accept different faiths is poignant. Iliyas Ahmad, a leader from the social organisation 'Khudai Khidmatgar' said 'It's a slap on the face of people who spread hate.'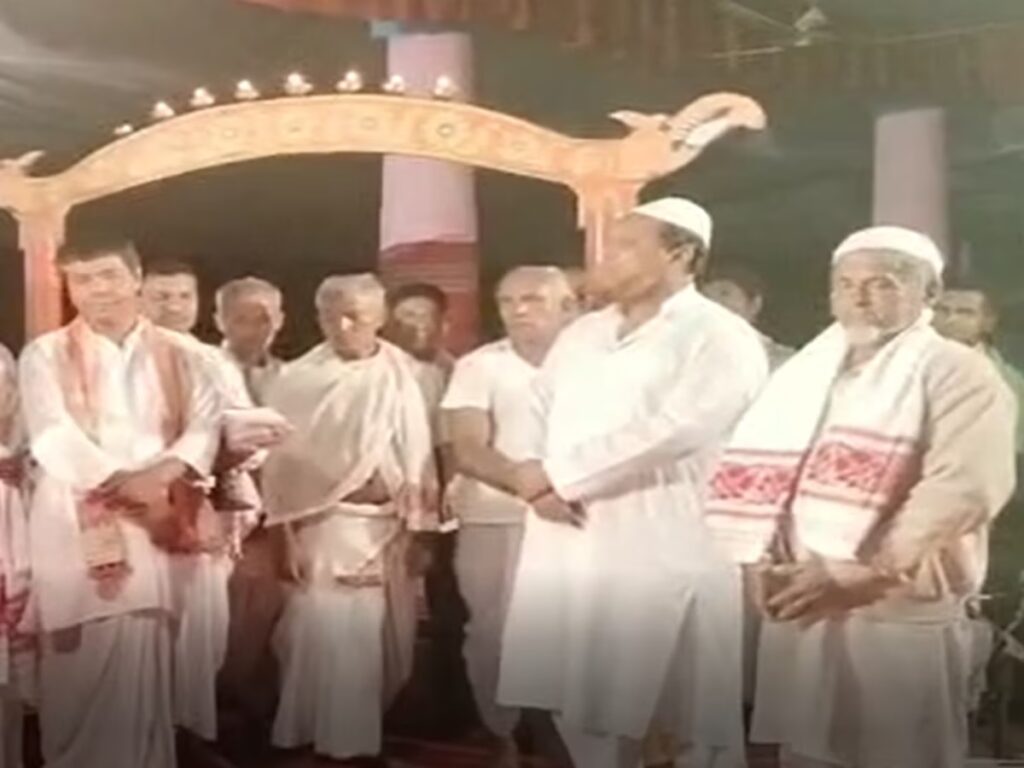 According to a report of The Asian Age, an Auto-rickshaw driver in Hailakandi, Assam has often crossed the curfew-restrictions to save two lives. While the breaking of an imposed curfew is not a lawful activity but what if it can become a saviour of humanity? Maqbool, a real-life hero of love and harmony, reached and picked the pregnant lady Nandita and her husband Ruben Das when she was going through pain and Ruben was not able to manage a vehicle. At such a critical time, Maqbool arrived with his auto-rickshaw and took them to the nearest hospital. Everyone has greeted and appreciated his step. Later Nandita gave birth to a beautiful daughter and named her 'Shanti'. She told 'We need more such examples of Hindu-Muslim unity.'
Curfew is usually declared at times where police authorities consider it necessary as there is a breakdown of social harmony or 'law and order.' The hope generated by down to earth Maqbool itself serves as an example to restore the peace.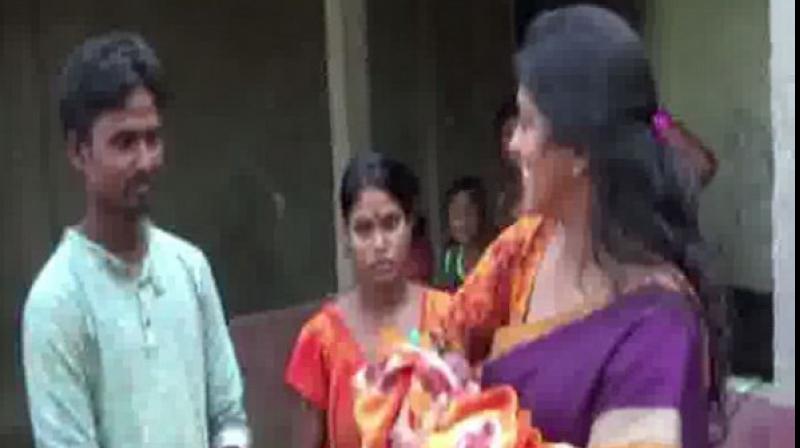 Have Muslims constructed temples? Visit Dhubri district in Assam where is located the ancient Durga temple, refurbished by Amrit Badshah in 2022. An absence of regular maintenance meant that this temple needed an urgent renovation. Hence the young social activist Amrit took this task on. He stated – 'I had publicly announced that whatever repair, construction left for this particular Durga Temple, I will do diligently.'
He works as a secretary at the Assam Pradesh Congress Committee. While hate and venom are spewed by some, such examples are the best deterrant. Temples and mosques are more than mere religious edifices. These centres of social and religious gatherings, represent local and religious cultures, dear to different sections of the population.
Again here, people come forward for each other. Vashishta Sharma from the district Barpeta has donated 5 Bigha land to the Jama Masjid of Mandiya for a Qabristan. Local Muslims and Hindus have whole-heartedly hailed his decision. In the 21st century when people contest every patch of land, this generous act stands out as a shining exception.
The egalitarian celebrations of Rongali Bihu and Azan Fakir-
Rongali Bihu or Bohag Bihu is a widely celebrated festival of Assam which welcomes the season of spring, The Assamese New Year! It also lends a festive frame to relish the religious and folk diversity. Muslims actively participate. Bihu celebrations are divided over separate days, with a distinct ritual for each day.
On 'Goru Bihu' people take their cows to the nearby ponds or rivers while Mela Bihu, Sera Bihu, Kutum Bihu, Raati Bihu, Sot Bihu and Manuh Bihu are celebrated with folk music, dance and songs followed by particular formalities. The Sera Bihu is celebrated on the last day of the festival when people accumulate for further resolutions and end-day rites. The Bihu not just preserves the spirit of Assamese tribes but Muslims are also a part of the inclusive ethos.
The Azan Fakir, a Sufi saint and poet of Assam who initiated the lyrical tradition of the famous 'Zikr' and 'Zari' songs is broadly sung during the Bihu carnival. These devotional songs have been alluring the masses through its magnetic sense of spirituality. Till now the Bihu organising committees manage distinct sessions to cherish this evergreen tradition. Fakir was a Muslim who invigorated the dismantling situation of the Assamese Muslims but he also understood the worth of a pluralistic society. The shards of multiplicity still gleam between his melodious words of sagacity.
These local traditions continue to draw in different communities.
The Jama Masjid of Jayantipur, Nagaon, built in early 1570 is considered among the very first Islamic edifices of India. Assam holds a long history of Muslims spread over almost seven decades. The marring of the social landscape by the discourse of "illegal migrants" has considerably exacerbated the ongoing citizenship crisis.
This has been made worse by hate being spewed by those in power. CJP (Citizens for Justice and Peace) has also taken note of a programme of 'Times Now' and registered a complaint on April 12, 2023, where the presenter manipulated the audience to strengthen the 'Mazar Jihad' propaganda.
The fact that real life fraternity and harmony continues to thrive among citizens is what offers hope, in Assam and all over India. 
Related:
India celebrates Durga-Pooja with zest, air of religious unity rules the country
Everyday Harmony: Muslim Man Risks Life to Save a Hindu Girl from Drowning In Madhya Pradesh
Love & Harmony over Hate: Int'l Day to Counter Hate speech, CJP's unique efforts
An oasis of Sufi harmony, Hazrat Nizamuddin's tomb stands out