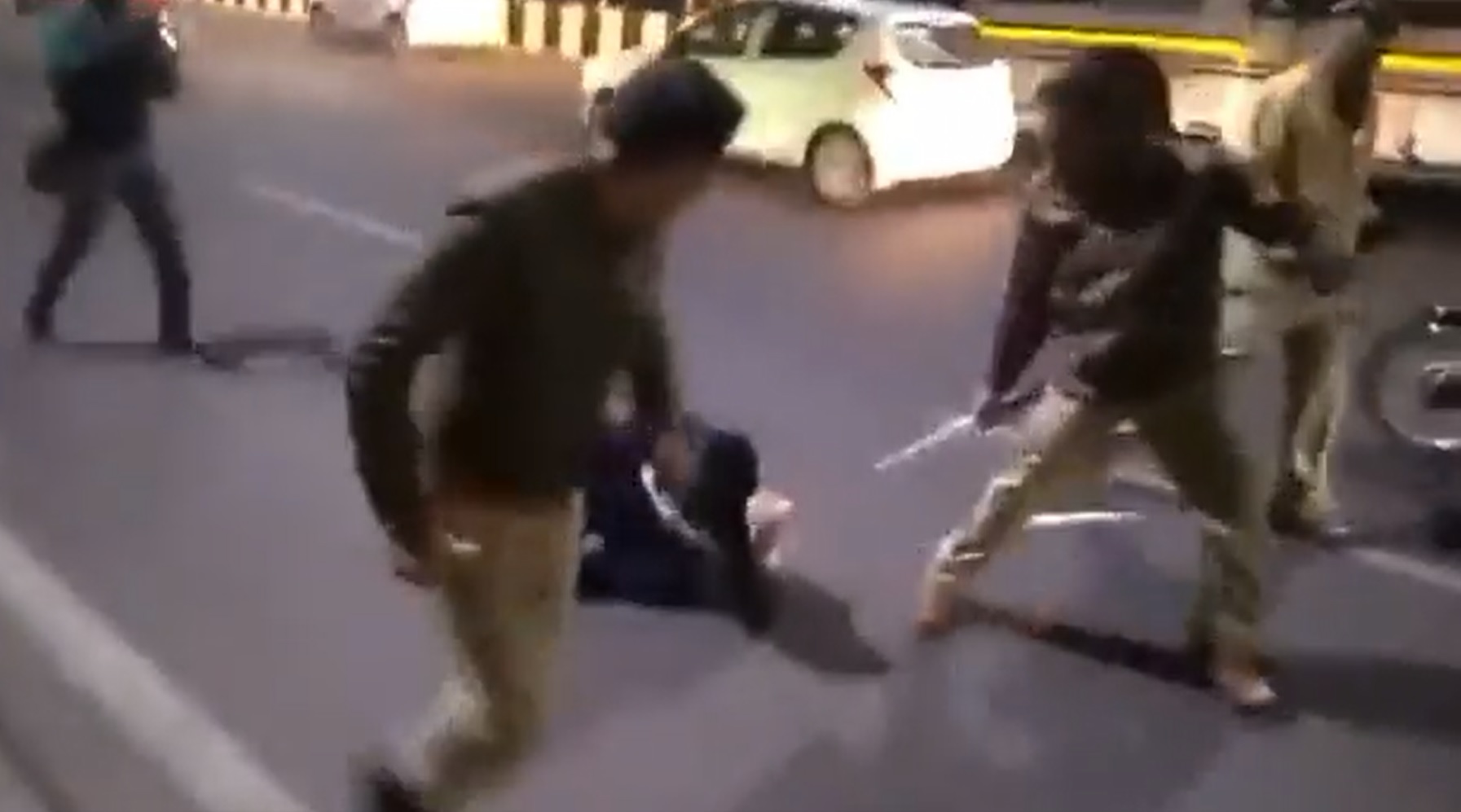 Image: screengrab
In yet another deplorable example on the state of the education sector in Uttar Pradesh, aspirant teachers have engaged in state-wide protests to condemn recruitment irregularities and the brutal lathi-charge on individuals observing a candle march on December 5, 2021.
On Sunday, a large group of hopeful teachers gathered in Lucknow to condemn the infamous irregularities in the 2019 Uttar Pradesh exam that was to recruit 69,000 assistant teachers across UP. The recruitment drive initiated prior to the global pandemic was much anticipated by the youth but proved to be disappointing when the process was accused of bias and irregularities, including issues in the allocation of quotas in the merit list of selected candidates, reported NewsClick.
As the second wave of the pandemic subsided, the aspirants resolved to step out on the streets and demand their dues from the BJP-led UP government. However, the peaceful protesters ended up facing heavy police lathi-charge. The incident has sparked huge outrage among Opposition party leaders and the masses.
यूपी में 69 हजार शिक्षक भर्ती के पुराने व लम्बित मामले को लेकर लखनऊ में कल रात शान्तिपूर्ण कैंडल मार्च निकालने वाले सैकड़ों युवाओं पर पुलिस लाठीचार्ज करके घायल करना निन्दनीय व अत्यंत दुःखद!

रोज़गार माँगने वालों को #UP सरकार ने लाठियाँ दीं-
जब भाजपा वोट माँगने आए तो याद रखना! pic.twitter.com/urnmQ9QWTC

— SANYUKT VIKAS Party (Official Profile) (@SanyuktVikas) December 5, 2021
Bahujan Samaj Party (BSP) leader Mayawati tweeted in Hindi on the same day, "It is very sad and condemnable to injure hundreds of youths, who took out a peaceful candle march in the capital Lucknow last night by lathi-charge, regarding the old and pending case of recruitment of 69 thousand teachers in UP. The government should immediately consider their legitimate demands sympathetically, this demand of BSP."
यूपी में 69 हजार शिक्षक भर्ती के पुराने व लम्बित मामले को लेकर राजधानी लखनऊ में कल रात शान्तिपूर्ण कैंडल मार्च निकालने वाले सैकड़ों युवाओं का पुलिस लाठीचार्ज करके घायल करना अति-दुःखद व निन्दनीय। सरकार इनकी जायज़ माँगों पर तुरन्त सहानुभूतिपूर्वक विचार करे, बीएसपी की यह माँग।

— Mayawati (@Mayawati) December 5, 2021
Similarly, Congress leader Rahul Gandhi condemned the incident on twitter by writing in Hindi, "The UP government served lathi-charge to those seeking employment – Remember when BJP comes to ask for votes!"
Moreover, even BJP's own members like Varun Gandhi spoke out against the attack on unarmed dissenters.
ये बच्चे भी मां भारती के लाल हैं, इनकी बात मानना तो दूर, कोई सुनने को तैयार नहीं है। इस पर भी इनके ऊपर ये बर्बर लाठीचार्ज।

अपने दिल पर हाथ रखकर सोचिए क्या ये आपके बच्चे होते तो इनके साथ यही व्यवहार होता??

आपके पास रिक्तियां भी हैं और योग्य अभ्यर्थी भी, तो भर्तियां क्यों नहीं?? pic.twitter.com/6F67ZDJgzW

— Varun Gandhi (@varungandhi80) December 5, 2021
"These children are also of Mother India. Far from accepting their demands, no one is ready to listen. On top of that, this barbaric lathi charge! You have vacancies as well as qualified candidates, so why not recruits??" he asked in a tweet.
Regarding this persisting issue of vacancies, Scheduled Castes and Other Backward Classes (OBC) folk have been protesting for the last two years. Protesters have demanded that the 22,000 teaching posts of 69,000 vacancies for assistant teachers should be opened for recruitment once again.
As per the reservation policy, OBC candidates should account for 27 percent of the total vacancies when in reality only 4 percent were filled at the time. Similarly, SC candidates accounted for 16 percent of the vacancies instead of the mandated 22 percent.
Keeping up with their promise, the injured protesters headed towards the Eco Garden while more dharnas cropped up in other parts.
Earlier this year, the education sector already suffered a heavy blow when over 1,600 teachers and sector-related workers died while carrying out gram panchayat election duties. Primary school teachers across the state have complained about the heavy strain on public school teachers who are in some regions left in-charge of entire schools.
The impact of such delay in recruitment can now be seen in horrifying stories like the Muzaffarnagar incident where 17 girls were drugged and molested by a private school principal and another public school principal whose institution does not have the credentials to be called a high school.
Similarly, members of the UP Mahila Shikshak Sangh and UP Primary Teachers Association have informed that some teachers continue to hold multi-grade classes in a single classroom because rural schools suffer a severe shortage of sufficient teachers and staff.
"It is important to ensure one teacher per class of 30 students. UP has a longstanding ritual of multiple classes in one room," said UP activist Chaturanan Ojha in earlier talks with Sabrang India
Related:
Direct funds to guardians solves nothing: UP activists on gov't education
Increase in gov't school enrolment meaningless if facilities not improved: UP teachers on ASER data
Families of deceased UP teachers still waiting for ex-gratia payment
UP: Mahila Shikshak Sangh demands monthly 3-day period leave
UP: 1,621 people on polling duty dead, but gov't recognises only 3!