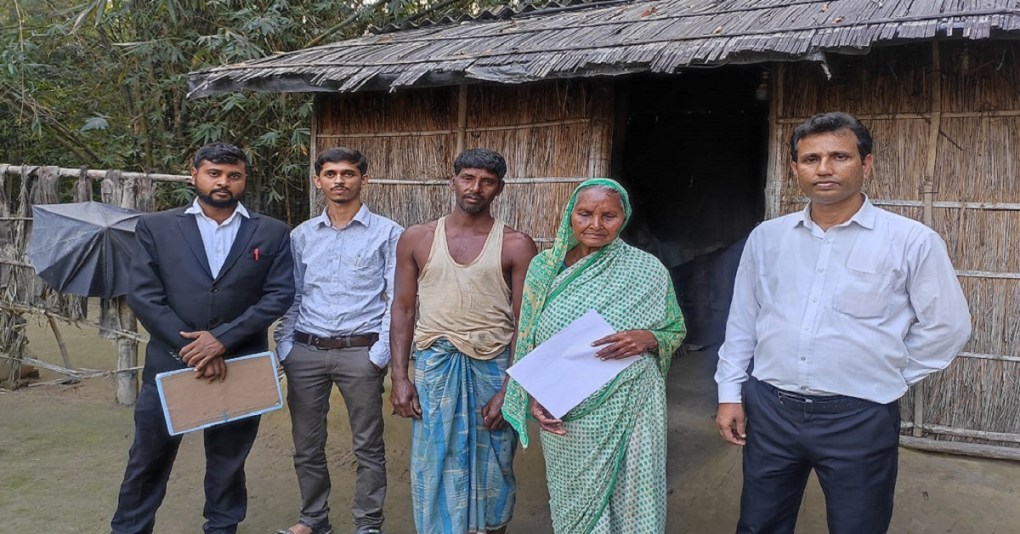 Fajiran is a symbol of suffering and deprivation by the state but with the CJP's Team Assam by her side, she regained hope and a life, declared Indian!
In yet another victory for Citizens for Justice and Peace (CJP), a resident of Assam, who had been "suspected of being a foreigner" by a Foreigners' Tribunal (FT) in Bongaigoan District, Assam, has finally been declared an Indian Citizen!
A 78-year-old elderly widow, born before India became independent, Fajiran Bewa D/O late Dhanda Sheikh and wife of (w/o) the late Naser ALI @ Naser Sheikh is a resident of the Hapachara village that falls under the Bongaigoan District of Assam. Early this year, in February 2022, she received the dreaded "notice "sent by Foreigners Tribunal number 1 of the Bongaigoan District through Bongaigoan Border Police. What did it say? That she was a "suspected foreigner" and now had to devote all her energies to "prove" that she is an Indian Citizen.
Fajiran's case is tragically similar to hundreds of thousands of others. Hapless individuals like Lakhan Das (who also recently proved his citizenship –as an Indian—before a FT– with the help of CJP's Team Assam. These are women and men, who have not only lost their homes to natural calamities like floods and river erosion, but have, thereafter suffered a second blow– unilaterally declared stateless. That is the humanitarian crisis that stalks Assam.
Fajiran Bewa received the notice as a "suspected foreigners" from the Bongaigoan FT in February 2022, 18 years after a case was had been "registered" against her , in 2004! Now question is that should not such a case be barred by the law of limitation?
Now here are the facts of the case. Fajiran Nessa@ Fajiran Bewa was born in the year 1944 at village Dankinamari of the then Goalpara district and presently Bongaigaon district and brought up in same village.Her father's name is Dhanda Sheikh and mother's name is Sabiran Nessa. Both Fajiran's grandfather, grandmother and parents too, have expired long ago. Even her two brother Sayed Ali and Hajrat Ali are no more.
In 1962, 60 plus years ago, at the age of 18 years she was married to Naser Ali, the son of Hussain Sheikh from the village, Garugoan of the present Bongaigoan District. Since the year 1997 she lives along with her husband and other family members of her husband in the village of Hapachara. Due to the unfortunate circumstances of erosion of the river, she along with her other family members shifted to a the nearby village Hapachara –a common enough practice for those who live in the fragile riverine areas of the state. To date, she is living at the same village of Hapachara.
Fajiran Nessa lost her husband in 1984. Her troubles were far from over. During the Assam movement (1979-1985), her house was set ablaze, after which she even had to take shelter with her family at a temporary camp set up by administration. After this, this, and her family had to resettle again at the same village.
A long time passed thereafter. They lived a life of few means, mired in poverty and ill-health. In the midst of everyday struggles in early 2022, came the "suspected foreigner notice(s)" from the FT and the Border police! "This was very painful for me, Baba", Fajiran told one of the team members of CJP.
Even though Fajiran has been a regular voter, she was still required to prove her citizenship! Her legal battle started with the support of CJP. The first step was to submit relevant documentation before the Bongaigoan Foreigners Tribunal, material which had been reviewed by CJP's legal team member, Advocate Dewan Abdur Rahim and another advocate affiliated with CJP, Sohidur Rahman.
A life of several years of struggle had cause severe health issues for Fajiran. She had begun living a comparatively normal life when she was struck with shock over the notice from the foreigners' tribunal, increasing mental pressure. This time the CJP Team extended a helping hand to her.
We fought a legal battle for her and finally handed over the copy of the judgement declaring her to be an Indian last week, December 16, 2022.
Fajiran was immeasurably happy that day. She offered prayers of gratitude for Team CJP. On December 16, as our team visited her with a copy of the judgement, she became very emotional remembering her past. Especially about the horrors of the years of the Assam movement!
She recalled, "That day was the day of the elections. We heard that some villages had been burnt over the past few days. My husband and some relatives wanted to go off to another "safer" place. But I did not agree to leave the house because we have much paddy and cows. "
She added, "But the next day, when miscreants burnt many houses in this area, then, I too, ran away from the house fearing for myself and my children's life. I left behind my illusions and all my worldly belongings. After we fled, we stayed in the camp for about a month." Pointing towards the tin sheets above, she said, ""This are the tin sheets. We were later given Rs 2,000 and three dozen tins from the government. But this was not enough to rehabilitate us…When we left my home behind we left behind five or six rooms; several of these stored paddy and rice. We had so much, furniture and all. In one stroke, everything was finished. Everything was burnt to ashes," Fajiran's account faltered as she recalled the horror of that moment. Then she went on, "Many were killed at that time! In our area too, a man was killed in a brutal manner: first his mouth was gagged by a cloth, his hands tied with ropes, then both his legs were cut off!" Those memories still scare Fajiran. "I used to hear that it was "Bangladeshi Khedau "movement.
"When I received this notice in February this year, I was so afraid because of this past," said Fajiran.
Quiet for some moments, she then broke into a smile, "Today you have come with this paper and told that no one will call me "Bangladeshi" anymore! I feel so much at peace with that!"
I pray to Allah to bless you baba and pray also that you continue to work for people in this way."
Fajiran bi, Lakhan Das, Nur Islam, Momtaz Begum, our work in Assam, across barriers of ethnicity and religion assures basic citizenship rights to the most marginalised.
The order of the Foreigner Tribunal may be read here:
Related:
CJP helps another hapless Muslim individual in securing bail: Gauhati HC
EXCLUSIVE: Foreigners' Tribunal notices pasted on electricity poles in Assam!
CJP helping a daughter secure her mother's release from Assam detention camp
CJP Impact: 34th person walks out of Assam Detention Camp
Overcoming trauma together: CJP in Assam
Victory! Mojibor Sheikh released from Assam Detention Centre with CJP's help
Have somehow kept the kitchen fires burning: Wife of Assam man declared foreigner
Flood victims served FT notices in Assam!