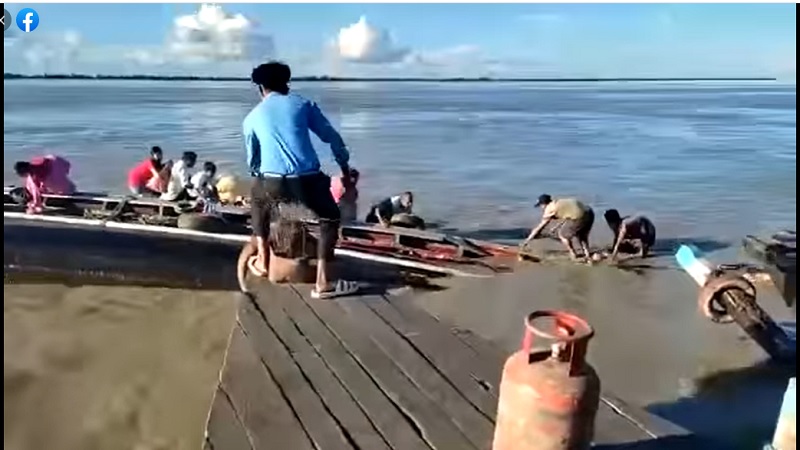 Image Courtesy:facebook
Horrifying videos of the people screaming as their boat capsized in Assam's Nimatighat are going viral on social media. While, we at SabrangIndia, have chosen not to share these videos to protect the dignity of the dead, we will however raise the pertinent questions: What could have been done to prevent this tragedy from ever occurring and who is responsible?
Let us first look at what we know so far. The incident took place at 4 P.M on Wednesday when a ferry named Ma Kamala capsized after colliding with another boat named MB Tipkai at Nimati Ghat in Jorhat. One of the boats reportedly overturned and teams from the NDRF and SDRF were pressed into service to cut it open from under the water and rescue people.
According to a report released at 8:30 A.M on Thursday, one person, a 30-year-old woman named Parimita Das, was confirmed dead. Four people: Jan Borah (Indreswar), Manoj Doley, Panamika Doley and Dr. Bikramjit Boruah were reported missing, and 87 passengers had been rescued.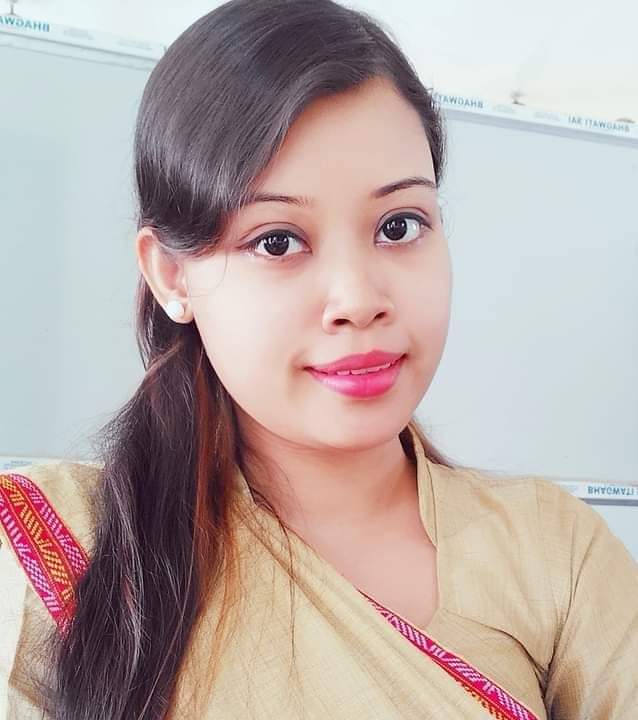 It is noteworthy that according to a report by the Kaziranga National Park officials, water was still flowing over the danger mark at the time of the boat collision. In fact, ferry services that had been suspended during the floods had resumed only five days ago. According to GD Tripathi, CEO, Assam State Disaster Management Authority (ASDMA), a total of 120 people were travelling in the two ferries. The ferries were also carrying vehicles.
It is also noteworthy that a lot of the people were rescued by good samaritans as acknowledged by Chief Minister Himanta Biswa Sarma himself, who visited the spot and also met survivors.
At Jorhat Medical College & Hospital I met those injured in boat accident & enquired about their health. Also urged doctors to ensure best treatment.

We also met other rescued passengers. My gratitude to Good Samaritans whose timely & exemplary interventions saved many lives. pic.twitter.com/pVoANOu4u1

— Himanta Biswa Sarma (@himantabiswa) September 9, 2021
He further admitted that so far there was no cap on the number of passengers that could travel in one ferry at the same time, giving credence to allegations of overcrowding having contributed to the tragedy.
GoA is committed to passengers' safety & hassle-free movement of ferries between Kamalabari & Nimati Ghat. Number of passengers per boat will be fixed. Strict action against non-compliance.

Assured this to reps of AASU, TMPK, AJYCP & other local organizations in #Majuli today. pic.twitter.com/ZPqI8hP2WW

— Himanta Biswa Sarma (@himantabiswa) September 9, 2021
Amidst all of this, the Assam state government has tried to resolve the matter by just suspending a few low-level officials of the Inland Water Transport Department. Sarma has directed the Jorhat District Administration to file a criminal case and instituted a high-level inquiry.
In fact, now the CM has announced a slew of oversight and relief measures, but these basic practices should have already been in place at the busy river crossing.
From today, plying of private ferries will be stopped as they don't have marine engine. If owners wish to convert single engine to marine engine, GoA will provide grant of Rs 10 lakh with 75% subsidy.

SoP will be issued to schedule health check ups of those working on boats. pic.twitter.com/NsgnDOXHb4

— Himanta Biswa Sarma (@himantabiswa) September 9, 2021
But the bigger questions still remain, why wasn't there a proper system in place to keep a check on the number of passengers allowed to board one boat at a time in the first place? Why wasn't a proper ticketing system and register maintained? Why was there no government oversight of the operations at such an important river crossing, especially during the flood season? And most importantly, why hasn't the Majuli bridge been built yet?
It is noteworthy that promises to build the bridge were made by Prime Minister Narendra Modi, former Assam Chief Minister Sarbananda Sonowal and current Chief Minister Himanta Biswa Sarma. Yet despite the foundation stone having been laid almost five years ago, construction is yet to take place.
Sarbananda Sonowal who was previously the Chief Minister of Assam and is now Minister of Ports, Shipping and Waterways in the government of India, tweeted that he is "anguished" by the incident.
Anguished to learn of the ferry accident in Majuli. I have talked with Assam CM Shri @himantabiswa regarding the accident and he has informed me of ongoing rescue and relief operations.

I have directed @shipmin_india to provide all necessary support to help the victims.

— Sarbananda Sonowal (@sarbanandsonwal) September 8, 2021
But one cannot forget how the bridge construction was delayed even during his own tenure as CM. This 2016 tweet by Sarbananda Sonowal is sure to haunt him today: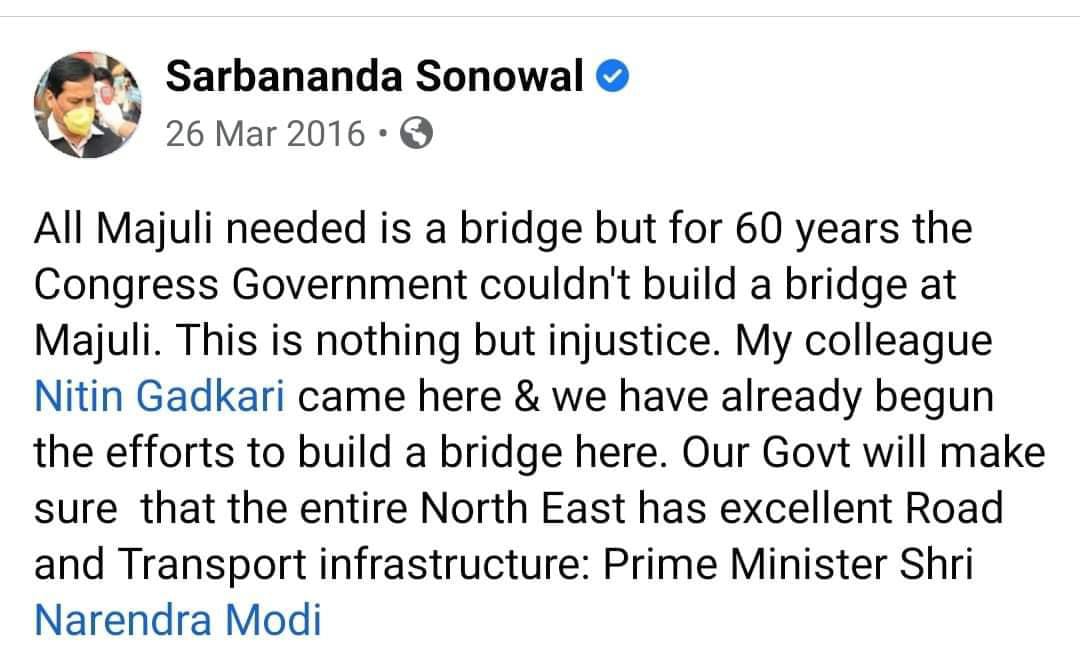 Now, CM Sarma has announced that the construction of the bridge would begin in November and it would take four years to build.
Police lathicharge people demanding answers
What is also shameful is the police lathicharge on people protesting the death of innocents in the ferry tragedy. East Mojo reports that Power Minister Bimal Borah who had reached Majuli along with CM Sarma was surrounded by agitating students and forced to sit on the road at Gamur Chairali as they shared their grievances with him. A protester highlighted how "no tickets are given on the boats and no life jackets are there" showcasing how the entire operation is run without a proper system in place. While Borah had to be escorted out by the police, paramilitary forces were deployed when people tried to break the barricades demanding to speak with the CM himself.
About Majuli
Majuli is the world's largest inhabited river island, spread over 553 square kilometers. It is home to over 1,67,000 people, from many indigenous communities including Missings, Deoris, Sonowal Kacharis as well as many Scheduled Castes as well. It is connected to Jorhat via a ferry service that ordinarily operates six times a day. This ferry service is the island's lifeline, but its upgrade and modernisation have been long overdue. Due to its size and population, Majuli was named a district in June 2016.
Related:
Heartless government poised to evict thousands amidst Covid-19, monsoon in Assam