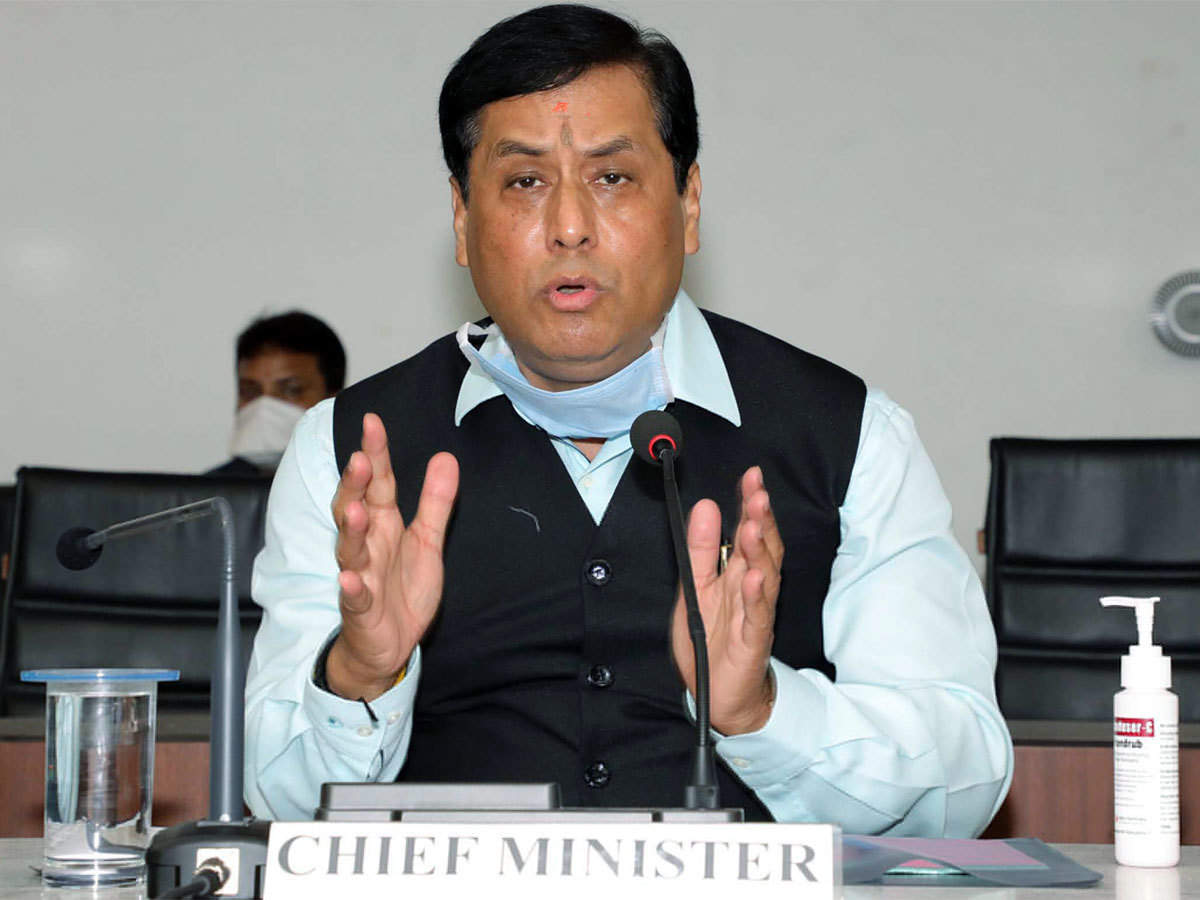 Image: ANI

Ever since the final National Register of Citizens (NRC) was published in Assam on August 31 2019, the government of Assam had expressed displeasure with the results, with top minister alleging that it included 'foreigners'. Now, Assam Chief Minister Sarbananda Sonowal too has openly joined the chorus denouncing the NRC.
Sonowal was speaking at a meeting of the BJP Assam Mahila Morcha State Executive in Dibrugarh on October 11 when he said, "Bearing in mind the self-respect of the Assamese people, I feel compelled to reject the NRC. We had approached the Supreme Court as well. We will never accept this flawed NRC."
Sonowal's entire speech may be viewed here:
My speech at the @BJP4Assam Mahila Morcha State Executive meeting in Dibrugarh. Watch Live https://t.co/7TlVwDxca7

— Sarbananda Sonowal (@sarbanandsonwal) October 11, 2020
It may be recalled that after the final NRC was published, the Assam state government as well as several local organisations such as All Assam Students Union (AASU), were upset with the outcome, with both alleging that 'foreigners' had been mistakenly included in the final list.
At that time Himanta Biswa Sarma, a powerful minister in the Assam state government had alleged that names of illegal Bangladeshi immigrants had been included in the NRC. He had demanded that a reverification of 20 percent of the names be carried out in border districts, and 10 percent names be verified in other districts.
This displeasure with the NRC led to a lot of drama, including levelling of a series of allegations of fraud, misappropriation of funds and data manipulation against the former NRC state coordinator Prateek Hajela who had to be shunted out of the state due to security concerns.
When Assam Public Works, the NGO that was spearheading the campaign moved Supreme Court demanding reverification, the court summarily dismissed the request. A key reason for rejection was a submission by then NRC state coordinator Prateek Hajela that 27 percent reverification had already been done! This rendered the need for a 10-20 percent reverification unnecessary. Hajela had submitted his report in a sealed cover, and this secret report was so strong and competent, that the Attorney General and Solicitor General who were appearing on behalf of Union government and government of Assam respectively in the Supreme Court, didn't utter a single word in court on the subject. Moreover, no other party backed the demand for reverification.
But now the demand for reverification is likely to be renewed. The matter was reportedly discussed at a meeting held on September 20 at the residence of union Home Minister Amit Shah in New Delhi. The meeting was attended by Assam Chief Minister Sarbananda Sonowal, State minister and North Eastern Democratic Alliance (NEDA) convenor Himanta Biswa Sarma, Union Home Secretary Ajay Kumar Bhalla, Joint Secretary (North-east) Satyendra Garg, and Assam Chief Secretary Kumar Sanjay Krishna, among others.
Speaking to media persons after the meeting, Himanta Biswa Sarma had said that it was decided that the Central government will support the state government's affidavit that proposed a reverification of up to 20 percent in border areas and 10 percent in other districts. Sarma said, "When the matter comes up for hearing, the two governments will jointly take up the issue."
Related:
Centre to support Assam government's affidavit to conduct NRC reverification?
Assam gov't adamant on NRC reverification