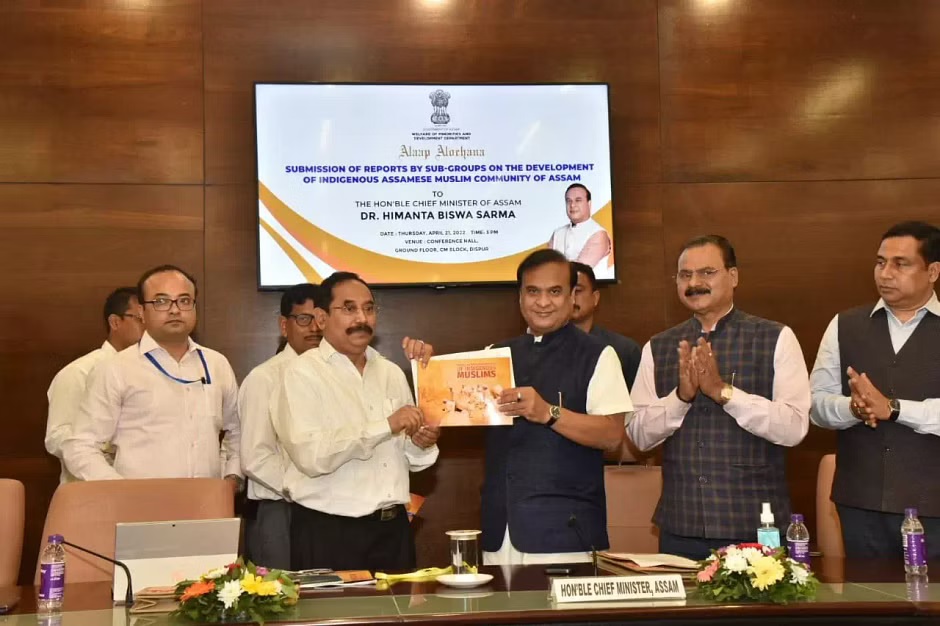 A Committee formed by the Assam government has made a proposal that a census be conducted to identify Assamese Muslims and ID cards be issued to them. The proposal is controversial as it seeks to distinguish between Assamese speaking Muslims and Bengali speaking Muslims.
Assam Chief Minister Himanta Biswa Sarma had held a meeting titled Alaap Alochana – Empowering Religious Minorities with 150 intellectuals and respected members of the Assamese Muslim community in July last year. Here several matters related to Assam's Muslim community were discussed including the "two-child" policy to control the growth of Muslim population, and how to distinguish between "indigenous" Muslims and those who allegedly entered the state illegally from Bangladesh. It was decided at this meeting to form eight sub-committees to come up with a roadmap for addressing a variety of challenges faced by the community.
It was one of these committees that submitted a report on April 21 to the Chief Minister, in which it proposed a definition for "indigenous" Muslims. NE Now quoted Sarma as saying, "The definition of indigenous or Assamese Muslim put forward is acceptable. Once we have accepted that we have a target group. The recommendation put forward by committees' is can be done. Some may require legislative and executive measures besides financial support." The same Committee also recommended that a census be conducted to "identify and document" such indigenous Muslims and they then be issued ID Cards or certificates.
According to the NE Now report, there are three main groups of Assamese Muslims – the Goryas, the Moriyas and the Deshis. "While the Deshis are 13th-century converts from indigenous communities such as Koch Rajbongshi and Mech, the Goriyas and Moriyas trace their lineage to converts as well as soldiers, artisans, etc. who came to the region during the Ahom rule," said the report, adding, "These groups consider themselves distinct from the Bengali-speaking Muslims who migrated from East Bengal."
The Committee also recommended that along the lines of provisions in Article 333, Assamese Muslims be given greater representation in the Assam Legislative Assembly and Parliament, reported The Sentinel. In response to this a government release, quoted by multiple publications, said, "An Upper House (Legislative Council) may be created in Assam as per Article 169 of the Indian Constitution. Once the Legislative Council is formed, specific number of seats may be reserved for Assamese Muslim community in this Council."
However, this appears to be a strategy aimed at pitting Muslims against each other along linguistic lines. While, one group could benefit under these provisions, it makes it that much easier to target the other group i.e Bengali speaking Muslims, who have all been summarily clubbed together as "illegal migrants" as part of the ruling regime's divisive agenda.
Oddly enough, there have been no voices opposing this move, even from Opposition parties in Assam, perhaps indicating either their own deep-seated hatred of the alleged "outsider" or fear of retaliation from voters. Ethno-linguistic equations have always been complicated in Assam. The influx of Bengalis, both Hindu and Muslim, from Bangladesh has been viewed as a threat to the demography of the state. But the regime has over the years added a distinct communal hue to the conflict, with the Sarma himself openly declaring that he did not need votes from Miya Muslims (a term used to refer to Bengali-speaking Muslims) in the run up to State Assembly elections last year.
Related:
Ajmal's culture is my enemy: Assam CM's openly anti-Muslim statement
Don't need Miya Muslim vote: Himanta Biswa Sarma