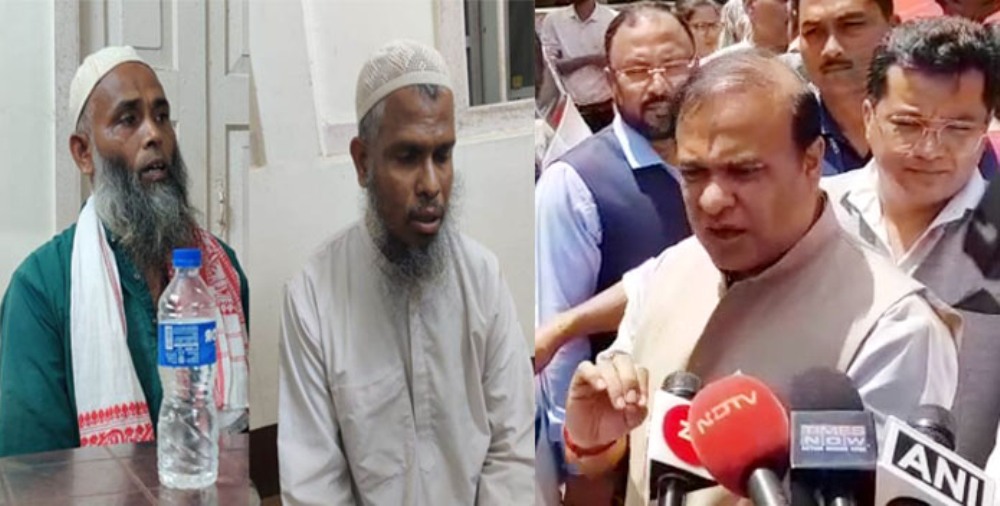 Assam Chief Minister Himanta Biswa Sarma has announced that the state government is in the process of putting together a Standard Operating Procedure (SOP) to monitor the entry of Imams from outside Assam into the state.
Sarma was quoted by the Times of India as saying, "We have made an SOP that if any imam comes to a village in the state and the villagers do not know him, they should immediately inform the police. Only after the police verify the antecedents of these imams, they will be allowed to stay." He said a government portal was being developed for such imams to register themselves when the came to Assam. He also clarified that this registration was not required for local imams.
The announcement made on August 22, comes in wake of the arrest of nearly 30 people including at least three imams who taught at madrasas in the state.
On August 20, two imams were arrested from Goalpara. Before that on July 27, Mufti Mustafa, a 32-year-old madrasa teacher was arrested from Shahariagaon. Eleven other people associated with Ansarulla Bangla Team (ABT), a banned terror group based out of Bangladesh and one that has Ansal-al-Islam and the Al Qaida in the Indian Subcontinent (AQIS) were also nabbed in the operation that took place in four districts over a three-day period between July 27 and 29. Mustafa was charged under various sections of the Unlawful Activities (Prevention) Act.
Morigaon SP Aparna Natarajan told The Telegraph, "We have found him linked to the ABT. We have found multiple financial transactions between him and ABT leaders and members since 2017." He was teaching at a madrasa located a little over 100 kilometers outside the state capital of Guwahati. The eleven others arrested were "connected to Islamic fundamentalism having linkages with global terror outfits such as the ABT and the AQIS," according to Special DGP (law and order) G.P. Singh. They hail from Barpeta, Goalpara and Guwahati, and were picked up from Guwahati's Hathigaon area.
Before that five people, including a Bangladeshi national living in Assam illegally, were nabbed from Barpeta during a similar operation in March 2022, and six more were arrested in April. They are all accused of attempting to radicalize youth.
The Shahariyagaon madrasa was demolished on August 5, after which Chief Minister Himanta Biswa Sarma said that Assam had become a "hub of terrorist activities". NENow quoted him as saying, "Jihadi activity is very different from terrorist or insurgency activities. It starts with indoctrination for several years, followed by active participation in promoting Islamic fundamentalism, and finally going for subversive activities." He thanked peace-loving Muslims of Assam for aiding in the capture of the terror module members, and asked citizens to remain vigilant and report any suspicious activity.
This has brought the focus back on the contentious debate surrounding madrasa education, especially in Assam. The state of Assam, especially CM Sarma, have been pushing for modernising and secularising education in madrasas in the state. Readers would recall that in 2020, when Sarma was the Education Minister of the state, the government had decided to shut down all government-run madrasas and Sanskrit tols in the state. At that time, Sarma had said, "We had announced this in the state assembly earlier. There should be no religious education with government funding." However, he clarified that this only applied to government run institutions saying, "We have nothing to say about privately-run madrasas and Sanskrit tols."
Then, on December 14, 2021, Sarma made another announcement about government-run madrasas, saying, "The word 'madrasa' will be removed from the name of these schools. The High Madrasas will now be called High Schools and a 50-mark paper on the Quran will be dropped from the syllabus."
High Madrasas are run by the Board of Secondary Education in Assam, and claim to be the equivalent to classes 9 and 10 of regular schools. The decision effectively ends High Madrasa exams beyond 2022. Not only will High Madrasas be converted into High Schools, theological courses will also be discontinued. This applies to 189 government-run High Madrasas in Assam.
Additionally, the State Madrassa Education Board, Assam, which looks after pre-senior madrasas, senior madrasas, Arabic colleges and title madrasas, will be also dissolved after declaration of results of the examinations conducted in 2021-22 as per the government's decision.
In December 2021 itself, the Assam unit of the Jamiat Ulama-i-Hind has decided to legally contest the decision. The petition Imad Uddin Barbhuiya and ors vs. State of Assam (WP-C 3038 of 2021) was moved by 13 people who claimed to be either owners of the land on which the Madrasas were constructed or the members of the management committee or the mutawallis. They argued that this decision to convert government aided madrasas into regular government schools by the State Government "amounts to an invasion of their fundamental rights given to them under Articles 25 and 26 as well as under Articles 29 and 30 of the Constitution of India. It has further been argued that this is also violative of Articles 14 and 21 of the Constitution of India."
But in February 2022, the Gauhati High Court has upheld the Assam Repealing Act 2020. In a judgment delivered on Friday February 4, 2022, the HC said, "… we uphold the validity of Assam Repealing Act, 2020 and the subsequent executive orders and communications of the Government," but put on record an important clarification.
"We must clarify at the very threshold that the changes brought about by the above legislative and executive action of the State are for the "Provincialised Madrasas" alone, which are Government schools. This is not for the "Community Madrasas" or the "Qawmi Madrasas" and "Maktabs", which continue to function in Assam as usual. We have also been informed by the counsel representing the petitioners, Mr. A.R. Bhuyan that these Madrasas continue to get financial aid from the State. Thus the change in curriculum has been brought about only in 'Provincialised Madrasas'," clarified the court explaining the scope of the ramifications of its order.
According to statistics submitted by the state government before the court, at that time, there were 250 provincialised madrasas that catered to students of class 6 and 7. There were 133 senior madrasas where students from class 8 to 12 were educated. Then there were 4 Arabic Colleges for students from class 6 to those pursuing Post Graduate degrees. There are also 14 Title Madrasas where post graduate education was imparted.
Deccan Herald reports that discussions were also on with all stakeholder in 800 Qawmi madrasas and 1,500 private madrasas that are still operational in the state with respect to the SOPs.
Related:
HC paves way for Assam government's move to 'secularise' provincialised Madrasas
Assam to shut down gov't run madrasas, Sanskrit tols?
Jamiat Ulama to contest decision to convert all madrasas into regular schools in Assam