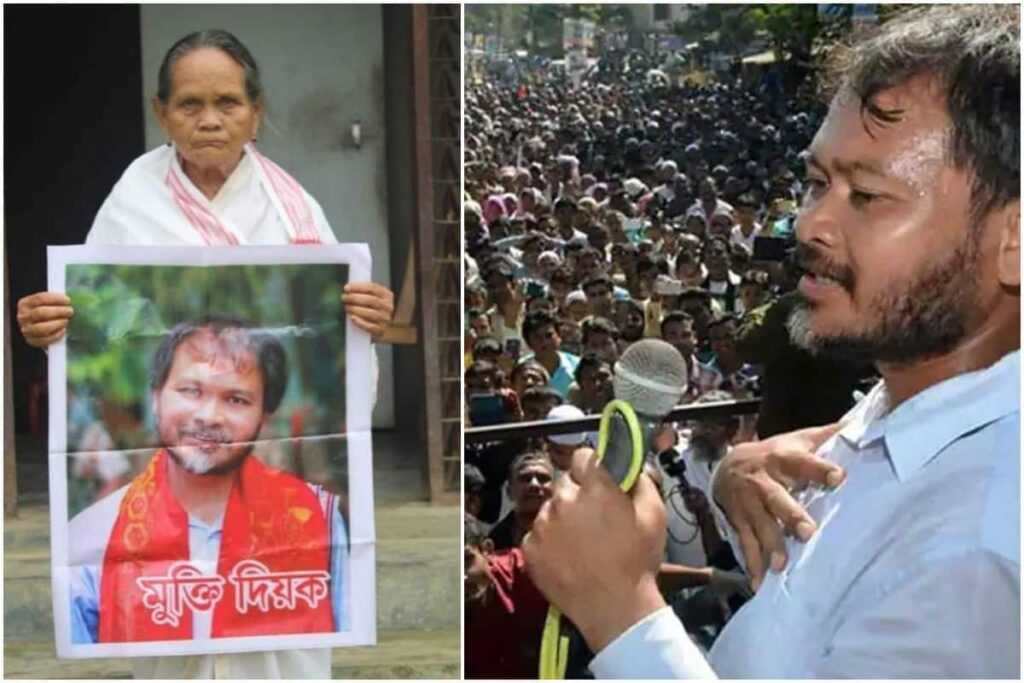 Thousands of people come out to the streets of Sivasagar in support of firebrand peasants' rights leader Akhil Gogoi on Wednesday, a day before the deadline to end campaigning for the first phase of elections. Akhil Gogoi, who has been in jail for the last 15 months, is contesting from the prestigious Sivsagar legislative assembly constituency as a candidate of Raijor Dal (Party of the People), of which he is the president.
Though Gogoi, who is known for his uncompromising stand against corruption, has been a virtual political prisoner for 15 months, his presence is felt in all the villages of Sivasagar constituency. Many leaders of Raijor Dal are campaigning all over the constituency, all showing his previous lectures and video messages showcasing his commitment to people and the country, dispelling any doubts about his patriotism. The fact that he wasn't let out despite suffering from a bout of Covid-19 also helped cement his image as a man who scares the ruling regime.
All the major leaders, including some civil society leaders are camping there day and night for Gogoi. Some national civil rights activists like Dr Yogendra Yadav, Sandeep Pandey and Medha Patkar, have also been campaigning on behalf of Akhil Gogoi for the last 15 days in Sivasagar. But his star campaigner is none other than 80-year-old Priyada Gogoi, the ailing yet determined mother of the agrarian leader. Priyada Gogoi is going door to door, campaigning for her son.
Though previously, she had to be hospitalised repeatedly due to her failing health in wake of her only son's arrest last year, Priyada now appears to have gathered new energy for the election campaign. She is visiting village after village daily and appealing people saying, "My son has done nothing wrong in his life. His only crime is that he loves Assam, he loves people of Assam, he can't tolerate injustice. So, he has been languishing in jail. If you support him, he will do the best for our country. He is not only my son, he is serving as a worthy son to all of you. So, please stand by him, vote for him and stand for his release from the jail."
Her efforts bore fruit on Wednesday, when thousands of people came out of their homes spontaneously in support of her son. Supporters of Akhil Gogoi, cutting across communal and ethnic lines, took to the streets in all villages and towns. From Jenganikotiya to Kowarpur, from Meteka to Dichangmukh, all roads were occupied by the supporters of Akhil Gogoi and Raijor Dal. Sivasagar town was full of Gogoi's supporters all through the day. They walked, chanted slogans, danced and sang in support of their leader, Akhil Gogoi. Narmada bachao andolan leader Medha Patkar, Rights activist Sandeep Pandey, and Priyada Gogoi walked and interacted with thousands of people all throughout the day.
The Krishak Mukti Sangram Samiti (KMSS) leader was arrested in December 2019 in Jorhat and at least a dozen cases were filed against him in different police stations. It is noteworthy that the High Court had granted him bail in three cases: 293/2019, 296/2019 and 307/2019, all of which had been filed by the Chabua police station. He was charged under sections 144, 143, 148, 153, 153 (A), 153 (B), along with Sections 3 and 4 of the Prevention of Damage to Public Property, Act (PDPPA). He has been accused of having Maoist links. A vindictive regime has been harassing the human rights defender for his involvement in the citizenship issue. Every time Gogoi manages to secure bail in one case, he is implicated in a fresh one registered in a new police station!
Earlier this year, the Gauhati High Court had denied him bail on grounds that the materials relied upon by the prosecution prima facie showed that Gogoi had not only led the anti-citizenship law protests, but had provoked people to join him. In February, 2021, a three-judge Supreme Court Bench of Justices NV Ramana, Surya Kant and Aniruddha Bose dismissed Akhil Gogoi's plea challenging the Gauhati High Court's order rejecting his bail application.
But the outpouring of support for Akhil Gogoi shows that despite being behind bars, his popularity has not been affected. It remains to be seen if this translates into actual votes and that will not be known before May 2 when votes are counted.

Related:
SC rejects Akhil Gogoi's bail plea in UAPA case