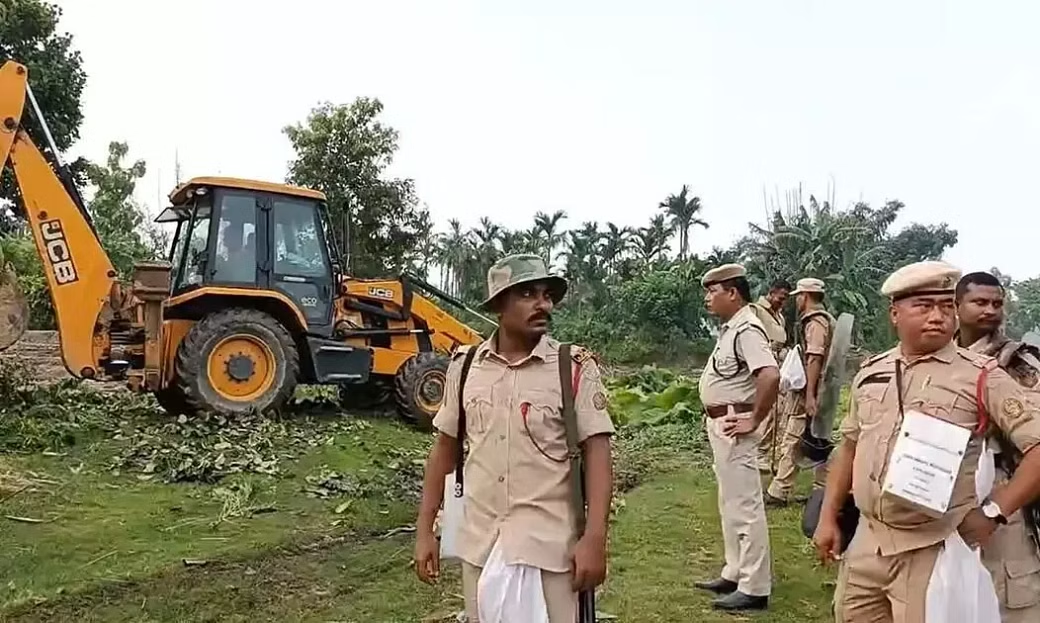 Representation Image
On December 26, 2022 around 40 families in Kanara Satra in Assam's Barpeta were evicted due to alleged illegal encroachment. Only a week prior to this, another major eviction drive was carried out in the state at Batadrava Than in Nagaon district. A senior police officer told The Indian Express that 400-bigha land was encroached on in Kanara Satra many years ago. "Approximately 400 people were evicted today," the officer said. "Between 45 and 60 structures, all of them semi-permanent, were demolished. There was no resistance from those evicted; the whole process was carried out peacefully."
A Congress MLA, Sherman Ali Ahmed was detained after he staged a protest against the demolition and demanded rehabilitation of those evicted. "The government must stop evictions without giving suitable rehabilitation to eviction victims. I demand that these people be rehabilitated within one month," Ahmed told the media present at the spot.
The eviction drive in Nagaon was to clear 1,000 bighas (1.35 sq km) land which ended up evicting 359 families. After this massive eviction, the Congress had staged a walkout in the Assam Assembly. "All people, whether Hindus or Muslims, will have to vacate Satra land. We request people to leave encroached land, otherwise we will carry out eviction drives," said Assam CM HImanta Biswa Sarma. Satra is a form of Hindu Vaishnavite monastery.
As reported by Scroll.in, the authorities have evicted 4,449 families since May, 2021 when the BJP government came to power.
Earlier protests against demolition drives have resulted in the murder of innocent people by the state. On September 23, 2021 two residents of Dhalpur were killed by police firing during an eviction drive targeting a minority Muslim community in Assam. One of them, Maynal Haque, was protesting against the evictions but 12-year-old teenager Shaikh Farid had nothing to do with the protests. Sabrang India's sister organization, Citizens for Justice and Peace (CJP) is before the Gauhati High Court seeking justice for these two victims in two separate writ petitions. In Farid's case, the State claimed that the police fired in self defence.
A detailed analysis on rights against eviction and right to housing may be read here.
Related:
ASSAM POLICE FIRING: STATE RESPONDS TO VICTIM FAMILY'S PLEA, SAYS ACTED IN SELF DEFENCE
HATE WATCH: DECEASED BATADRABA FISHERMAN'S FAMILY DUBBED "JIHADI"
ASSAM: GAUHATI HC ORDERS EVICTION, GOALPARA LAWYERS ASSOCIATION DEMAND ALTERNATIVE HOUSING