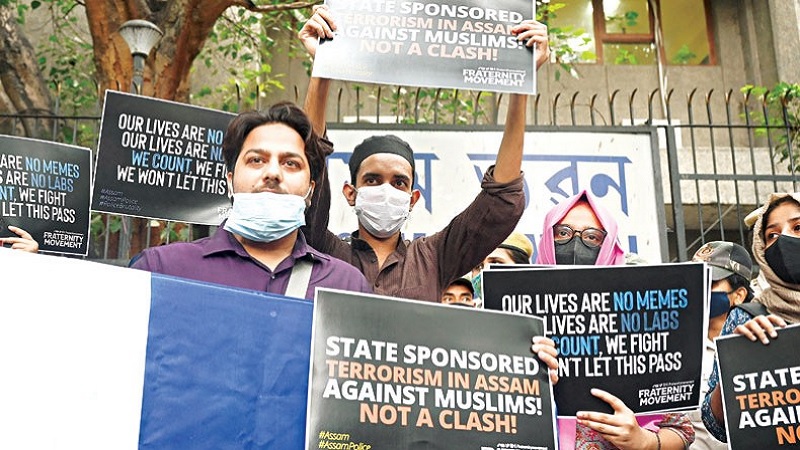 Image Courtesy:newagebd.net
Support continues to build for victims and survivors of the police firing that took place in Gorukhuti village of the Dhalpur region of Sipajhar circle in Darrang district of Assam on Thursday. Demonstrations expressing solidarity were held in Delhi, Aligarh and Kolkata, apart from different places in Assam
Members of the All India Students Association (AISA) of the Jawaharlal Nehru University (JNU) held a demonstration at Jantar Mantar in New Delhi. The held placards demanding an end to communally charged eviction, as well as the removal of Darrang Superintendent of Police Sushanta Biswa Sarma, who is incidentally the brother of Assam Chief Minister Himanta Biswa Sarma.
Students of the Aligarh Muslim University (AMU) also held a protest demanding "an immediate end to attacks on Muslims in Assam", adding that the "forceful evictions were unacceptable." The protest march took place on the university campus and student representatives handed over a memorandum to the city magistrate.
Farmers too have thrown their support behind the families evicted from their homes in Darrang. The All India Kisan Sabha (AIKS) has decided to send a delegation to Assam to take stock of the situation on the ground.
The CPL-ML also held a protest March in Kolkata. Carrying posters demanding "Stop killing of Muslims in Assam", protesters drew attention to the plight of the victims and survivors. "We all saw in the video, that how a helpless man with nothing but a stick and who was trying to protect his home, was shot at and beaten brutally in complete violation of Standard Operating Procedures (SOP) by the Assam Police," said protesters, adding, "They had murderous intentions. But it did not end when the man fell down after being shot. A photographer hired by the district administration was then allowed to further physically assault him!" Protesters also demanded that merely arresting the photographer, Bijoy Bania, and later discharging him on bail, will not be enough. Several other groups including the Jaitya Bangla Sanmilan and National Confederation of Human Rights Organisations, also participated in the protest march in Kolkata.
Some images of the protests may be seen here: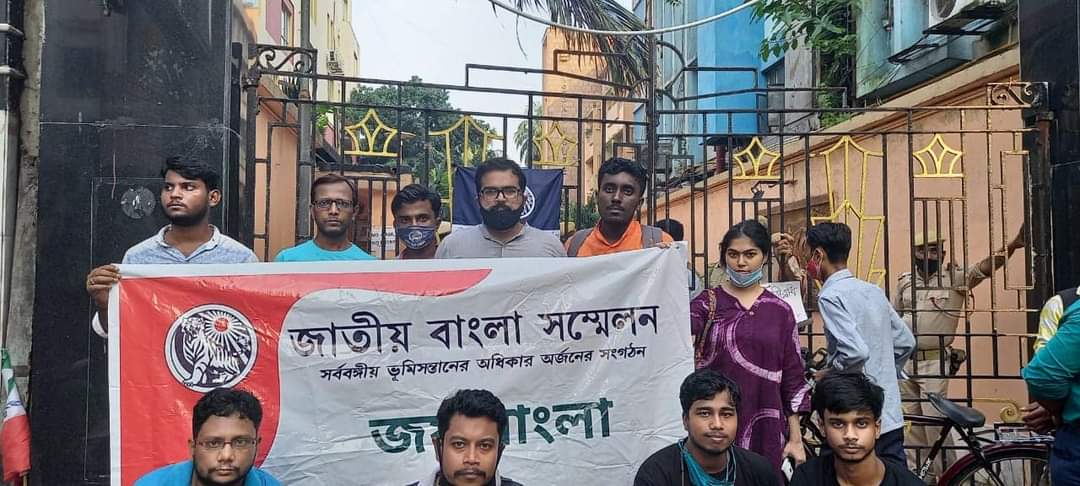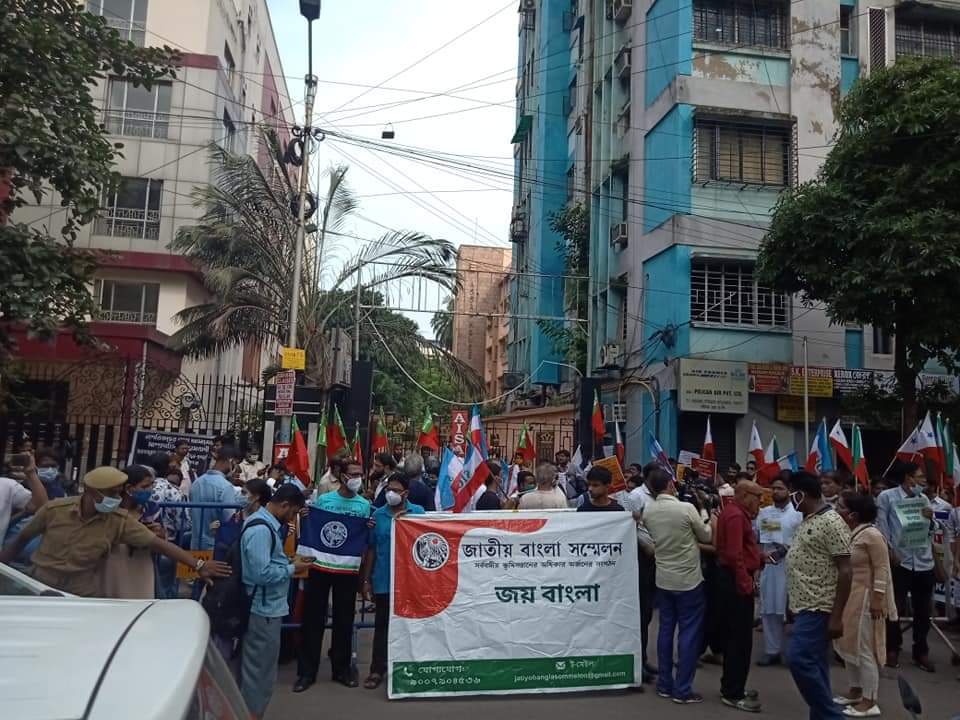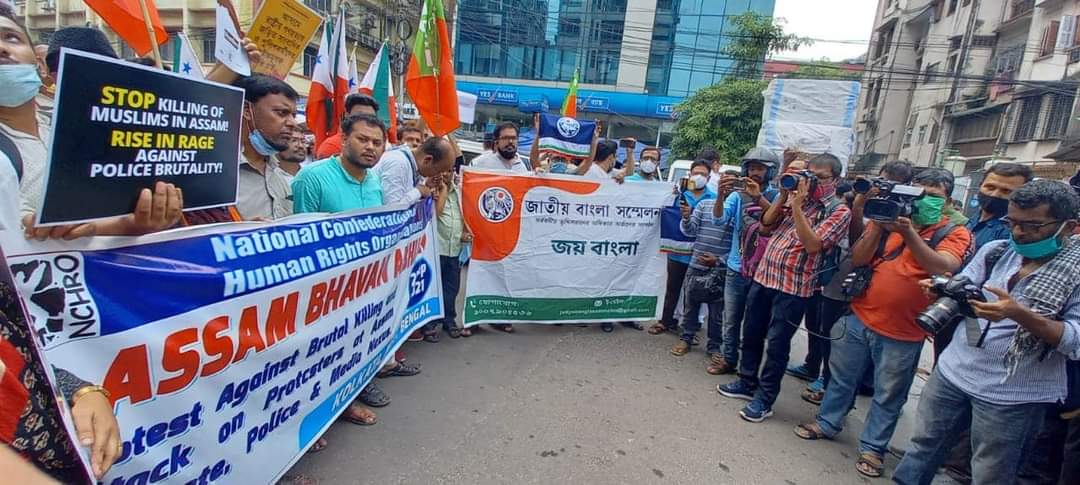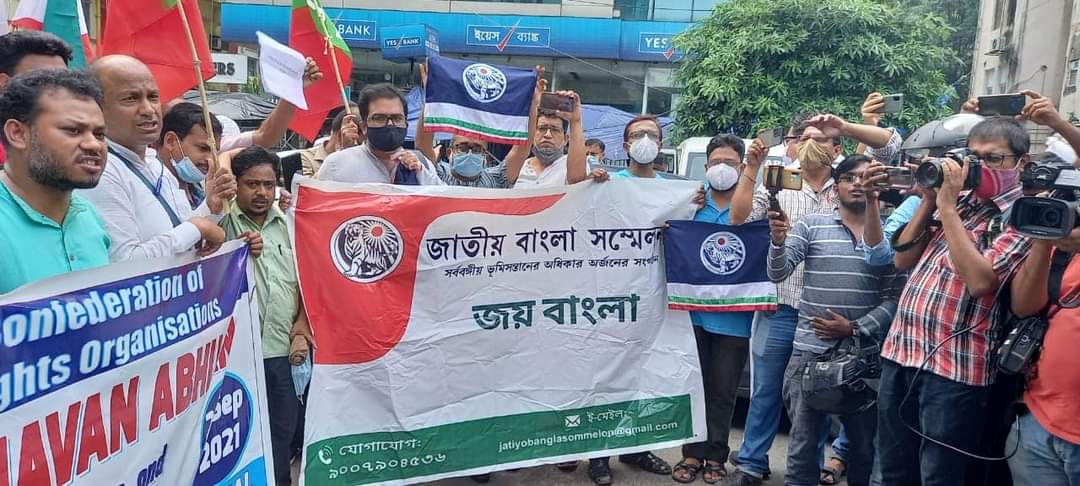 Meanwhile, an unrepentant Himanta Biswa Sarma remained defiant and told mediapersons in Guwahati yesterday, "They call me Talibani, but can we leave Assam like this? Should we allow them to encroach on Shiva temple land? Next, they will encroach on the Kamakhya temple land." The communal spin to a human tragedy did not go unnoticed.
He shot down demands for relocation saying, "Those who come from Baghbor and Sarukhetri, they have their own land at home. So why should I give them lands? It's not my own land that I'll give anyone I want. But those who are landless, I'll give them 6 bighas of land as per the Land Act of Assam. And I have been saying this for two months!"
He asked, "Why should I fire the District Collector and SP of Darrang when they were operating under my orders?" He tried to blame "outsiders" who he claimed had instigated locals to attack the police, forcing them to fire in retaliation. Sarma only conceded that the actions of Bijoy Bania were wrong and tried to deflect the entire matter by saying that he had been arrested.
Related:
Assam Police Firing: Support for victims grows
Assam Police Firing: Death toll rises, victim blaming rampant
Police firing in Assam: Illegal and unforgivable
BREAKING: 2 killed, 10 injured in police firing in Assam