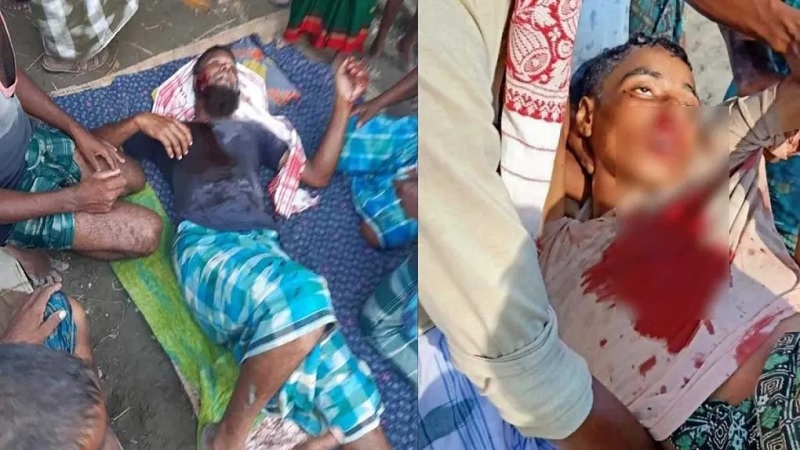 Sheikh Farid, a resident of Kirakara village of the Dhalpur region, would not have lost his life at the tender age of 12 had the police handled the situation professionally and with due diligence and care. In October, CJP helped Farid's family file a petition before the Gauhati High Court seeking compensation from the state for the unlawful manner in which the police fired at civilians at an incident that took place in Gorukhuti village, located near the boy's village that falls in the Sipajhar Circle of Darrang district. The state has now filed a response that they acted because the crowd turned violent and were attacking the police with 'deadly weapons' like lathis, bricks, bamboo sticks and spears.
One of the most gut-wrenching images from the September 23 police firing on evicted families in Assam, was that of an unconscious Farid. He had gone to the post office to collect his friend's Aadhaar card, never to return. The petition asserts that Farid's death was "caused by an act of use of force in excess of what was required inasmuch as assuming but not admitting that there was some mob violence the indiscriminate use of firearms when the area is a busy one, where women and children also reside and pass by ought to have been avoided."
The petition points out that as per section 129 of the Code of Criminal procedure (CrPC) the police are to use civil force to disperse an assembly and under section 130, it is stipulated that "a police officer while seeking to disperse any assembly shall use as little force, and do as little injury to person and property, as may be consistent with dispersing the assembly and arresting and detaining such persons."
Further, even under the Indian Penal Code (IPC) section 99, a public servant cannot act in defence unless there is apprehension of death or grievous hurt. The petition also points out various provisions of the Assam Police Manual which prescribes how to deal with assemblies and when firearms can be used.
State's response
In the Sheikh Farid matter (WP(C) 5534/2021) the State has filed an affidavit in response through Additional Superintendent of Police, Darrang, Rupam Phukan. In this affidavit it is stated that on September 22 they had received a letter from circle officer, Sipajhar seeking sufficient force to conduct eviction drive smoothly at no. 2 and no. 3 Dhalpur for evicting more than 618 families. Accordingly they prepared a comprehensive Land Order cum Security Plan for conducting the drive and additional forces of other DEFs and Assam Police Battalions were requisitioned.
He then explains the process followed for the eviction drive stating that the area was divided into 4 operational zones. As per his version, the drive was going on peacefully at zone nos. 1,2 and 4 but at zone 3, about 2,000 to 2,500 encroachers gathered making a 'bow formation' and started shouting slogans against the government and obstructing the police on duty and also obstructed the JCB and tractors.
When some senior official including Phukan, Deputy Commissioner reached the spot they held discussions with the encroachers and assured them that their demands will be met within the ambit of the Deputy Commissioner but they became unruly so the Executive Magistrate directed the crowd to disperse and declared them unlawful assembly.
It is submitted that around 1.30 P.M the encroachers attacked the Executive Magistrate and the police personnel with 'deadly weapons' like lathi, bamboo sticks, broken bricks, dao (machete), spear, broken bricks, hence police used tear gas shells and resorted to mild lathi charge as pe the Magistrate's orders, "but they became more aggressive and started pelting stones, bricks etc." due to which 8 police personnel sustained injuries. Thereafter the police used rubber bullets, plastic clusters and ballistic cartridges to disperse the 'encroachers'. Then the mob became more violent and attacked police from all sides, thus police fired in the air and then resorted to control firing by aiming below the knee.
It is submitted that the encroachers themselves set fire to their dwellings, jute crops, hayricks and then fled. The police then took their injured men and the 'one encroacher' for treatment but the 'encroacher', identified as Moinul Haque, did not survive.
It is stated that FIR was filed by a relative of deceased Sheikh Farid and necessary communication has been made to hand over the case to CID. Also a Magisterial enquiry has been ordered into the death of civilians due to police firing.
The state's response may be read here:
Related:
Assam police firing: CJP aids families of victims move HC
Assam firing : CJP moves HC for justice
Rehabilitation for evicted families only if name in NRC: Assam gov't to Gauhati HC