A state government decision means that children in government schools will study four languages till Class Seven.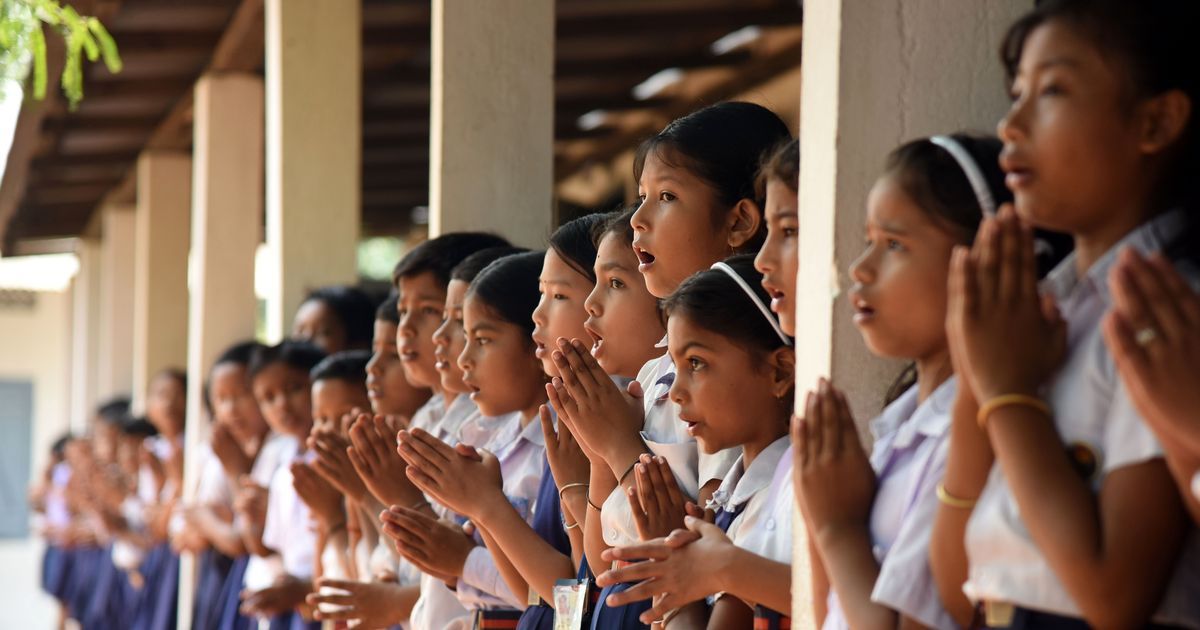 Biju Boro/AFP
Mukul Hazarika graduated with a degree in Sanskrit in 1976. He used to teach the ancient language in an Assamese-medium government school in Assam's Jorhat district till it gradually faded out of the school's curriculum due to waning interest. Hazarika now teaches English and Hindi in the same school.
One would assume that he would be happy at the Assam government's decision, announced earlier this week, to make Sanskrit compulsory till Class eight in all schools run by the government. But that is not the case.
"This is an absurd move," he said. "Students will be unnecessarily burdened. They already study three languages. This was completely unwarranted."
He insisted that his views on the subject had nothing to do with his personal politics.
Hazarika isn't the only person to contend that the government's decision has not been well thought out. In debates on the subject on Assamese news channels, spokespersons of the ruling Bharatiya Janata Party have not done well as they have tried to defend a decision in which very few see any merit.
Local student organisations, traditionally powerful entities in the state's political ecosystem, have criticised Chief Minister Sarbananda Sonowal's government, accusing it of pandering to the Rashtriya Swayamsevak Sangh, the BJP's ideological mentor.
While the Asom Jatiyatabadi Yuba Chatra Parishad called the decision a "well-orchestrated conspiracy being micro-managed and monitored from Nagpur [where the RSS headquarters are]", the All Assam Students Union took a more moderate view. It focused on the fact that school students would now be forced to study four languages in Assam even as children in other parts of the country learn three or even two.
Not enough teachers
At present, students in Assam's government-run schools that are affiliated to the state education board must study three languages: Hindi till Class Seven, English, and Assamese or Bengali or Bodo – depending upon the region the school is in – till Class 10.
"While it is great that the government wants to rekindle an interest in Sanskrit, they could have kept the option of students having a choice between Hindi and Sanskrit," said the principal of a government school in Guwahati, who did not want to be identified. The principal added that the average student would find it difficult to cope with studying four languages.
Critics of the government's decision also point out that there aren't enough teachers qualified to teach Sanskrit. Assam has 56,000 government-run schools, which means the state has to hire at least as many teachers for its new plan.
"Consider Upper Assam – only a few colleges offer degrees in Sanskrit [here]," said Hazarika. "It will be practically impossible to fill so many vacancies."
Said Hemen Saikia, who teaches in a government school in Teok, a small town in Jorhat district: "How will the government hire so many teachers in such a short span of time?"
Even parents of school-going children were sceptical.
"This basically means one more tuition," said Riniki Bhattacharya, whose son attends an English-medium school affiliated to the state education board. "As it is, there are three languages – and Sanskrit is supposed to be a tough language to learn. So just learning at school will definitely not be enough."

A sensitive subject
Language has always been a touchy subject in Assam. In the 1960s, the state saw a massive uprising by its Bengali-speaking residents when state's Congress government passed a bill pronouncing Assamese as the state's sole official language.
There are three official languages in the state: Assamese, Bengali and Bodo of which Assamese is dominant. According to the 2001 census, the percentage of Assamese speakers in Assam was 49.4%. Apart from these three languages, almost all the 25-odd tribes have their own languages, written using the Roman script.
Like elsewhere in India, government schools are mainly patronised by communities that are socially and economically disadvantaged.
Academic Sanjib Baruah said that it was unfair for the political class to thrust any language or subject upon students in schools that they are percieved as having no direct connection with.
"If our political classes have strong feelings about a curricular matter – whether it is about Sanskrit or the history of Assam – shouldn't they first try to make the change in schools where their children and grandchildren go to?" asked Baruah. "Why only in government schools? What about the private schools? Do they have the moral right to make such a change if they are not direct stakeholders?"

RSS happy
But the Rashtriya Swayamsevak Sangh is pleased. It now wants the Union Human Resources Development Ministry to emulate the Assam model across the country.
"This is our longstanding demand," said Atul Kothari, general secretary of Shiksha Sanskriti Utthan Nyas, an RSS affiliate, on Thursday. "The time has come when the HRD ministry should take the issue seriously and make Sanskrit compulsory schools throughout the country."
Kothari added: "There is a prominent school in United Kingdom where Sanskrit is being taught. Even a study conducted by NASA has concluded that Sanskrit is a truly scientific language. It is also the mother of most languages in India."
The NASA claim is based on a misreading of a 1995 paper in a scientific magazine.
The RSS has been pursuing its demand to make Sanskrit mandatory in schools throughout the country ever since the BJP government took over at the Centre in 2014. It believes that the move would not only prevent the impact of the West on India's culture but would also promote its version of cultural nationalism.
In November 2014, months after the formation of the Narendra Modi government, the parent body of the BJP publicly underlined the importance it gave to the issue when senior RSS member Dinesh Kamath threatened to launch a nationwide agitation if the Union government did not make Sanskrit education compulsory up to Class 12 in all schools affiliated to the Central Board of Secondary Education.
A year later, the Human Resources Development ministry set up a 13-member expert committee to recommend measures to integrate the study of Sanskrit with other disciplines like physics, chemistry, mathematics, medical science and law, suggest changes in Sanskrit education in schools and universities and point out ways to impart Sanskrit education through modern tools.
Though the committee, headed by former Chief Election Commissioner N Gopalaswami, did not recommend making Sanskrit education mandatory, it suggested, in its report submitted about a year back, that the ministry establish a Central Board of Veda and Sanskrit Secondary Education that would affiliate Sanskrit pathshalas across the country, conduct exams and make available grant-in-aid.
We expect the government not to delay the implementation of its new education policy any further and make Sanskrit mandatory throughout the country, said Kothari.
This article was first published on Scroll.in