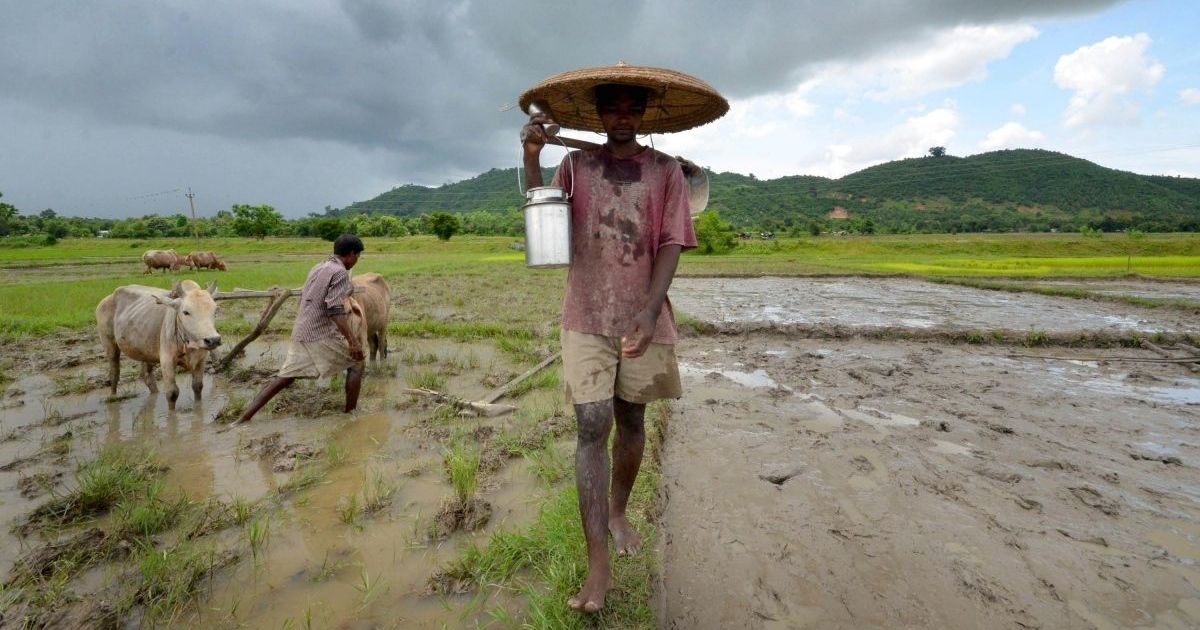 Assam rice farmers expressed hope that the new government, formed after the three-phase assembly elections, will correct the errors in the previous government's welfare initiative, reported The Telegraph on March 30, 2021.
According to state farmers, the government scheme of providing free rice to pandemic-affected families under the Pradhan Mantri Garib Kalyan Anna Yojana (PMGKAY) has left rice growers uncertain about their future in the paddy business. They claim they are forced to sell their produce at prices far below the cost of production. The huge disparity in costs has compelled some farmers to consider confining themselves to single or no crop cultivation or sharecropping. Still others said they are looking at tea and mustard as viable options.
According to The Telegraph, around 1.25 lakh tonnes of rice was distributed to 58 lakh families between April 2020 and November 2020 with each person availing 5 kg rice per month. Even after the scheme was stopped, families eligible under the regular Antyodaya Anna Yojana continued to receive a monthly ration of 35kg rice. Further those families with annual income less than Rs. 1 lakh can receive 5kg per person per month under the Priority Households scheme.
Farmers, on their part, did not condemn the schemes but said the government should also ensure proper price for crops. They feared the effect of declining prices on the state's rice production in the long run. 63-year-old Saharia told The Telegraph that paddy farmers are paid around Rs. 1,200 per quintal although the cost of production was about Rs. 1,600-1,700 per quintal. This has led many state farmers to give up paddy farming. Meanwhile local households accept the ration, unaware that it is imported from Punjab and Haryana.
As a corrective measure, many farmers, mill owners and officials are demanding local procurement of paddy. However, this calls for a simpler procurement process according to Titabar-based milling businessperson Ravinder Kumar Sharma.
Similarly, The Policy Times (TPT) recommends government-established panels with personnel from associated departments to assist farmers under various flagship programmes. The panel can also ensure quality and quantitative service to the Covid-struck families.
Another effective measure suggested by farmers is the implementation of the Agricultural Produce Marketing Committee Act, 1972 that calls for wholesale markets, modernises the farm sector and ensures immediate government payment to farmers. Such a move will also receive the support of the farmers' movement that has spread across India. However, Assamese farmers have frequently stated that the state government and politicians fail to highlight farmers' issues.
Moreover, owing to the disconnect between mainland and Northeastern farmers, locals do not know about schemes such as Minimum Support Price (MSP). Further, TPT points out that the Food Corporation of India (FCI ) has failed to expand its facilities to ensure more rice procurement in Assam . Thus, it suggests pension-aid to older citizens and funds for assistance to Covid-affected families. Lastly, med-claim type of insurance facilities could be considered.
Related:
Will Assam tea party sink the BJP's ship?
Assam Assembly Elections: Phase one passes without incident
Budget Session: How the Centre justified farms laws in Lok Sabha
Regulated markets and MSP ensure not just farmers' security but food security: Experts