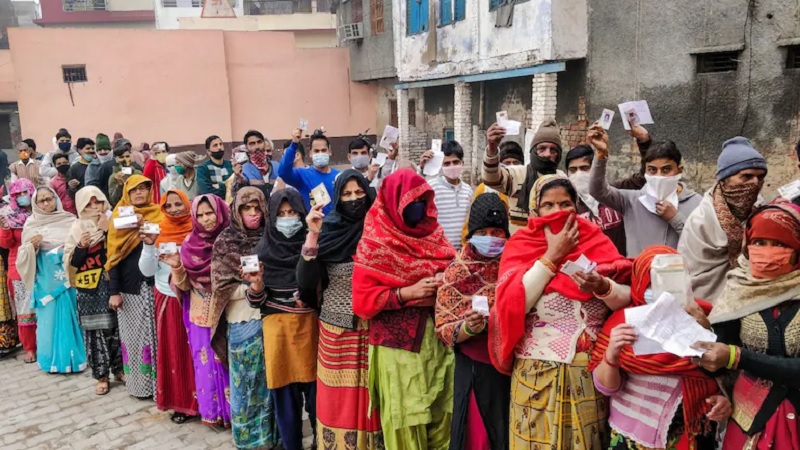 Image Courtesy:indiatoday.in
The first phase of polling for the Uttar Pradesh Assembly elections took place in 58 out of the total 403 constituencies in the state today. These constituencies fall in eleven districts: Agra, Aligarh, Baghpat, Bulandshahr, Gautam Buddh Nagar, Ghaziabad, Hapur, Mathura, Meerut, Muzaffarnagar and Shamli. 623 candidates are vying for the votes of 2.27 crore eligible voters in this phase.
The final voter turnout by the close of polls at 6 P.M was still awaited at the time of publishing the story. But it stood at 57.79 percent at 5 P.M. as per Election Commission.
उत्तर प्रदेश विधानसभा सामान्य निर्वाचन-2022

प्रथम चरण के अंतर्गत 11 जनपदों में सायं 05 बजे तक कुल औसतन मतदान 57.79% रहा।#ECI#विधानसभाचुनाव2022#AssemblyElections2022 #GoVote #GoVoteUP #GoVoteUP_Phase1 pic.twitter.com/tsoRM0D9cK

— CEO UP #DeshKaMahaTyohar (@ceoup) February 10, 2022
Ordinarily a large voter turnout indicates a strong anti-incumbency factor. In 2017, when Yogi Adityanath came to power, the voter turnout was 61.04 percent, when the Akhilesh Yadav-led Samajwadi Party (SP) government was ousted.
Overall, the voting process was peaceful with only a few incidents of malfunctioning of Electronic Voting Machines (EVM) reported from some places. However, those were reportedly replaced. What was significant though was that Western UP constituencies such as Shamli, Muzaffarnagar, Meerut and Baghpat, that went to polls today, are home to a large population from the agrarian community, many of whom participated in the farmers' movement and held demonstrations at different spots along the Delhi border.
While Shamli recorded a voter turnout of 61.78 percent, Muzaffarnagar's vote turnout stood at 62.14 percent. Meerut recorded a voter turnout of 58.52 percent, while in Baghpat it was 61.35 percent till 5 P.M.
The farming community here got a huge shock on the day of polling itself when the Allahabad High Court granted bail to Ashish Mishra, who is one of the key accused in the incident when his vehicle allegedly mowed down five people – four protesting farmers and a journalist at Tikonia village in Lakhimpur Kheri district last year. Ashish is the son of Union Minister of State for Home Ajay Mishra and was allegedly traveling in the vehicle that was involved in the killing. Farmers' organisations had long been demanding strict legal action against him, as well as the dismissal of his father. Though Ashish was taken into custody after many delays and much drama, his father was never removed from his post, even temporarily pending an inquiry.
Additionally, constituencies such as Shamli, Muzaffarnagar, Ghaziabad, Bulandshahr and Gautam Buddh Nagar are sensitive from both the communal and caste point of view, some even have a history of communal violence and caste clashes. The voter turnout in Ghaziabad stood at 54.77 percent, while it was 60.52 percent in Bulandshahr, and 54.77 percent in Gautam Buddh Nagar till 5 P.M.
Meanwhile, communalism raised its ugly head in Jaunpur that will go to polls in the seventh phase of the elections. A college professor allegedly threw out a Muslim girl student from class for wearing a Hijab. It is important to note here that amidst the political agendas of the pro and anti-hijab lobbies, it is actually the Muslim female students who will end up suffering both ways: If they wear a hijab they are denied the opportunity to attend classes, if they refuse to wear it, many conservative families will outright prevent them from going to school/college. The right-wing on both sides of the communal divide remains deeply patriarchal and eventually, it is always the women who end up paying the price.
Related:
Lakhimpur Kheri case: Ashish Mishra gets bail!
UP professor throws Muslim girl out of class for wearing hijab!
UP can become Kashmir, Kerala, Bengal if you do not vote for BJP: CM Adityanath