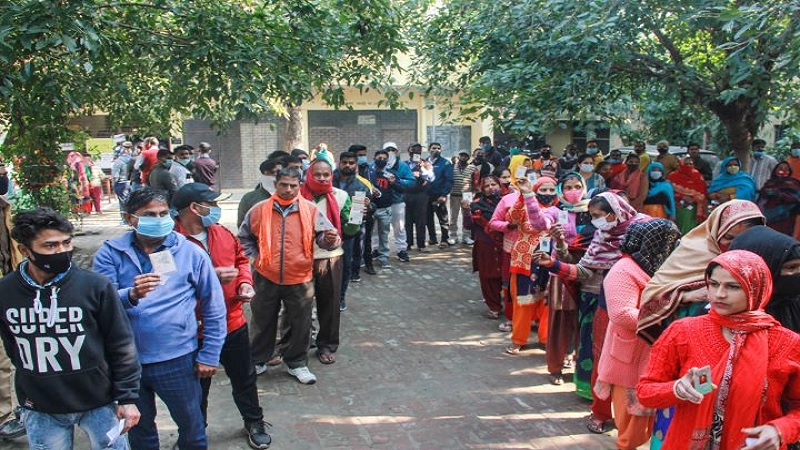 Image Courtesy:news.abplive.com
On Monday, February 14, voting for Assembly Elections took place in Uttar Pradesh (second phase), Uttarakhand next door and in Goa. At the time of publishing this piece, final polling figures were not available, but many places recorded impressive voter turnouts, pointing perhaps to the anti-incumbency factor.
Take for example Haridwar, where calls for genocide were given at a Dharm Sansad in December 2021. As per the election commission, by 5 PM on the day of polling, 67.58 percent of eligible voters had cast their votes in this region. High voter turnout was also recorded in two other places in Uttarakhand, namely – Udham Singh Nagar (65.13 percent) and Nainital (63.12 percent). The state has already seen a revolving door of chief ministers, and now it remains to be seen if the electorate has rejected the politics of hate. The overall voter turnout in the state stood at 59.37 percent.
उत्तराखण्ड विधानसभा सामान्य निर्वाचन- 2022
सायं 5 बजे तक प्रदेश के सभी 13 जनपदों में औसत मतदान प्रतिशत।#UttarakhandElections2022 @ECISVEEP pic.twitter.com/8yRmWs8856

— CEO Uttarakhand (@UttarakhandCEO) February 14, 2022
Next door in Uttar Pradesh, incumbent Chief Minister Yogi Adityanath once again put his foot in his mouth by making communal comments in an interview to ANI. Once again speaking about Muslims as the 'other', the UP CM used terms like 'Ghazwa-e-Hind', 'religious fanatics' of 'Talibani thinking', liberally. He said, "India will run according to the Constitution, not according to Shariat." At 5 P.M, overall voter turnout in the state was recorded at 60.44 percent. But it is important to note that the voter turnout was higher than average in communally and caste sensitive areas.
Saharanpur saw a voter turnout of 67.13 percent, while 66.19 percent in Amroha. Moradabad recorded 64.88 percent, while Bijnaur stood at 61.48 percent. All these places have been in the news over the last five years for communal and caste-based violence, and a high voter turnout perhaps indicates that people have had enough.
उत्तर प्रदेश विधानसभा सामान्य निर्वाचन-2022

दूसरे चरण के अंतर्गत 09 जनपदों में सायं 05 बजे तक कुल औसतन मतदान 60.44% रहा#ECI#विधानसभाचुनाव2022#AssemblyElections2022 #GoVote #GoVoteUP #GoVoteUP_Phase2 pic.twitter.com/g9qlCPcnWE

— CEO UP #DeshKaMahaTyohar (@ceoup) February 14, 2022
Meanwhile, the tiny western Indian state of Goa, which is often viewed as nothing more than a vacation destination due to its world-famous sea-beaches, showed an impressive turnout of 75.20 percent! The state has a large population of Christians and has been a hotbed of Hindutva activity due to the presence of several right-wing groups that have built a base in the state.
Additionally, there have been concerns about the impact of mining activity on the state's fragile ecology, as well as the flourishing onshore and offshore casinos. The incumbent BJP is facing competition from not only the Congress but also the Aam Aadmi Party (AAP) and the All India Trinamool Congress (AITC) that hopes to open its account outside West Bengal for the first time.
Sanquelim recorded an impressive voter turnout of 88.o7 percent, followed by Sanguem at 84.61 percent, Priol at 84.5 percent, and Bicholim at 83.54 percent. In fact, the lowest voter turnout was recorded at Siolim, but even that was an impressive 68 percent.
Update: Voters turn out at 5 pm across Goa – 75.29%.#AssemblyElections2022 #Goa pic.twitter.com/uGDSm2jaQO

— CEO Goa (@CEO_Goa) February 14, 2022
Related:
UP CM Adityanath targeting minorities again?
Uttarakhand CM Pushkar Singh Dhami's UCC talk, a sign of pre-poll jitters?