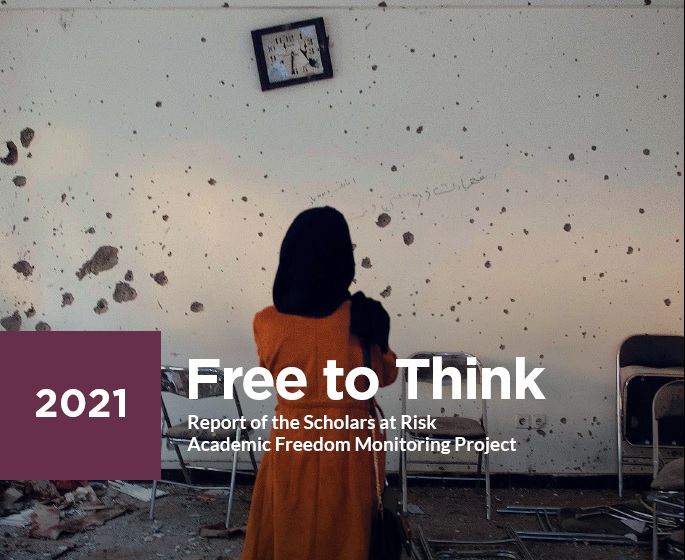 Scholars at Risk (SAR) Academic Freedom Monitoring Project, recently released its report "Free to Think 2021" which documents 332 attacks on higher education communities in 65 countries and territories. These are global instances of "attacks on scholars, students, staff, and their institutions" by "State and non-state actors, including armed militant and extremist groups, police and military forces, government authorities, off-campus groups," and crucially "even members of higher education communities," among others.
From January 2011 through August 2021, SAR reported 2,150 attacks on higher education communities in 113 countries and territories. Which "punish scholars and students for their ideas and status within the sector, and they chill academic freedom across entire university communities, undermining everyone's freedom to think and ask questions."
These attacks, according to the report, "undermine entire higher education systems, by impairing the quality of teaching, research, and discourse on campus," and also constrict "society's space to think, question, and share ideas." Through the Academic Freedom Monitoring Project, SAR identifies, and tracks key incidents, "with the aim of protecting vulnerable individuals, raising awareness, encouraging accountability, and promoting dialogue and understanding that can help prevent future threats."
Its report has been published since 2015, this year, a sizable chapter has put on record the situation of the academic community in India. The report pus on record that "authorities are prosecuting more than a dozen scholars and students under the country's anti-terrorism laws, in an apparent act of retaliation against their expression and views critical of Prime Minister Narendra Modi and his administration."
The reports called imprisonments and prosecutions of scholars and students as "wrongful when intended to punish, deter, or impede nonviolent academic activity or the exercise of other protected rights, including freedoms of expression, association, or assembly". Such prosecutions it stated are typically under laws such as "blasphemy, civil and criminal defamation, sedition, espionage, national security, and terrorism laws". It mentions examples from In India, such as the Central University of Kerala's suspension of Gilbert Sebastian, an assistant professor in the Department of International Relations, for allegedly describing the Rashtriya Swayamsevak Sangh (RSS), as "proto-fascist" during virtual session of a course he teaches on "fascism and Nazism". He allegedly referred to other political figures and governments that could be considered examples of proto-fascists, including the Spanish general Francisco Franco and the apartheid government of South Africa.
It also mentions Professor Gokarakonda Naga Saibaba, who has been imprisoned since 2014. The reports states that he is known for his activism on behalf of vulnerable groups in India and was on March 7, 2017, "wrongfully convicted and sentenced to life in prison on terrorism charges." It further says, "Professor Saibaba suffers from at least 19 medical conditions, including post-polio syndrome, and has reported being repeatedly denied appropriate medical care. In February 2021, Professor Saibaba tested positive for Covid-19. He was taken to a hospital for treatment by a prison doctor and was put in solitary confinement after returning to prison."
In India, SAR has put in its annual report "using force against and detaining students, faculty, and staff participating in peaceful protests on- and off-campus, prosecuting dissident academics under the country's anti-terrorism law, and using regulatory powers to restrict academic freedom." It says, "India is bound by national and international legal instruments that provide protections for academic freedom. India is a party to international human rights instruments including the International Covenant on Civil and Political Rights (ICCPR), which provides for freedom of opinion and expression (Article 19), and the International Covenant on Economic, Social, and Cultural Rights (ICESCR), which provides for the right to education (Article 13) and calls on state parties to "respect the freedom indispensable for scientific research and creative activity" (Article 15(3))." The report further said, "Attacks on higher education in India documented this year, fall against the backdrop of a years-long crackdown on dissent under the ruling Hindu nationalist Bharatiya Janata Party (BJP) and Prime Minister Narendra Modi. This crackdown was heightened during the 2019-2020 reporting period, when students and faculty came under attack for protesting the passage of a controversial and discriminatory citizenship law known as the Citizenship Amendment Act (CAA)."
The SAR reported detentions, arrests, and the use of force against students, faculty, and staff participating in on- and off-campus protests. It puts on record and names scholars and students such as "Anand Teltumbde, Asif Iqbal Tanha, Devangana Kalita, Gokarakonda Naga (G.N.) Saibaba, Hany Babu, Meeran Haider, Natasha Narwal, Rona Wilson, Safoora Zargar, Sharjeel Imam, Shoma Sen, and Varavara Rao" who have been accused under the the Unlawful Activities (Prevention) Act (UAPA), a law it states was "intended to prevent acts of terrorism and other national security threats, but that has frequently been used to punish and silence human rights activists, political opposition, and other expression or activities the government finds displeasing."
University administrations are also put in the dock for its acts of "suspensions and efforts to force resignations". On January 7, 2021, Visva-Bharati University (VBU) suspended economics professor Sudipta Bhattacharyya, "in apparent retaliation for his expression critical of a hiring decision at VBU and his inquiry into a conversation the vice-chancellor claimed to have had with the renowned economist Amartya Sen" is an example cited. It states that "India has experienced a significant drop in national respect for academic freedom since 2014. That year, Narendra Modi came to power as prime minister and the Bharatiya Janata Party (BJP) took control of India's Parliament. State and higher education actors have used arrests, prosecutions, dismissals, and other coercive means to punish and silence scholars and students whose academic work, views, or associations the government finds displeasing." It cited Ashoka University, a vice-chancellor Pratap Bhanu Mehta's sudden resignation and an example of "serious concerns over scholars' ability to think freely."
It also cited the Ministry of Education (MoE), (in consultation with the Ministry of External Affairs (MEA), January 15, guidelines for "how publicly funded higher education institutions and their members hold online virtual conferences, seminars, and trainings." The guidelines, state that "institutions, including public universities, organising any international online event must seek the advance approval of the MEA, which is instructed to ensure that the event's subject matter "is not related to security of State, Border, North East States, [the Union Territory] of [Jammu and Kashmir], Ladakh or any other issues which are clearly/purely related to India's internal matter/s." When the academic community raised concerns that the guidelines would severely hamper international academic exchange, on February 25, the government announced that the new guidelines no longer applied to the higher education sector, but existing guidelines from 2008 continue to require clearance from the MEA in the organizing of non-virtual international academic events.
Free to Think 2020, also stated how "scholars, students, and society generally in Jammu and Kashmir continued to suffer from state-ordered restrictions on telecommunications that significantly impeded academic activity. Concerns have also been raised about scholars' and students' ability to research and discuss Jammu and Kashmir, as in June 2021, officials at the Tata Institute of Social Sciences (TISS) launched an inquiry when social media users expressed outrage over a screenshot of a master's student's dissertation which referred to "India Occupied Kashmir" in the title. TISS issued a statement in response to the backlash saying that the institute "does not endorse the title" and that "Necessary action has been initiated for fact finding."
SAR has stated it "remains deeply concerned about actions taken and policies enforced by the Indian authorities that undermine academic freedom and institutional autonomy. Such actions and policies jeopardize the conditions India's higher education communities require for quality research, teaching, and discourse. Imprisoning and taking disciplinary actions against scholars and students for their ideas and restricting the academic activity of entire communities of scholars and students have a chilling effect on the sector's ability to understand and seek to resolve problems of the day."
It called on the authorities "to safeguard and promote academic freedom, including by releasing and dropping prosecutions of scholars and students based on nonviolent academic or expressive activity and alleged associations; repealing the Unlawful Activities (Prevention) Act and similar legislation, or revising the same in order to ensure compliance with obligations under its constitution and international human rights law; removing existing restrictions and refraining from future restrictions on international academic conferences, meetings, and other forms of scholarly exchange; and ensuring the autonomy and functioning of higher education institutions in Jammu and Kashmir, including by maintaining access to high-speed internet."
The Scholars At Risk, Free To Think 2021 report may be read here:
Related:
Production of electronic evidence delayed: Student activists to Delhi Court, 2020 Violence
Student leaders demand reopening of colleges, deem online education inadequate
Booked for Sedition at LGBTQ rally, two former TISS students get protection from arrest
Current regime has mastered the art of using UAPA selectively: Mihir Desai