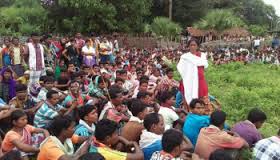 Days after Scroll contributor Malini Subramaniam at Bastar in Chattisgarh came under pressure from local groups and the police following to her reportage on police atrocities, Isha Khandewal, the lawyer representing Malini and a member of legal aid group JagLAG, has said they are being forced to leave Jagdalpur. JagLAG (Jagdalpur Legal Aid group), a non-profit that has been providing free aid to tribal communities in south Chhattisgarh's five Naxal-affected districts, chose to legally represent Malini Subramaniam following a physical assault on her property in Bastar on February 8.
Malini Subramaniam, a journalist writing for scroll.in has been served an eviction notice by her landlord while her husband Ashim is still being held inside the police station and not let out. The landlord of the Jagdalpur Legal Aid group, who's arms have been twisted by the local police by seizing his sole vehicle that is a means of livelihood, may also have to give in to the pressure. The message is clear. Freedom of Association, Movement and Expression are being openly throttled in the Bastar region, yet again. The state government is the same that controls the reigns at the Centre. The Chhatisgarh government wants the Jagdalpur legal aid group, an intrepid group of women lawyers who have been working in the Bastar region for three years, ensuring some legal rights for the Adivasis, out.

Sabrangindia has been consistently carrying reports of the resistance by Adivasis and the repression in Chhatisgarh. Here we reproduce a public appeal made by the Jagdalpur Legal Aid Group, a few minutes before the midnight hour on February 18-19, 2016.

Things are taking an ugly turn in Jagdalpur.

First there were whispered threats, 'Don't go to Bijapur, the police will arrest you if you go there again'. Then, there was a whole week of public lynching of JagLAG as defenders of "blood-thirstly Naxalites" by the Samajik Ekta Manch, a vigilante group formed by the police. At the same time, the local Bar Association again renewed their campaign to stop our practice by harassing the local lawyers standing with us.

Then, late last night, police visited our landlord – who is a driver by profession, and took him away to the police station. He was kept there till wee hours of this morning, and dropped back in a police vehicle; his car having been impounded. Our badly shaken landlord informed us at 2:00 am this morning that he has no option but to ask us to vacate our house and office within a week.

Things have been rocky for us in Jagdalpur for a while now. For a year and a half now, we are being hounded out by the local police. From giving thinly veiled threats at press conferences that the police are closely monitoring NGOs providing "legal aid to Naxalites", to informing our clients that the police are about to arrest us for our Naxalite activities, to claiming before visiting journalists and researchers that we are merely a "Naxalite front", various officials of the police have been out to get us.

We have had police diligently investigating "anonymous" complaints that we are "fraudulent" lawyers. For which, we had to make multiple trips to the police station with all our impeccable certificates and sound credentials. Then the local Bar Association, clearly prompted by the police, took out a resolution prohibiting our practice in the local courts. We countered this by challenging this resolution in the State Bar Council and obtaining an interim order allowing our practice. Unable to get at us any other way, now, the police are resorting to pressuring our landlord and his family.

The timing of these events does not escape our notice. This is coming at a time when the whole countryside of Bastar is on fire. Under the guise of anti-Naxal operations, the security forces are indulging in rape, pillage and plunder. With teams of women activists, we have documented at least three cases of mass sexual violence in the past three months itself, where security forces have run amok in the villages, stripping women, playing with their naked bodies and indulging in gangrape, looting their precious food supplies, and destroying their homes and granaries. The number of so-called "encounters" is at an all-time high, people are simply "disappearing" from villages in large numbers, only to show up in the list of "surrendered" or "arrested" Naxalites several days or weeks later. The local police and administration are talking in one voice of "clearing" the area within one year.

In this scenario, all who are challenging the official narrative, are being silenced. Social mobilizations are being orchestrated by the police to provide a cover to their illegal harassment of journalists, lawyers, activists. When mass gangrapes in Bijapur were being uncovered, a group calling itself the "Naxal peedit Sangharsh samiti" under the leadership of the ex-Salwa Judum leader Madhukar Rao, took out noisy belligerent rallies against Soni Sori, Bela Bhatia and "outside NGOs", threatening all of us with physical violence if we entered Bijapur again. When Malini Subramaniam wrote about the fake surrenders of Maoists, or the fake encounters, a motley group led by the nephew of the local MLA, calling themselves the "Samajik Ekta Manch" launched a vilification campaign against her.
When we tried to get her complaint of stones thrown into her house registered, the Manch publicly declared us as their next target, for defending "khoonkhar Naxalites" ( खूंखार नक्सली – dreaded naxalites) and going to villages inciting people against the state.(राज्य सत्ता के खिलाफ भड़काते हैं).The local Bar Association also renewed their fatwa against local lawyers working with us..

Unable to stop us from continuing our work here, the police have now resorted to threatening others associated with us. Prachi, the young household help working at Malini's, was summoned to the police station twice yesterday for interrogation, and kept there for hours. Despite the clear letter of the law that women witnesses can only be examined at their place of residence, she was taken away to the police station late at night for questioning, much to the alarm of her family. She has been taken to the police station again this morning and is still there. Malini's landlord,who lives in Raipur, was also summoned to the thana this morning, and by now has also issued an eviction notice to her. Malini's husband, Ashim, who was called inside the thana in the afternoon, is also now being held inside and not being allowed outside.
Our landlord, a person of very modest means, is also a member of the minority community, and vulnerable in this climate of pervasive fear. Our landlord's family have always had the greatest love and concern for us, which we return in equal measure. We understand that they had no choice this time but to ask us to vacate. We also understand that it would be exceedingly difficult to find another rental place in this time of inflamed passions and provoked agitations. We are still trying.

We take solace in the despair apparent in the highest echelons of police, who have had to stoop to such crude levels of indecency to throw us out of Jagdalpur.
Shalini Gera and Isha Khandelwal have issued this statement.