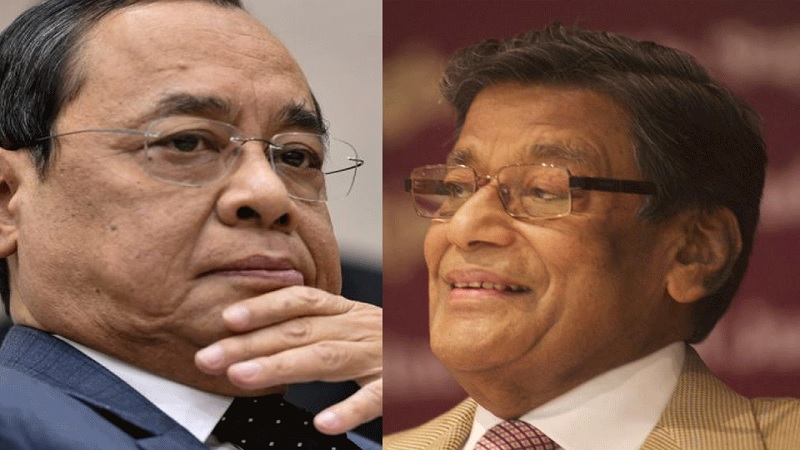 Image Courtesy:english.varthabharati.in
Attorney General KK Venugopal has refused to grant sanction to initiate contempt proceedings against former Chief Justice of India and Rajya Sabha member Ranjan Gogoi, for his statements against the judiciary, reported Bar & Bench.
The AG has said that it is true that the former CJI did make some strong statements about the judiciary and the Supreme Court of India, and "the statements apparently reflect his deep frustration with the ills that undoubtedly beset the judicial system", tweeted Saket Gokhale who sought the initiation of contempt proceedings against Ranjan Gogoi.
AG Venugopal further said, "I had the occasion to watch the entirety of the interview. It is obvious that all that has been said was for the good of the institution and will not in any manner scandalise the court or lower its authority in the eyes of the public."
On February 23, the RTI activist Gokhale had posted on his Twitter account that he had written to the Attorney General of India to bring to his notice the alleged insulting remarks made by the former CJI against the top court.
Have written to Attorney General for India seeking sanction for contempt of court proceedings against former CJI Gogoi for statements made at the India Today Conclave.

Sanction was given for harmless tweets by @kunalkamra88 & @sanitarypanels.

Why should a former CJI be special? pic.twitter.com/hiDwNBE6d8

— Saket Gokhale (@SaketGokhale) February 23, 2021
In a conclave event organised by India Today on February 12, Ranjan Gogoi had made the following statements, that were laid down by Gokhale in his letter to the Attorney General:
"You want a 5 trillion-dollar economy, but you have a ramshackled judiciary."
"If you were to go to court, you'd only be washing your dirty linen in court. You won't get a verdict. I have no hesitation in saying it."
"Only corporations willing to take chances with their millions of rupees go to the Supreme Court."
"What is your opinion of the judiciary? Not very positive."
"The judicial system has not worked for more reason than one."
"Unfortunately, there are many judges succumbing to criticism made in the media."
In the letter, Saket Gokhale also stated that the precedent established set by the office, against comedian Kunal Kamra and cartoonist Rachita Taneja is a "benchmark for what constitutes contempt of court in your (KK Venugopal) opinion." Hence, he was requested to take into account Justice Gogoi's statements that were "far more contemptuous in their degree and seriousness in scandalising the supreme court" than some innocuous tweets.
Related:
Public's faith in judiciary is founded on its own actions, not criticism: Kunal Kamra to SC
SC issues contempt notices to Rachita Taneja and Kunal Kamra
Stand up comic Kunal Kamra faces contempt charges for tweets