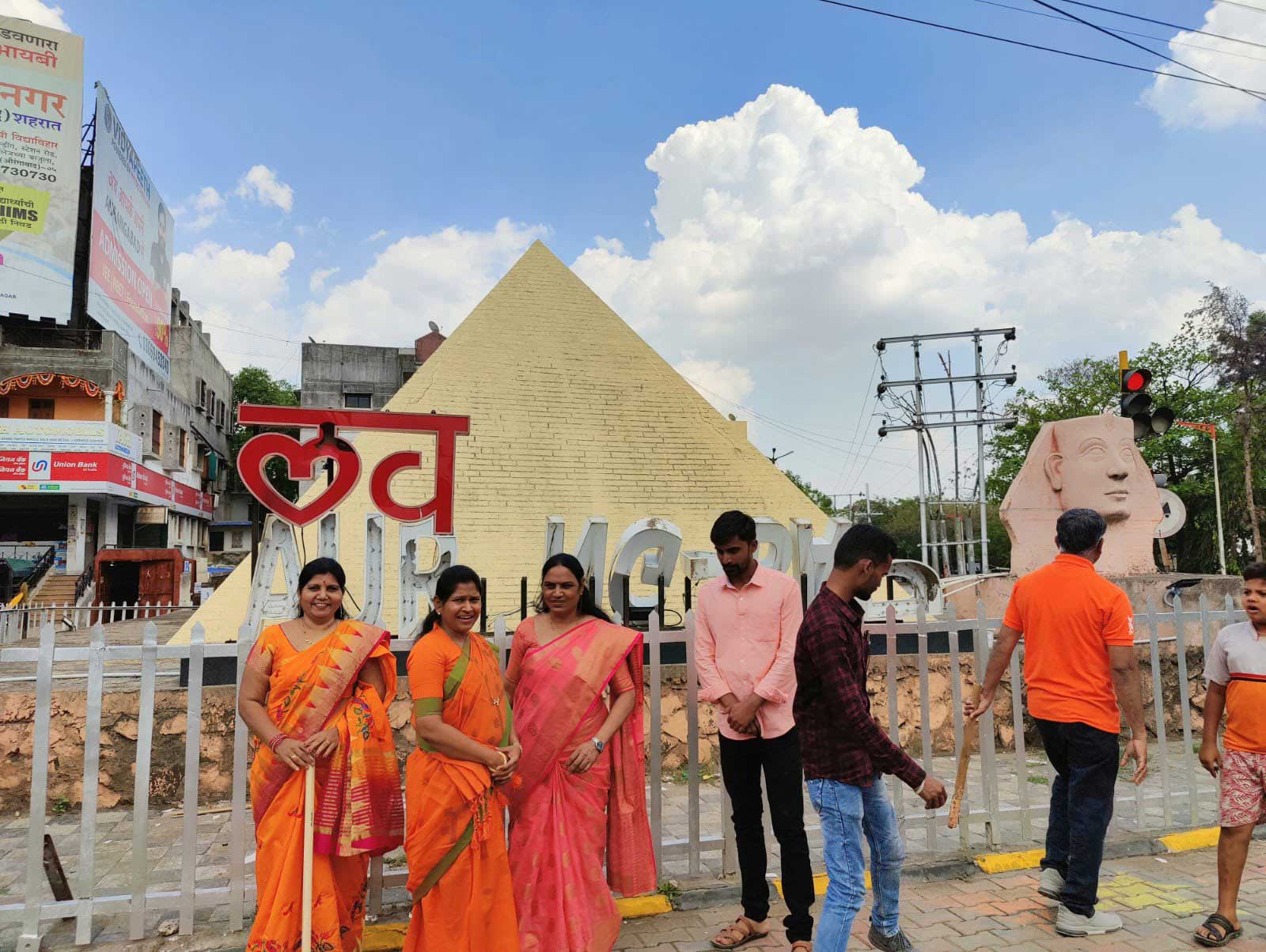 Image: Twitter
Aurangabad, recently renamed Chhatrapati Shambhajinagar (a decision first initiated by the Udhav Thakeray led Maharashtra Vikas Aghadi government) has been the scene of dissension and hate, of late. Again, three days ago, on Sunday March 19, the Sakal Hindu Samaj –roped in by political (read Bharatiya Janata Party, BJP nd Rashtriya Swayamsevak Sangh –RSS outfits) and religio–social outfits (like Vishwa Hindu Parishad-VHP and Bajrang Dal-BD) to spew hate was at it again with its single point agenda.
This time this extreme Hindutva organisation that has actively supported and provided a platform to notorious anti-Muslim hate speakers especially since December 2022, organised a Hindu Jan Garjana Morcha in Aurangabad. In addition to the presence of the usual communally colored and agenda-pushing themes of cow slaughter, "Love Jihad", and religious conversions, the main agenda behind this event was a "celebration" of the city of Aurangabad's recent change.
It was towards the end of February 2023 that the newly formed Shiv Sena(Eknath Shinde)-BJP government had put the final seal of approval of the earlier government and formally issued a notification notifying that the city of Aurangabad had been renamed as Sambhaji Nagar.
On the same day, March 19, a hindutva group led protest was organised, which was in support of the name change of the city. The main objective behind this was to heap vile abuse and insults on the Mughal Emperor Aurangzeb, after whom the city had been named Aurangebad; threatening slogans targeting a particular religious minority community were also heard. Even though the resolution of the name change of the city had been initiated and passed by the previous government, it did not take much time for the current government and the extremist Hindu outfits to "take credit" for this move and worse, use this opportunity to spread hatred.
At this morcha (protest), hate speeches of an instigating nature were made. Pursuant to them, the protestors had even resorted to destruction of the public properties, banners that had the name Aurangabad written on it instead of Sambhaji Nagar, and vandalism. Many flags bearing the B.R Ambedkar's photograph and Ambedkarite symbols were also broken.
The photos can be viewed here:
In the past 2 days, We witness a peaceful protest in #Aurangabad city where no harm/damage has been done to any public property. No hateful speech about any great leader or to a particular religion. But, today, a protest supporting #SambhajiNagar led by Hindutva Extremists…
1/3 pic.twitter.com/xBYjD6pDPx

— Aurangabad Buzz (@AurangabadBuzz) March 19, 2023
As has been reported, the rampant destruction of public property and pelting of stones prompted the filing of seven FIRs, including rioting and damage to public property, late. The seventh FIR charges BJP suspended MLA T Raja Singh and Suresh Chavhanke with promoting enmity between different groups on the basis of religion, race, place, and so on. But no arrest has been made.
The poster of the said event is provided as follows: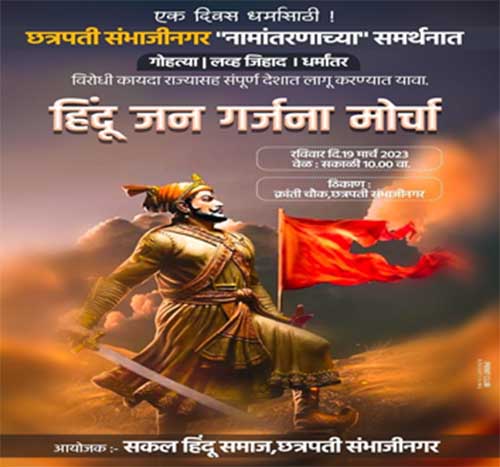 At the said event, which was attended by almost 5000 people, serial hate speakers BLA MLA T. Raja Singh, Goshamahal Assembly Constituency, Telangana, and Sudarshan TV News Editor-in-chief Suresh Chavhanke delivered speeches which were instigating, misinformed and misleading in nature. These broke the law and the Constitution. Many Islamophobic statement were made and anti-Muslim slurs were used. In both these speeches, threats of violence against Muslim were issued and the audience was provoked to take the law into their hands. In addition to this, open calls for the economic boycott of Muslims were also made. It is also important to note that BJP leader and Maharashtra's Cooperation minister Atul Save also attended this event. In addition to this, Sena MLA (Eknath Shinde faction) Pradeep Jaiswal and BJP MLA Shivendra Raje Bhosale were present on the dais. Bhumare is also the district guardian minister. The event was largely attended by officer bearers and workers from BJP, Shiv Sena (Eknath Shinde camp), Maharashtra Navnirman Sena, ISKCON, Vishwas Hindu Parishad, Bajrang Dal amongst others.
Reports of peaceful protests being organised in Aurangabad also on March 19, with several groups resisting the name change, have also been making rounds on social media. In fact at one rally, protesters against the name change of Aurangabad met where a large number, almost 50,000 people turned up. The entire rally was conducted peacefully and leaders from all parties came together and protested.
The photos can be viewed here:
Aurangabad saw two groups protesting

One in favour of the name Aurangabad with more than 50,000 people turning up. The entire rally was done with discipline. Leaders from all parties came together and protested.

Only Leaders from the city were present in this protest. pic.twitter.com/aXcYuoV3g0

— Bilal Jaleel (@bilaljaleel_) March 20, 2023
The speeches made at the rally conducted by the now notorious Sakal Hindu Samaj had provocative content. Some of this has been transcribed here:
T. Raja speech delivered on March 19, 2023 at Aurangabad, Maharashtra
In his speech, Singh can be heard using anti-Muslim slurs, making false accusations against Muslims, of trapping Hindu women and instigating the audience. Many threats of violence and genocide are also openly made by Singh, one of which is especially frightening, where he can be heard saying, "I just want to tell you all, and to all those traitors too, that this conspiracy of love jihad should be stopped now. Or else, we Hindus are 100 crore in number, if we do our Jihad, you won't even find girls to marry."
In one part of his speech, Singh has even directly attacked MP Asaduddin Owaisi, and has uttered derogatory remarks against him and his brother. The transcript of the speech is as follows:
Video 1
"If you want to stop those Love-Jihaadis, if you want to shoot those love-jihadis, then whenever you get to know that our sister or our daughter has fallen prey to these Love-Jihadis, go to that spot with your team." (Time stamp- 0:00- 0:16)
"Are of feeling scared? In future, whenever you feel scared, remember Sambhaji Maharaj." (Time stamp- 0:19- 0:29)
"Wherever you get to that our sisters and daughters are getting trapped, go there with your team. First, request the authorities to help you, but if the authorities do not support you, then you yourself kill the ones that are already half cut (referring to circumcision)" (Time stamp- 0:29- 0:50)
I just want to tell you all, and to all those traitors too, that this conspiracy of love jihad should be stopped now. Or else, we Hindus are 100 crore in number, if we do our Jihad, you won't even find girls to marry. (Time stamp- 0:52- 1:17)
Video 2
"And today, some people say, that we have no relation with the Mughals. That Hyderabad wali Owasi, if he could not belong to the Muslims there, how could he even support you all?" (Time stamp- 0:00- 0:21)
"The area that he is a minister of, no Muslim is happy there, and he has only come here to make a fool out of them. He says that we have no relation with Mughal. He is the bigger bulldog, and his brother is the small bulldog." (Time stamp- 0:22- 0:43)
"His brother, the smaller bulldog, says that we ruled for 800 years. We made Char minar, we made Taj Mahal and we made Lal Qila. The small bulldog says one thing, and the bigger bulldog says something else." (Time stamp- 0:47- 1:11)
"These two do not have the courage to fight face to face, these (anti-Muslim slur) are impotent."
(Time stamp- 1:12- 1:20)
The crowd can be heard repeating the anti-Muslim slur!
"And to teach these impotent people a lesson, we should do the same that Chhtrapati Shivaji did with Afzal Khan." (Time stamp- 1:48- 2:07)
Video 3
"Some people are saying that we were born in Aurangabad, and we will die in Aurangabad. To these disgusting people, I just want to say that you might have been born in Aurangabad, but you will die in Sambhaji Nagar." (Time stamp- 0:00- 0:23)
"Your death will happen in take place after the establishment of the Hindu nation. I also want to tell the ministers, that whoever will come forward and take the name of Aurangabad, their name and existence will be erased." (Time stamp- 0:27- 0:46)
"I want to request the Chief Minister, that just like Suresh Chavhanke said, whichever board will have the name Aurangabad written on it, that board should be destroyed." (Time stamp- 0:52- 1:03)
"Whichever shop has Aurangabad written on it, no one should buy anything from them. Today, we need to show our strength to these traitors." (Time stamp- 1:04- 1:23)
"Till the time, we do not keep caste based prejudices aside and say "I am a Hindu, you are a Hindu, till then, neither will we be safe nor our religion" (Time stamp- 1:24- 1:37)
"Today, people in such great numbers have come here. What did Bala saheb Thackarey say? A real is not one who stands in a temple, but one who kill Muslims (uses anti-Muslim slurs)" (Time stamp- 1:37- 1:54)
The videos can be viewed here:
Location: Aurangabad, Maharashtra

Far-right leader and Telangana legislator T Raja Singh continues delivering hate speech targeting Muslims. He demonized Muslims and gave calls for mass violence.

He spoke at an event organized by Sakal Hindu Samaj, a far-right coalition of… pic.twitter.com/hmXfxR8tiH

— HindutvaWatch (@HindutvaWatchIn) March 19, 2023
Suresh Chavhanke's Speech
In his hate-filled speech, Suresh Chavhanke made anti-Muslim and anti-Islam statements that were vile and disgusting in nature. Not only did he attack history of the medieval period and distort the history of Maharashtra and its leaders, he used anti-Muslim, stigmatizing and derogatory slurs while referring to the Muslim community. In one part of his speech, he openly said that our current Home Minister, Amit Shah, will cut the noses and humiliate the Muslims living in India.
Again and again he referred to the mosques, graves and tombs present in India, and attempted to instigate the audience by demanding the demolition of these structures and constructions of temples in their place.
He also administered an oath wherein he was heard thanking the Maharashtra government and the Prime Minister Narendra Modi for changing the name of Aurangabad, and pledged to never let this name be changed again. Chavhanke, similar to Singh, also made calls for the economic boycott of Muslims and Muslim shops. The transcript of the speech is as follows:
Video 1
"Today, the ones who call Babar their father and beat their chest for Aurangzeb are the ones who call us outsiders. We are the ones who climbed and put the saffron flag on the Lal Qila." (Time stamp- 0:00- 0:19)
"The MP here does not attend any events organised by Marath Wada Mukti Morcha, what more traitorous acts do we need. I want to tell all the Nizami group that our past Home Minister, the iron man Sardar Patel, had humiliated the Nizams." (Time stamp- 0:20- 0:43)
"And now, the current Home Minister is the new and updated version of Sardar Patel. Tab Sardar Patel ne naak ragadwayi thi, yeh naya sardar patel naak ragad dega (Then Sardar Patel had rubbed their nose, this new Sardar Patel will cut their nose)" (Time stamp- 0:44- 0:59)
"Now there is Amit Shah. These pillo (puppies) should understand who they are fighting with. I want to tell these Muslims that what Aurangzeb are your leaders telling you about, Chhtrapati Sambhaji and Aurangzeb can never be equated. This is similar to how a lion and a pig can never be equated."
(Time stamp- 1:00- 0:32)
"Even Aurangzeb's own father had told him that he is ashamed to have him as his son as he had jailed him. Hindus are better than you who perform death rituals after one of them have died." (Time stamp- 1:33- 2:00)
Video 2
"The G-20 meeting had taken place a few days ago and the government of India had said that they had visited the tomb of Bibi (Bibi ka makbara). Even beneath that tomb, there is a temple. We have to free that temple." (Time Stamp- 0:07- 0:24)
"Did you know that Aurangzeb had come to India to rule Maharashtra, but for 27 years he was chased like a dog by the Marathas? His grave is in Nagar. I want to challenge the historians that his dead body will not be found in the grave if there is an investigation." (Time Stamp- 0:25- 0:59)
"Just like what the USA had done with Osama Bin Laden, the Marathas had done the same with Aurangzeb. We should still keep the grave so that everyone gets to know that this is how the Marathas treat those who come here with an army of 15 lakhs." (Time Stamp- 1:00- 1:24)
"But who will even go there? Only those who have to pee with their one leg up. Except these people, whoever goes there is not a human." (Time Stamp- 1:25- 1:32)
"This is why, I want to request the CM and the Maharashtra government, who are also present on this stage, that whoever visits the grave of the monster Aurangzeb should be charged with laws of anti-nationalism." (Time Stamp- 1:34- 1:51)
"I have heard that the birth anniversary of Tipu Shaitan is also celebrated here." (Time Stamp- 1:53- 2:00)
Video 3
"Tipu was the biggest enemy of the Marathas. He was a pimp for the French and the Portugese. How did he become a savior of these Muslims? That is why we won't let them celebrate the birth anniversary of monster Aurangzeb and Tipu Shaitan" (Time Stamp- 0:00- 0:20)
"Through this speech and you all, I just want to send a thankyou to Modi ji. Repeat after me."
Oath:- "Modi ji, we the citizens of Sambhaji Nagar, want to thank PM Modi ji, CM Eknath Shinde ji and Devendra Fadnavis ji and all those who are in our support of this name change. you changed the name, and now remain till the time that sun and moon are there. We, the Hindus, take the reposibility of keeping this name. We will never let it change, this is our promise."
The crowd can be heard repeating this oath. (Time Stamp- 0:20- 2:00)
Video 4
"My friends, I am talking as the representative of the government and Hindu culture, that till now only the name has been changed to Sambhaji Nagar. Now we will change the character of this city. The headline of this is oath that we have taken to change the character of this city." (Time Stamp- 0:00- 0:23)
"From tomorrow onwards, whichever shop has Aurangabad written over it, we will not buy anything from there. We will economically boycott these dogs of Aurangzeb." (Time Stamp- 0:25- 0:45)
"Thank you for calling me here to this event. If any of the words uttered by me has hurt anyone, I will not take them back as I want you to hear them." (Time Stamp- 0:45- 1:10)
The videos can be viewed here:
This is from #Aurangabad, #Maharashtra #Hindutva leader & #SudarshanNews leader #SureshChavhanke delivers #HateSpeech targeting #Muslims; calls for boycotting their business.

Chavhanke was speaking at an event organised by far-right coalition of orgs called Sakal Hindu Samaj. pic.twitter.com/NnOoUQhoVr

— Hate Detector ? (@HateDetectors) March 20, 2023
Apart from a few recent reports that the police "have registered FIRs" against both speakers T Raja Singh and Suresh Chavhanke, Maharashtra's ruling political class has been conspicuously and eerily silent, not condemning such virulent hate speech. This amounts to a moral acqueisance signififying complicity. Though human rights and civil liberties organisations like Citizens for Justice and Peace (cjp.org.in), PUCL and several others who have come together under the banner of the Salokha Samiti (40 organisations) have been mobilizing protests, to date these are not enough. Over the pst week, the All India Kisan Sabha (AIKS) and the All India Democratic Women's Organisation (AIDWA) have issued statements in protest. Citizens from Mira-Road and Bhayander have launched a counter narrative and counter communication campaign against hate. CJP has filed over fopur dozen complaints to the senior and local echelons of the Maharashtra police urging them to act, prevent and prosecute these hate crimes. Much more however needs to be done to stem this corrosive tsunami of hate and violence.
Related:
Marginalising the already marginalised: Economic Boycott Targeting Muslims
Review of 2022: A year of discrimination & violence experienced by India's religious minorities
Provocative poster in Delhi's Brahmpuri calls on Hindu landlords to not sell to Muslim buyers
Temple fairs and the saga of economic boycott: Dakshina Kannada
Mumbai: BJP leaders attend far right Hindutva rally where calls for economic boycott of Muslims, violence against them are made
Himanta Biswa Sarma targets poll bound Karnataka, spreads communally divisive ideology, distorts history, attacks Congress
Assam: Mass evictions continue as approximately 2500 Bengali-speaking Muslim families get displaced; pleas go unheard
Crackdown on child marriage claims four lives, including three women and one child
Families protest arrests as questions mount on child marriage crackdown in Assam
Hate Watch: Himanta Biswa Sarma on 'Love Jihad' during the Gujarat poll campaign