I had a Dream that Tables were Flung at PM Modi's Rally: Jignesh Mevani vowing to protest at Modi's Rally in Gujarat on September 17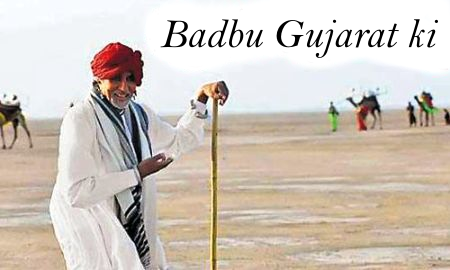 Badbu Gujarat, a Thousand Plus Post Cards Convey the Stink from Gujarat's Streets to Amitabh Bachan a campaign launched a few days ago, on which the commercial television media is silent. Mewani, leader of large sections of Gujarat Dalits have vowed to protest at Modi's rally in the state on Gujarat 17.
Yesterday, September 14, Jignesh Mewani had a dream. And as is the way with the radical younger generation of leaders he posted this on Facebook, "Muje sapna aaya hai ki P.M.Modi ki sabha me table ucchale jayenge. I had a dream that at prime minister Modi's rally tables were flung in protest." "Muje sapna aaya hai ki p.m ki sabha me khurshiya(tables) ucchal ne wale hai kyunki unhone adivashiyo ki forest Rights act ke that 1,20,000 pending applications clear nahi ki…bhai sapna to sapna hai aa bhi shakta hai…" (Adivasis are upset that over 12,000 applications for land made by them under the Forest Rights Act have not been granted)
The Facebook post came in the wake of the Gujarat police's rather crude attempts once again, in denying permission to the vibrant Dalit movement to hold a meeting, exactly at the spot where the ruling Bharatiya Janata Party (BJP) and the Sangh combine (Rashtriya Swayamsevak Sangh,RSS and affiliates) held their 'samajika samrasta' last fortnight.
Mevani terms this as 'an event to fool Dalits to take them to the BJP fold just a few days ago'. He adds: 'Come what may, we will go and will be announcing the date of Rail-roko as Gujarat government is not initiating the procedure to hand over 5 acres of land as per our demand of Una Dalit Atyachar Ladat Samiti…Alpesh Thakor, strong OBC leader may join us today at the sabha. Support is increasing and struggle is on. If police is not going to give permission, thousands of Dalits are ready to get arrested. Will also be making a crucial announcement regarding prime minister Modi's upcoming Gujarat visit scheduled on September 17, which is his birthday…"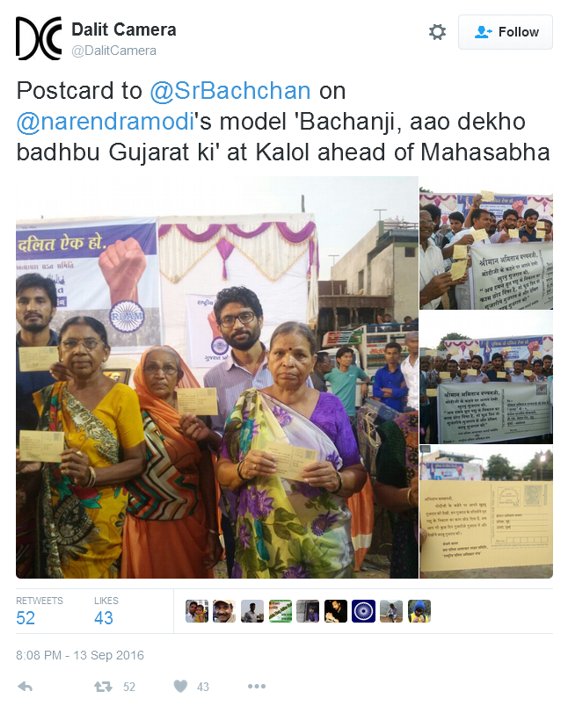 Badbu Gujarat Ki, a Unique Campaign
Determined not abandon the resistance, Gujarat's Dalits have launched a unique campaign against the star of Gujarat tourism, Amitabh Bachan The commercial television media has been conspicuous by its silence on this campaign. Asian Age, September 14 says, "The tagline 'Badbu (stink) Gujarat Ki' is a parody of Tourism Department's famous television ad 'Khushbu (scent) Gujarat Ki'."
At least 1,100 postcards with a small message and tagline 'Badbu (stink) Gujarat Ki' were sent to state tourism's brand ambassador and Bollywood icon Amitabh Bachchan on Tuesday by Dalits as part of a campaign to highlight "atrocities" against them in the home state of Prime Minister Narendra Modi.
The punchline of the campaign is a parody of the Tourism Department's famous television advertisement "Khushbu Gujarat Ki (scent of Gujarat)" featuring the megastar.The campaign was kicked off from Kalol town in Gandhinagar district.
'Una Dalit Atyachar Ladat Samiti' convener Jignesh Mevani claimed that hundreds of carcasses of cows are rotting in the state and Dalits want Bachchan to come and "enjoy the stench of Gujarat".The unique protest was conceptualised by 'Una Dalit Atyachar Ladat Samiti' and 'Rashtriya Dalit Adhikar Manch' against the backdrop of flogging of Dalits for allegedly skinning a dead cow. Please see this Interview (We invite Amitabh Bachchan to see 'Badbu Gujarat ki': Jignesh Mewani – Tv9 Gujarati)
"We have started this campaign from Kalol, where at least 1,100 Dalits sent one post card each to Bachchan. All the postcards bear a common printed message which urges him to visit Gujarat and sniff the stink coming out of cattle carcasses, as Dalits have stopped disposing them of as part of their protest against atrocities in Una," he said.The flogging incident in July, allegedly perpetrated by self-proclaimed cow vigilantes, had sparked off a massive unrest in state.
"We have given up disposing the carcasses. Hundreds of cows are lying dead and stinking all over the state. Now that we have given up disposing dead cows, we are inviting Bachchan to come here, spend some time and enjoy the 'badbu' of Gujarat," Mevani said.
He said more such postcards will be sent to Mr Bachchan from various cities of the state.Mevani claimed that a team of Dalit leaders would also visit Mumbai to hand over one such postcard in person to Bachchan.
Meanwhile Anand's Dalits are also protesting the high-handedness of the upper castes' and state administration. The Times of India reports that Dalits on indefinite hunger strike in a village.
"Dalits in Malataj village of Anand's Sojitra taluka have gone on indefinite hunger strike demanding action against `illegal' construction of a temple of local deity `Meldi Maa'.The temple along with a hall have been constructed by members of the Rabari community . The dalits of the village have alleged that when they had objected to the construction in June, a mob of around 200 had beaten them up."
Local Dalits had registered a police complaint against the mob but, predictably the district police had taken no action against the accused."The temple has been illegally constructed on 2,000 sq m land obstructing entrance to Vankar Vaas and Rohit Vaas which is home to all dalits of the village," said Dilip Rohit, one of the agitators told the media. Dalits claim that the mandaps leading upto the temple are also obstructing the road/pathways to Dalit homes. Though a complaint under the Atrocities Act had been registered three months ago, on June 15 at the Maltej Police Station, to date no identification parade of the accused has been conducted nor remand of the accused sought. In the month of June, approximately 2,000 Dalits had taken out a rally in Anand and submitted a memorandum to district collector against the illegal construction.
It is the failure of the authorities to respond that has led to the declaration of an indefinitenite hunger strike.