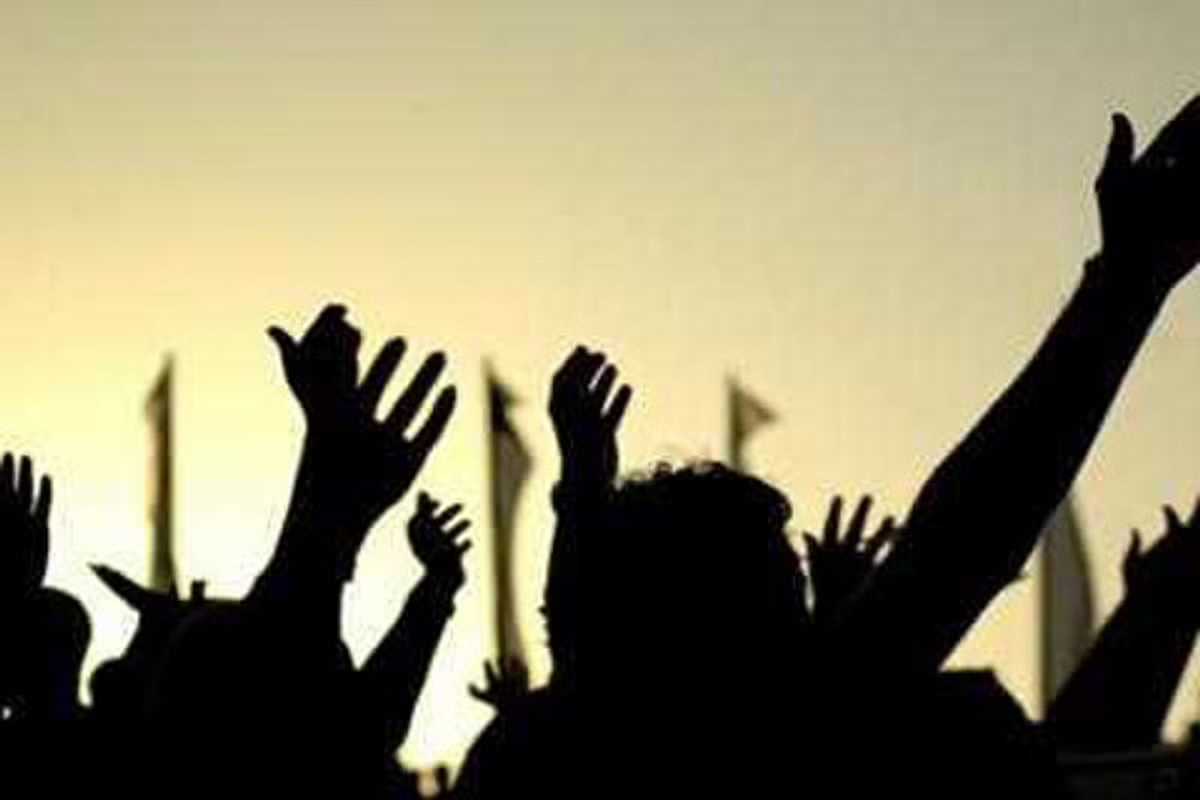 Close to a dozen Bajrang Dal activists stormed the government ayurvedic college in Jammu on Saturday, October 8, claiming Muslim students were offering namaz on the premises, before being assured this wasn't true and persuaded by police to leave. This incident has been reported by The Telegraph.
While there is no law against religious activities on campuses, the entire attitude or approach of college authorities' seemed to be to placate the intruders by denying that namaz had been held on the premises.
The Bajrang Dal storm troopers claimed to have been tipped off by some parents, and objected to the purported namaz saying the campus was a public place.
Unlike in Uttar Pradesh — where sangh parivar activists had created a ruckus over namaz at a Lucknow mall — no government order in Jammu and Kashmir bans religious activities at public places.
It is quite common for Muslim students in Jammu and Kashmir to pray on campuses. The sangh parivar raid on the Government Ayurvedic College in Akhnoor has prompted many to ask whether the raiders were trying to do an Uttar Pradesh in the Muslim-majority Union Territory.
"This is Akhnoor, Jammu, and not UP. 'Terrorists' barged inside Ayurveda College to stop few Muslim students staying in hostel premises to offer prayers. Listen to the language," People's Democratic Party leader Firdous Tak wrote on Facebook.
A video flagged by the right-wing ecosystem shows mats and skullcaps scattered on a verandah around the campus but contains no visual of anyone offering namaz. It's not clear who put the mats there.
Dr Shashi Sudhan, principal of the Government Medical College who also holds charge of the ayurvedic college, told The Telegraph: "There is zero per cent reality in it (namaz allegation). There was some miscommunication…. Everything is normal, amicable. I checked the CCTV footage and spoke to the students and faculty and found nothing of that sort happened."
A staff member also said the police had arrived soon after the Bajrang Dal activists stormed the premises."They (activists) wanted action against the college management and students but left the place after the police asked them to," he said.
Social media is an ally with the aggressive right. In a video, a Bajrang Dal activist, Balkar Singh, is heard saying: "They (college management) are denying any such thing was happening inside. Tomorrow, somebody can plant a bomb inside and they will not know anything."
February 2022, actions against Hiab in Jammu
Earlier this year, in February, Greater Kashmir had reported that the Rashtriya Bajrang Dal Saturday held a protest against Hijab in educational institutions of Jammu and Kashmir.They had demanded implementation of dress code in all educational institutions across the country including Jammu and Kashmir.
Led by their president, Rakesh Bajrangi, the protesters assembled here against the wearing of Hijab in educational institutions. "We have appealed to the Government of India to implement a dress code for all students in schools, colleges and universities," Bajrangi said.
He had then said that the students should not be allowed to violate the dress code or do Hijab in educational institutions. "The government should strictly implement the same dress code in J&K," Bajrangi said.
He also alleged former chief ministers Omar Abdullah and Mehbooba Mufti of trying to add fire to fuel with their social media posts.
Related
Karnataka: Bajrang Dal member killed, cops refute links to hijab row
Assam Bajrang Dal leader threatens Hindus going to Church on Christmas