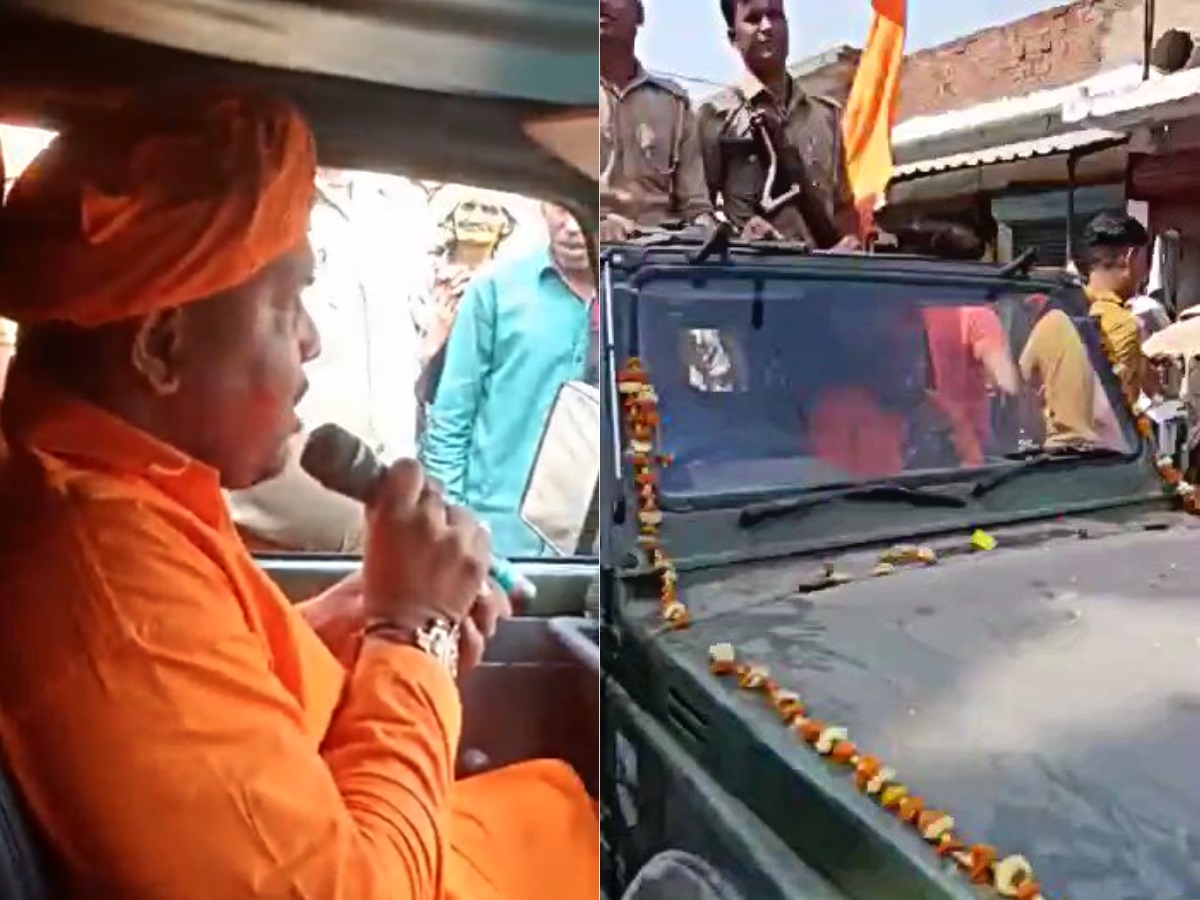 A man identified as Bajrang Muni Das, a priest or 'mahant' of Maharshi Shri Lakshman Das Udasin Ashram in Khairabad town of Uttar Pradesh, issued a criminal threat to rape Muslim women. He spoke into a microphone connected to loudspeaker from a vehicle, parked outside a mosque in Sitapur on April 2, saying, "If you tease a single [Hindu] girl, I will abduct your daughters and daughters-in-law from your house, and rape them in public."
The criminal threat as seen in a viral video was issued by Das as he was addressing supporters who took out a procession on the occasion of Navratri, and Hindu New Year. Like many such processons being taken out recently, this Hindutva group also decided to make it a point to halt outside a mosque. The Hindutva leader then took to a microphone and issued the vile rape threat while being filmed on video.
According to a report in Times Now, taking cognisance pf this open "rape threat" against Muslim women, Sitapur Police have initiated an investigation under Additional Superintendent of Police North Rajiv Dikshit. However, it is not known if any arrests have been made so far.
Where does the law stand?
There are clear sections in the law to deal with such offences. Section 354 of the Indian Penal Code (IPC) deals with outraging the modesty of a woman. This section punishes "any act by a person that assaults or uses criminal force against a woman with the intention or knowledge that it will outrage her modesty" with "either simple or rigorous imprisonment of up to 2 years, or a fine, or both."
Section 376 deals with punishment for sexual assault. The perpetrator can be punished "with imprisonment of either description for a term which shall not be less than seven years but which may extend to 10 years" and also be fined.
It is crucial to note that the Information Technology (IT) Act, that pertains to cybercrimes, and IT Rules, also apply to hateful Social Media posts, as hate speech and hate videos going viral on the internet can incite crime anywhere, and are not restricted to the geographical location of the hate offender.
Some of these are cybercrimes as explained in an opinion published in Times of India, and include online sexual harassment and stalking as well. The report also elucidates crucial sections of the IT Act, which can apply in cases such as these where women are threaten with heinous crimes:
Section 66E – Taking pictures of private areas, publishing or transmitting them without a person's consent is punishable under this section. Imprisonment can be up to three years and/or up to Rs 2 lakh fine.
Section 67 – Publishing Obscene Information in Electronic Form. Imprisonment can be up to five years and a fine up to Rs 10 lakh.
Another hate crime targeting a mosque
This is not an isolated incident. Recently an FIR was filed against unknown persons in Ghazipur, Uttar Pradesh, after a crowd climbed on top of a mosque in Gamrah village, and raised religious slogans on April 2. The accused have been charged with promoting enmity between two groups. Recently, a man was arrested on the basis of a viral video of the incident, though he has not been publicly named yet. Area SP Rambadan Singh told the mediapersons, "All the people involved in this case are being identified and strict action will be taken against them."
Meanwhile, even Delhi Police have reportedly registered a case against the Hindutva leaders Narsinghanand Saraswati, priest of Dasna Devi temple in Uttar Pradesh, and Suresh Chavhanke, chief editor of Sudarshan News, Noida, UP, for allegedly making inflammatory speeches during a Hindu Mahapanchayat Sabha in Delhi.
Related:
Right-wing's dangerous obsession with mosques and dargahs peaks during Ramzan
Gujarat: Antarashtriya Hindu Parishad is stage for anti-Muslim abuse, trident distribution
The Kashmir Files: Right-wing outfits bring weapons inside theatres!
Why is this 'Sangeet Som Sena' allowed to roam free in UP?
Will Suresh Chavhanke ban this leaflet by Bhagat Singh simply because it's written in Urdu?
Right-wing's dangerous obsession with mosques and dargahs peaks during Ramzan