Police have filed two cases against more than 1,000 people over Sunday's attack on temples and homes of the Hindu community in Nasirnagar of Brahmanbaria
An unruly mob of hundreds of people armed with locally-made weapons demolished at least 10 temples to the ground along with vandalising hundreds of houses of the Hindu community at Brahminbaria's Nasirnagar upazila on Sunday afternoon, reportedly in response to a Facebook post making satire of the Masjid al-Haram, the holy site of Muslims.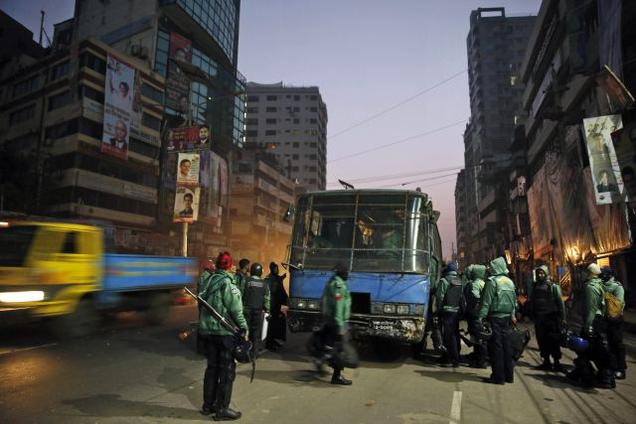 File Photo / Representative
Nasirnagar police have so far detained nine attackers and drive was underway to arrest others.
Meanwhile, district Awami League has demanded the withdrawal of Nasirnagar Upazila Nirbahi Officer (UNO) and the officer-in-charge of Nasirnagar police station.
Local citizens have organised a rally to promote communal harmony for Monday afternoon.
More than 100 people were injured in the attacks while six people were detained, according to reports.
Police took control over law and order in the area around 2:00 pm, a police official said. A raid was underway to nab the culprits, last reported.
Several hundred locals staged demonstration at Sarail-Nasirnagar-Lakhai highway on Friday noon demanding hanging of one Rasraj Das who allegedly was behind the FB post.
The temples are Duttobari temple, Nomosomudropara temple, Jagannath temple, Ghoshpara temple and Gouro temple.
Brahmanbaria Superintendent of Police (SP) Mizanur Rahman told the Dhaka Tribune that around 150 to 200 people launched the attacks and vandalised at least seven to eight idols of five temples in the area.
Mizan said a vested group carried out the attack to tarnish the government's image.
Blaming the Jamaat-Shibir men for the attack, he said: "Those who were behind the attack will be arrested as soon as possible. Already we have detained six persons in this connection."
Nasirnagar Hindu-Budhist-Christian Oikya Parishad president Adesh Dev, however, claimed to a news portal that in total 15 temples had been looted and destroyed.
"Several devotees were injured in the communal attack and police did not interfere into the looting. A BGB platoon has been deployed but only after the damage was done," Dev said.
BGB 12 commander Lt Col Shah Ali said the para-military force were deployed on request of the deputy commissioner (DC) of the district to maintain law and order situation.
"A group of Hefajat-e-Islam supporters launch the attack on the Hindu community and vandalised their houses and temples while we were holding peaceful rally," said Riazul Karim, convener of Nasirnagar unit of Ahle Sunnat Wal Jamaat.
On information, Brahminbaria DC Rezwanur Rahman and SP visited the spot and assured people of the community of taking stern action against the attackers.
Contacted, Nasirnagar upazila parishad vice chairman Anjan Dev said: "Although the situation is under control at this moment (Sunday evening), members of the minority community are in a panic still. Preparations are going on to file separate cases over the demolition of temples."
In reply to a query, Brahminbaria DC Rezwan said: "RAB, police and BGB personnel have been deployed in the upazila. Those involved in the attack will be brought to book after investigation."
Meanwhile, madrasa students of the district staged demonstration at the district press club Sunday demanding hanging of Rasraj Das, detained over the allegation of posting, from his personal FB account, a picture of Masjid al-Haram on which a picture of Shiva was juxtaposed.
Police detained Rasraj on Saturday and produced him before a Brahmanbaria court on Saturday.
The court sent him to jail.
This report first published on Dhaka Tribune is being republished with permission.