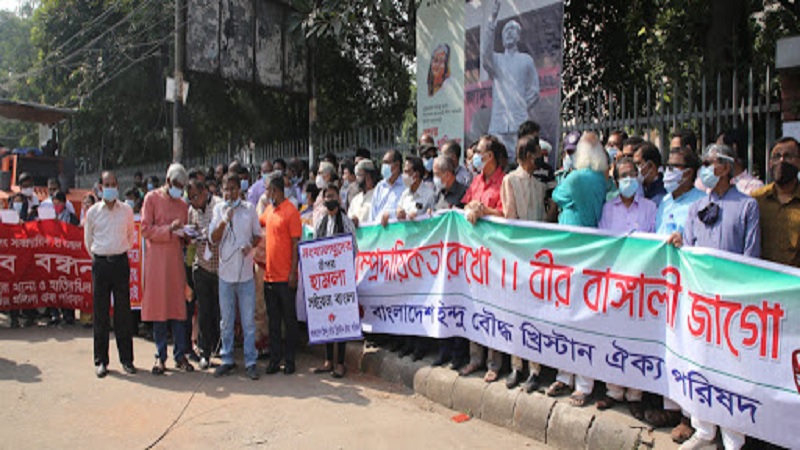 Image Courtesy:asianews.it
Protests continue in Bangladesh as thousands of citizens stand in solidarity with their Hindu compatriots in the wake of violence against the minority community. International media has covered how for the past few days Bangladeshis, across religions are seeking justice for their Hindu fellow citizens who have borne the brunt of recent communal attacks during Durga puja.
On Saturday, October 23, 2021, a mass strike and protest rally has been called for "in districts and sub-districts across the country" by the Bangladesh Hindu Buddhist Christian Unity Parishad to "condemn, protest and condemn communal attacks and want the overall security of religious-ethnic minority population." Citizens of the country are taking to the streets demanding safety of Bangladeshi Hindus, and taking their campaign online with hashtags such as SaveBangladeshiHindus.
According to a report in Al Jazeera, the mob attacks on Hindu temples and clashes with police in various parts of Bangladesh "have left at least six people, including two Hindus, dead and more than 100 injured." Local police told the media that "more than 200 attackers beat and stabbed to death an executive member of the temple committee in the southern town of Begumganj" at a time when the final ceremonies of the Durga Puja festival were being carried out. Shahidul Islam the district police chief told AFP that on Saturday another Hindu man's body was found near a pond next to the temple. Four others were killed late on Wednesday "when police opened fire on a crowd of about 500 people attacking a Hindu temple in Hajiganj, one of several towns hit by the disturbances" stated Reuters.
Fresh violence in Bangladesh reported
Fresh violence in Bangladesh was reported when a mob attacked houses belonging to members of the community at a village in Rangpur's Pirganj Upazila. The trigger for the violence, police said, was a Facebook post with "religiously abusive content," believed to have been made by a Hindu man. According to a report in HT, Mohammad Sadequl Islam, the chairman of the local Union Parishad, said, "Around 65 houses were torched during the attack on Sunday night, resulting in at least 20 houses being completely burnt down." He alleged, the mob was of "local units of the Jamaat-e-Islami (JEI) and its student wing Islami Chhatra Shibir."
Hindus comprise around 10 percent of Bangladesh's 165 million population and have been shaken and left fearful since violence also broke out in the nation's capital Dhaka, and the port city of Chittagong. High-speed mobile phone internet services were shut and police resorted to fire "tear gas and rubber bullets at thousands of brick-throwing Muslim protesters". Protests have continued in the country and according to news reports at least 150 Hindus were injured across Bangladesh. According to community leader Gobinda Chandra Pramanik, "At least 80 makeshift temples had been attacked" in Noakhali, Bangladesh. The International Society for Krishna Consciousness (ISKCON) called on the Gov't of Bangladesh "to ensure the safety of all Hindus and bring the perpetrators to justice".
ISKCON temple & devotees were violently attacked today by a mob in Noakhali, Bangladesh. Temple suffered significant damage & the condition of a devotee remains critical.

We call on the Govt of Bangladesh to ensure the safety of all Hindus & bring the perpetrators to justice. pic.twitter.com/ZpHtB48lZi

— ISKCON (@iskcon) October 15, 2021
Radharamn Das, Vice President , ISKCON, Kolkata, announced a "1-day protest & prayer meetings for victims in Bangladesh on 23 Oct, in almost 150 countries at all ISKCON centers".
We're planning a 1-day protest & prayer meetings for victims in Bangladesh on 23Oct, in almost 150 countries at all ISKCON centers: Radharamn Das, Vice Pres, ISKCON, Kolkata

These protests are being held after a mob vandalised an ISCKON temple & killed 1 in Bangladesh 3 days ago pic.twitter.com/DzJA0Zhn5h

— Prasar Bharati News Services पी.बी.एन.एस. (@PBNS_India) October 19, 2021
Bangladesh Police have reportedly detained at least 300 suspects in connection with the riots. However, attacks targeting Hindus continue in Bangladesh despite Prime Minister Sheikh Hasina making a strong statement that the guilty will be punished regardless of their religion. Bangladesh Home minister Asaduzzaman Khan on Sunday said that the attacks on Durga Puja pandals were "pre-planned" adding that those found involved will be given "exemplary" punishment.
The Indian right-wing adds communal fuel
Many right-wing influencers from India have meanwhile decided to add communal fuel to what is happening across the border in Bangladesh. Most recently, they have shared a video from Tripura and claimed it is of the ongoing violence against Hindus minorities in Bangladesh
Now Hindu homes being systematically burnt in Bangladesh. Will we wait till we have to airlift the last Hindu like we did from Afghanistan?

We forget: Bangladesh & Pakistan will soon go the way of Afghanistan. It is their wish their destiny. What is ours? https://t.co/FWUCzyVAst

— Anand Ranganathan (@ARanganathan72) October 18, 2021
The image shared was originally posted by Twitter handle @UnityCouncilBD of the 'Bangladesh Hindu Unity Council'. It claimed the violence was from Rangpur. However a fact check by Alt news revealed that "the samee video was shared by a Facebook page named 'Social Tripura Network'. The news ticker in Bengali flashing at the bottom says that the incident took place in 'মরাছড়া বাজার' or Mara Cherra Bazar which is in Karatichhara, Tripura." The cause of the fire was yet to be determined though " some locals suspected that the fire started from the mandap, others think that a short circuit in one of the shops caused the fire outbreak."
Related
'Zero tolerance for communal violence': Dhaka Tribune editorial
Don't consider yourselves as minorities: Sheikh Hasina reassures Hindus