The workers believed the KSA was a safe place for Muslim women to work because it is the birthplace of Islam
Female Bangladeshi migrant workers have spoken to the
Dhaka Tribune
of shocking abuse and mistreatment at the hands of their employers in Saudia Arabia.
They said they had been victims of severe maltreatment, sexual, physical and emotional abuse, and deception by their Saudi employers.
All three told the Dhaka Tribune that their employers expected and often demanded sex, with or without their consent. Sometimes, they even had their friends join in.
Their employers expected and often demanded sex, with or without their consent. Sometimes, they even had their friends join in.
Traumatised by their experiences, these women cannot even seek proper help.
They believed the KSA was a safe place for Muslim women to work because it is the birthplace of Islam. In blind faith, they sold off their worldly possessions to secure the funds needed to travel to the country.
They believed the Saudi Arabia was a safe place for Muslim women to work because it is the birthplace of Islam.
The names of the women have been changed to protect their identities.
Sapna moved to the KSA to work as domestic help and take care of disabled children and the elderly.
Prity, a migrant worker from Pabna, was employed as a caregiver in a household with disabled children.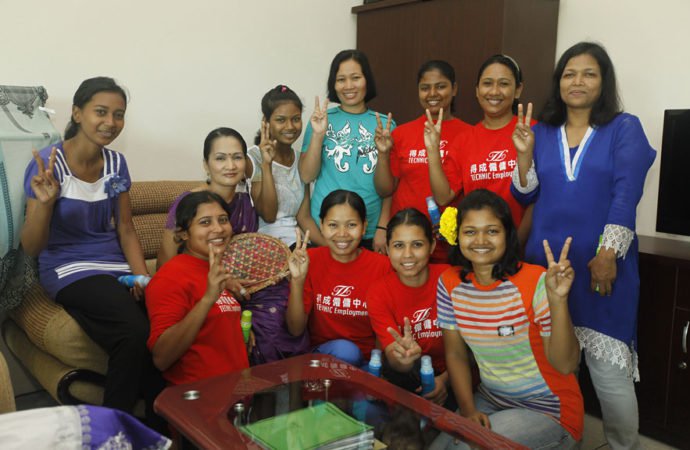 A group of Saudi-bound workers in joyous mood ahead of their trip to the country but little do they know what fate has in stored for them. Photo credit: SYED ZAKIR HOSSAIN/Dhaka Tribune
Hasna, a university graduate, now works 17 hours a day as domestic help for a Saudi policeman because she and her husband could not afford to raise their three children with the wages she was earning previously.
Their contracts offer no recourse for workers subjected to abusive treatment.
A Bangladeshi diplomat currently based in Saudi Arabia agreed that the current MoU for manpower exports to the KSA does not have protective clauses to ensure the safety of female migrant workers.
Prity, has been fighting off the sexual advances from her employer and his friends for about a year. Her employers have responded by trying to beat and starve her into submission.
When the Dhaka Tribune spoke with Prity, she repeatedly asked for help to get home. Her desperation was palpable. Her family is trying their best to bring her back by raising funds to pay back the deposit made by the recruiting agency that got her the job.
Sapna told the Dhaka Tribune: "I do not fight them any more because if I do not let them have sex with me, they beat me and take away my food. I do what I have to for self-preservation, so I do not protest my abuse. Sometimes, they tip me for letting them use my body."
Hasna's wage was initially set at 800 Riyals ($213.30), but her employer offered her 200 Riyals for "extra work." This "extra work" was that she had to work full-time for three different households in the building, cleaning eight rooms, comprising 16-17 hours of work every day.
She wakes up around 5 am and goes to sleep at 1:30 am every day, without a single day off.
"I am bound to work here for 2 years and for the last year, all I have seen of this country are these people's houses and the staircase," said Hasna.
Every day, she goes from the ground floor to the third floor and back, at least seven to eight times per day.
"I have to carry four gallons or 64 litres of water from the ground floor to the third floor daily, and sometimes I have to carry gas cylinders as well.
"It gets so overwhelming that I sometimes sit on the steps and cry from exhaustion," she told the Dhaka Tribune.
"I don't mind working in front of men, but when they ask me to massage their bodies or remove hairs from their nose or when they touch my body, that I can not accept. But I am forced to accept it," says Hasna, bursting into tears.
A junior official at the Bangladesh Embassy in KSA, who asked not to be named, said: "Agencies lure unskilled Bangladeshi women to Saudi Arabia with dreams of high paying jobs. Once they get here, they realise how different the situation really is. But they are unable to go back home because their employers confiscate their passports and they have no idea how to reach the embassy."
Many female Bangladeshi workers who migrate to the Kingdom of Saudi Arabia are uneducated, unskilled and poor. And this makes them easy prey to all kinds of exploitation.
The reformed labour law of KSA states that domestic labourers are entitled to nine hours of rest every day. Moreover, they may be entitled to one day off per week, if it is stipulated in their employment contract.
None of the migrant Bangladeshi workers this reporter spoke with were given this minimum, legally mandated rest period.
Because migrant labourers' real-life experiences are often under-reported, and because reports of abuse are often unheeded by aspiring migrants, Bangladeshi women are increasingly travelling to KSA in search of work.
The numbers have risen from 20,952 to 68,286 last year because of an MoU signed by the two countries in 2015. The MoU expires this month.
When questioned about allegations of rape and sexual abuse, Bangladeshi Ambassador to KSA, Golam Moshi said embassy staff were more aware and proactive about the abuse of female domestic workers than before.
"As soon as we are made aware of such an issue, we take action," said Golam, admitting that this has been a big problem since the Bangladeshi embassy has not been able to pressure the Saudi government into ensuring these migrant workers' rights.
"The government is trying to help solve this problem by appointing companies to train these women in Saudi culture and the Arabic language," Golam said.
A senior diplomat, speaking on condition of anonymity, suggested three potential solutions. He suggested introducing protection clauses in any future MoU, implementing fortnightly check-ins conducted by embassy staff and ensuring that workers can retain possession of their passports and phones.
The sheer volume of sexual abuse allegations in Saudi Arabia has prompted the Philippines, Sri Lanka, India, Ethiopia and Nepal to tighten their laws and outreach programmes for female migrant workers.
The demand for Bangladeshi migrant labour is high precisely because they are largely unskilled and there are no laws protecting their rights. This is one reason why Bangladesh lacks leverage when negotiating with Saudi Arabia to protect its citizens' rights.
Tired of waiting for help, some abused workers manage to flee their places of work and some eventually reach the Bangladesh Embassy.
What happens to the ones who don't make it to the embassy, remains a mystery.
(Republished with permission from Dhaka Tribune. The original story may be read here).