"The real celebration of culture and art is dwindling each day. If we don't realise that gatherings like Ganesha Chaturthi provide us with a podium to spread the essence of brotherhood, then it is a collective loss."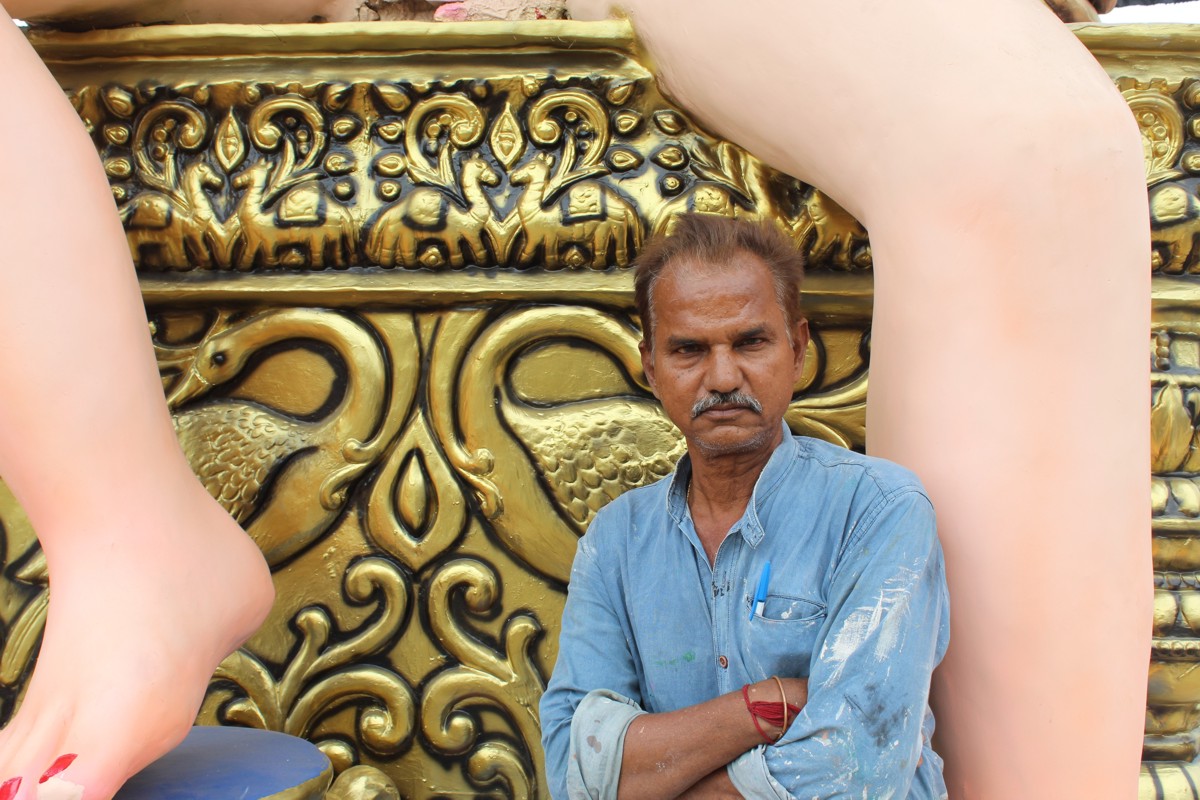 Close view: Ashok Ajmeri
"Art," Ashokbhai Ajmeri says, "is an integral segment of our culture." Ajmeri's idols, known for their large sizes, are famous across Vadodara. Ganesha Chaturthi brings city to new VIP road every year where Ajmeri's fascinating workshop metastasises the fragrance of Ganesha idols.
Ashokbhai Ajmeri's family has been engaged in idol making for three generations. His grandfather, Jamunadas Ajmeri, known then for his handmade toys under patronage of Maharaja Sayajirao Gaekwad III, was inducted as a practical teacher at Kalbhavan of MS University of Baroda. Ashokbhai Ajmeri wanted to join the fine arts faculty of MS University, but due to some family issues, he pursued commerce and continued until M.Com previous year before he dropped out to get a temporary job so that he could earn a living. "Bloodline was calling me back", he recounts. "Traditional sculpture art which I have seen since my childhood days couldn't let me get away with it. I had to somehow fall into the same trap, or I say dedication, my two generations have sustained this beautiful city with."
Ajmeri's son is pursuing his B.Arch in interior design from MSU Baroda. His daughter is pursuing her BBA. Both are not interested in continuing Ajmeri's profession. When we ask about future of the workshop, he says, "My nephew is the last hope in the family. He is a school goer, let's see if he develops an interest in it. Or else, anyone keenly interested will carry forward this art."
The workshop has some 14 artists who work with Ajmeri to give their spectacular touch to idols. Most of them work on daily wages and are migrants from rural Gujarat. They are called to Ajmeri's workshop in peak seasons, while on off days they do agricultural work back at home. Ajmeri hosts all of them in his workshop and provides meals.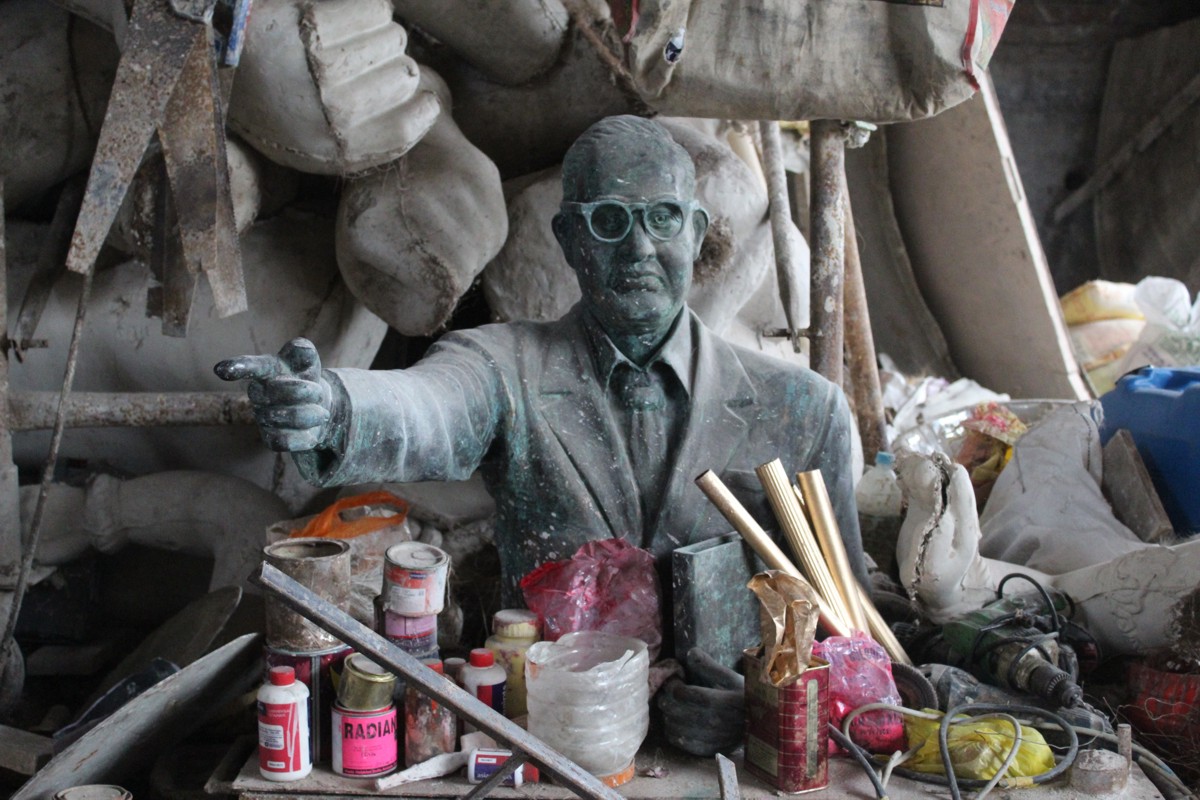 Babasaheb Ambedkar's idol
"The existence of our rich cultural society can only be envisioned if there is a proper recognition of the art forms," insists Ajmeri. "Idol not only connects the dots but also ushers several possibilities: it is a source of income for many idol makers like me, and see how poor people placing stalls near Ganesha pandals earn in upcoming ten days."
For Ajmeri, festivals like Ganesha Chaturthi are not only about religion. They bring society closer. He speculates, "In city, we don't know who lives next to us, who lives on upper floor or on lower floor, most of us have no idea. But when society plans to celebrate festivities, a huge possibility of social interactions kicks in, and we need it. We can't rush up every time, we are humans, we are social beings."
The process of idol making starts with a 25-inch prototype model made of clay. It is then transformed into a 5-9 foot idol by artists. Each body part is made separately, using Plaster of Paris (PoP) and fibre. Then acrylic colours and minute paint detailing give the finishing touches to the idols. Ajmeri's workshop has earlier made idols for ISRO and other government agencies.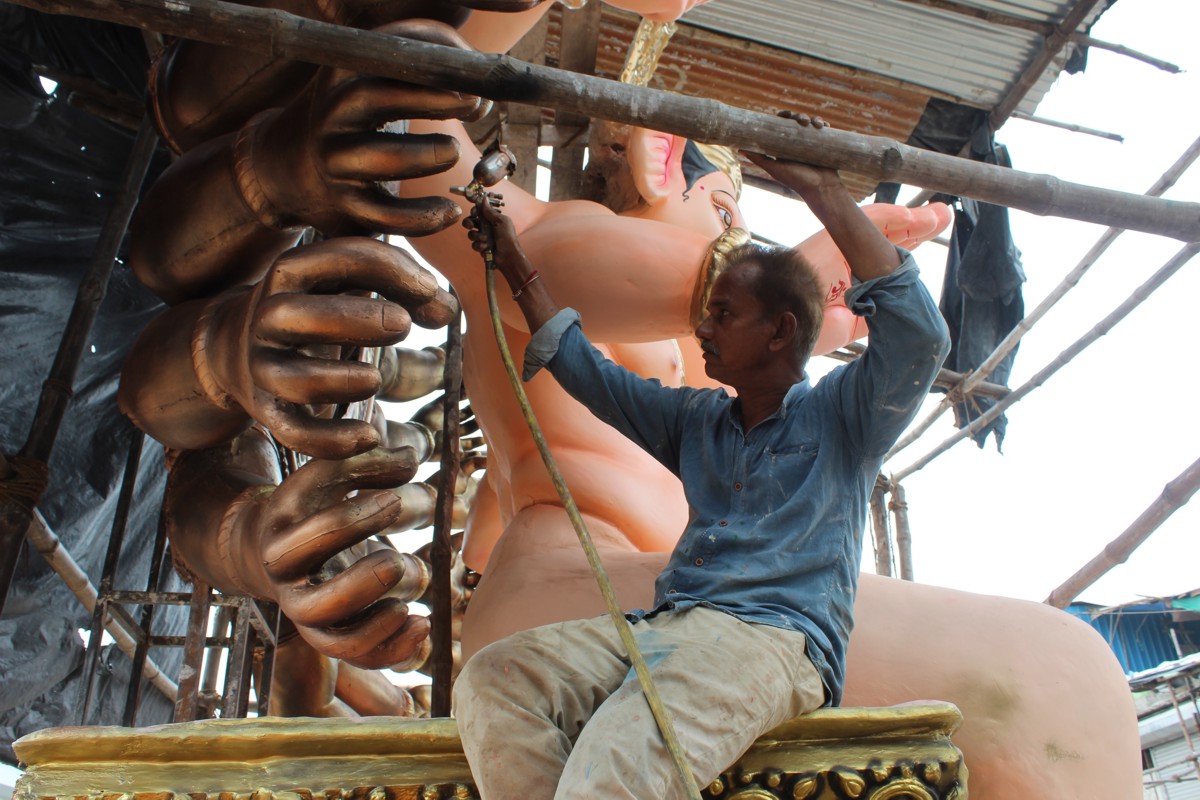 Ashokbhai Ajmeri giving finishing touch to the idol
Earlier there were protests across the city against PoP idols, but Ashokbhai tells us that this has been the practice for decades. "This unrest on PoP on environmental factors," is questionable," he states, adding, "It is efficient to make PoP idols. It doesn't disturb agriculturally useful soil stratum, which clay idols deplete. Question here is not PoP, it is about waste management." He further argues, "Pollution is everywhere but it is up to administration to prohibit discharge of PoP idols in water bodies."
Artisans in the workshop say that there has been no health hazard. They claim, "It is our devotion and our part of service to society and almighty which keep us intact and good going."
The Vadodara Police has recently regulated the height of Ganpati idols. Ashokbhai Ajmeri as president of Murtikar Art Foundation, Vadodara (MAFV) decided to stick to norms following administrative refutations. He questions, "Why is there much hullabaloo on the size of idols now? If so, then why Statue of Unity? What is Statue of Liberty? Aren't 'Brihad' (Giant) and Brahma' (fundamental) symbols of Hinduism? This is just about idols, it is prima facie administrative denial."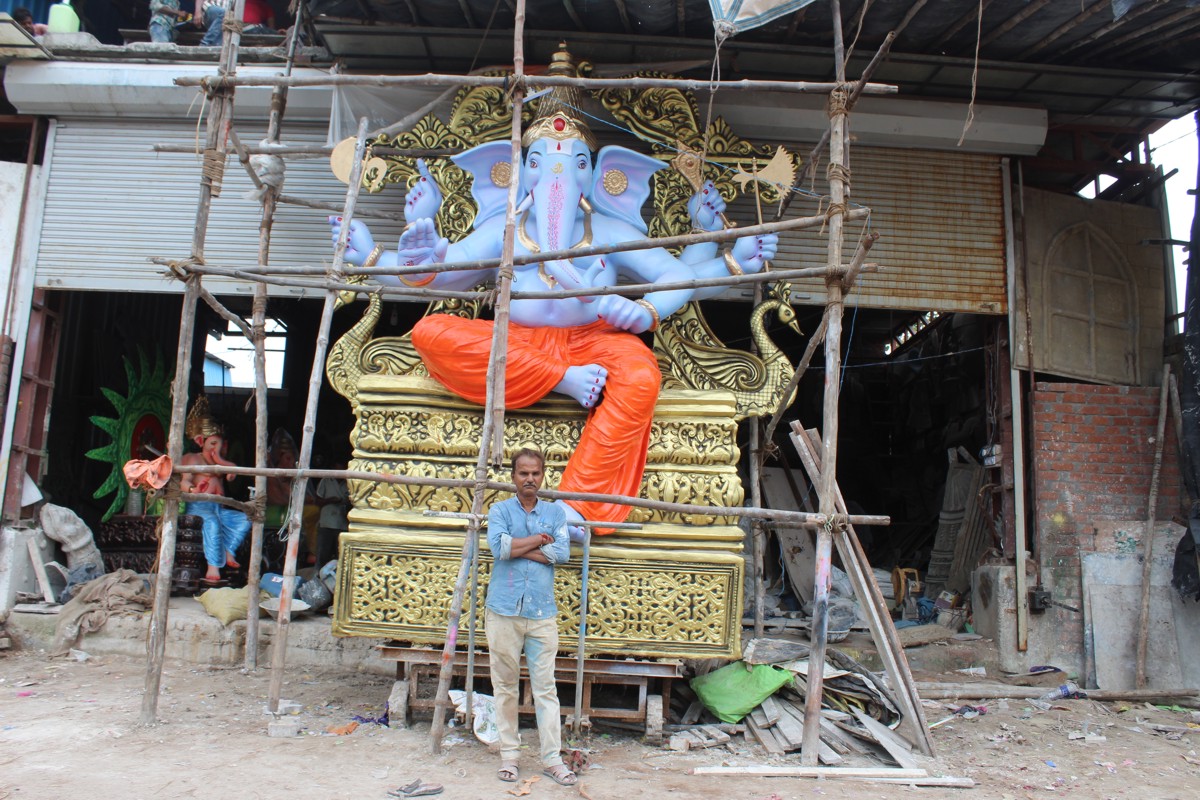 Ashok Ajmeri, his workshop and the idol ready to be dispatched.
Each year, various yuvak mandals (youth associations) organise Ganpati festival on specific themes. Ajmeri remembers how associations across the city once established the theme as the Nirbhaya 2012 case. "Associations decide themes on the social issues and address them via this platform," he says. "To destroy the culture just on the tag of apparent pollution is intellectual depravity beyond measures. Why don't those cry on this focus on waste management instead? The actual issue exists there."
"There is a difference between art and vulgarity," observes Ashokbhai Ajmeri. "Some bring vulgarity to the art for the cheap publicity. Will you make the same idols of your mother? There exists the gap between artistic freedom and grievous intent to injury." He notes, "Raja Ravi Verma used to paint in the durbar of Baroda's Maharaja, he was accused of drawing gods and goddess on paper and giving them human shapes. I don't find any violation of social conduct by Raja Ravi Verma, but today vulgarity is more and art is less."
"The real celebration of culture and art is also dwindling each day. For many, sacred festivals like Ganesha Chaturthi are not for spiritual and cultural cause but to spread nuisance in the society. If we don't realize that gatherings as such provide us with a podium to spread the essence of brotherhood, then it is a collective loss. What is the meaning of sexist songs being played on speakers on Ganesha Chaturthi," Ashokbhai speculates. "Culture defines civilization; if we lose our culture, we will lose our identity, hence it is necessary to revive our belongings each year so coming generations don't forget the meaning of societal terms of harmony and community values."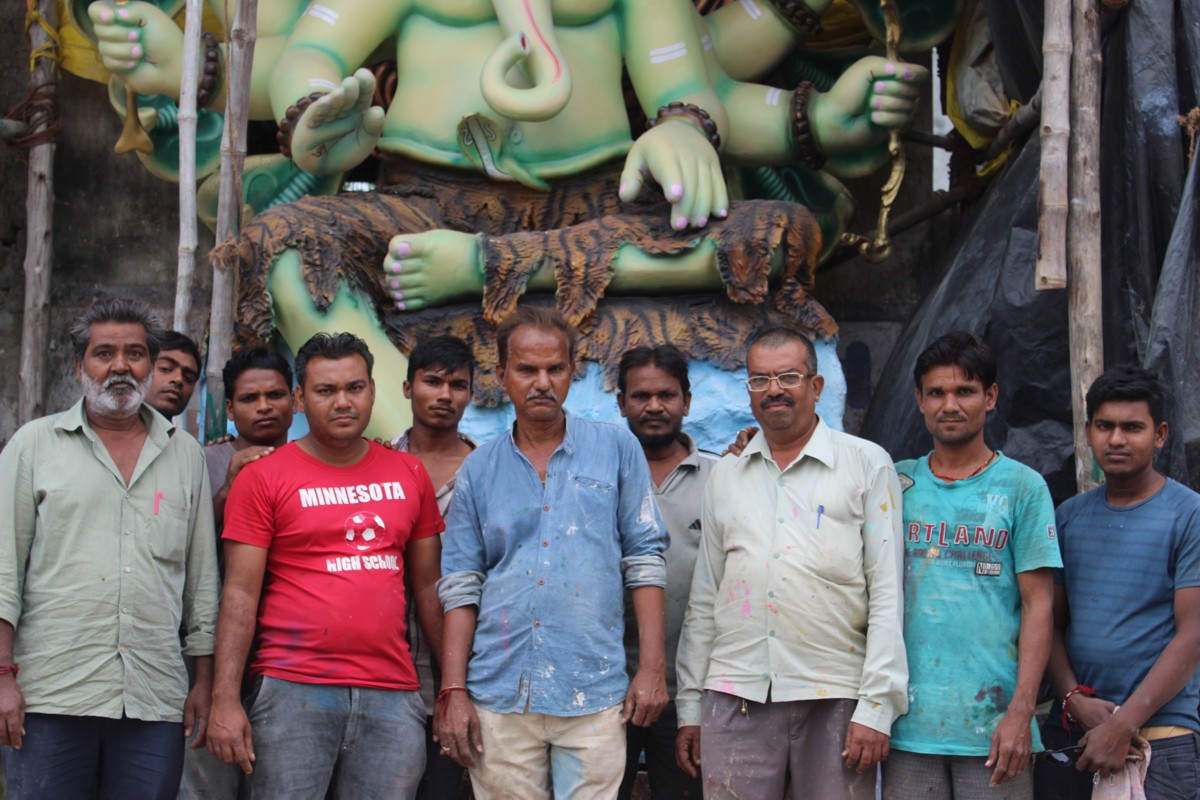 Ashok Ajmeri and his team of artisans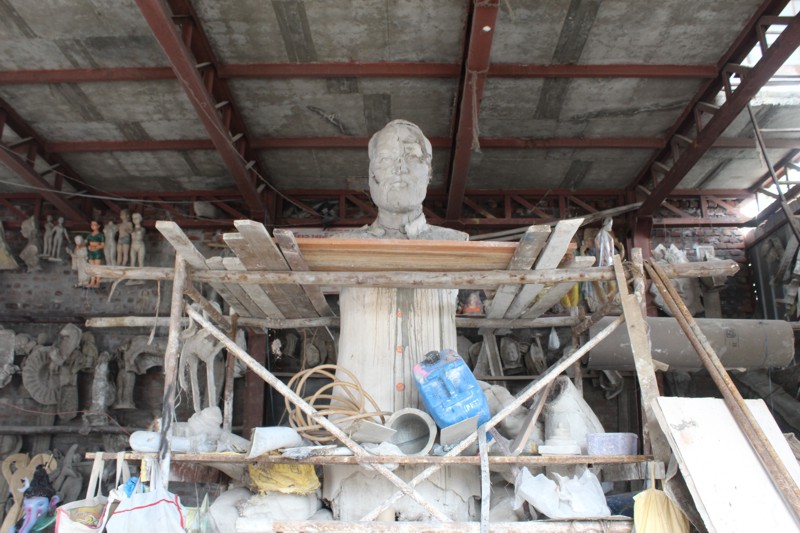 Idol being made for Kuchh University at Ajmeri's workshop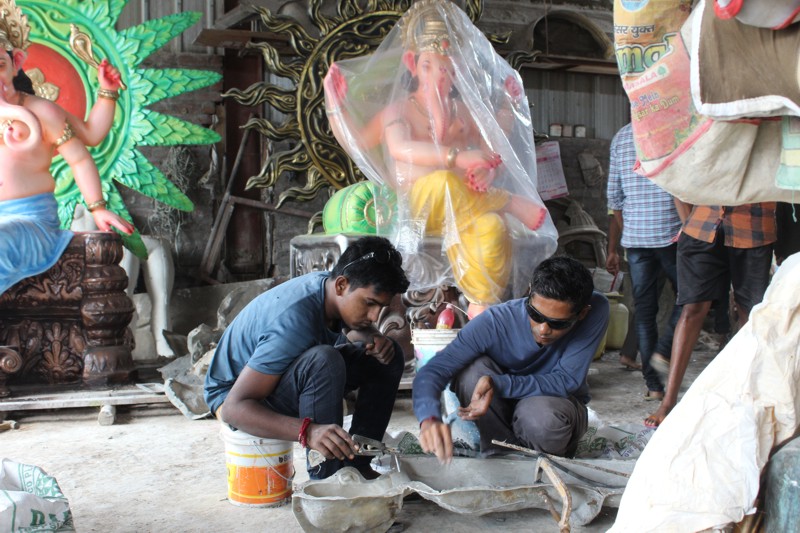 Fine Arts interns at the workshop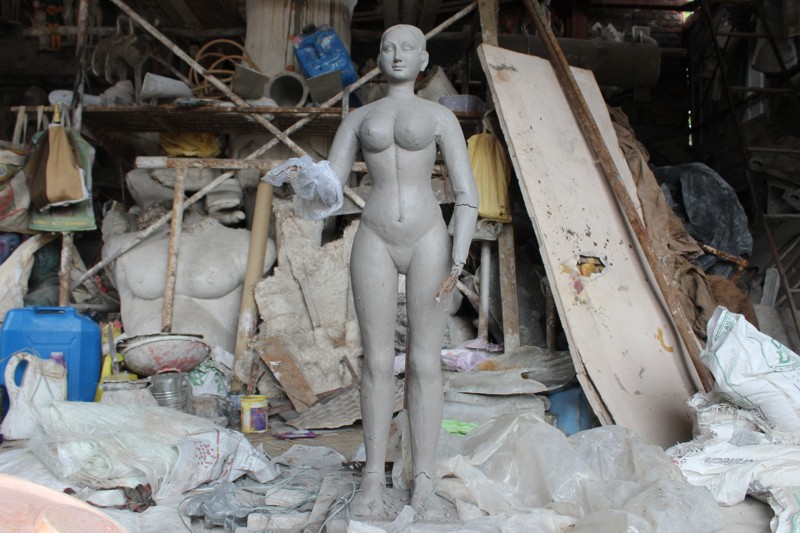 A prototype clay idol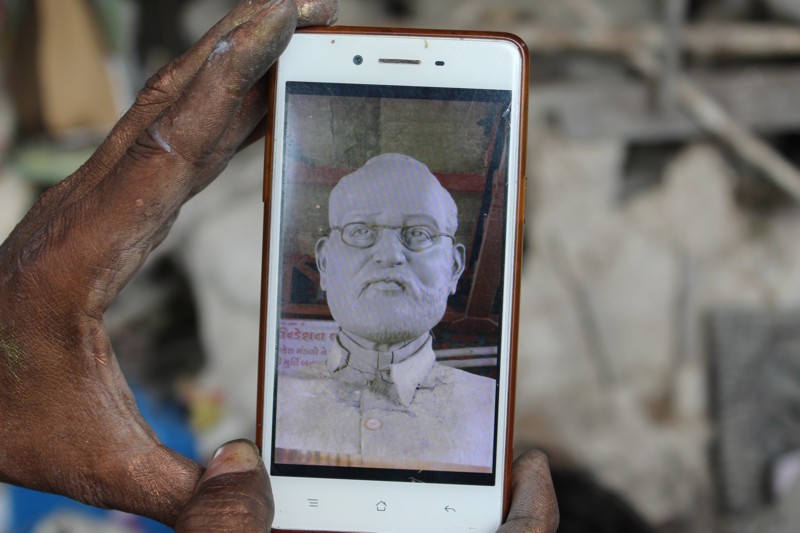 Ashokbhai showing us his one of past works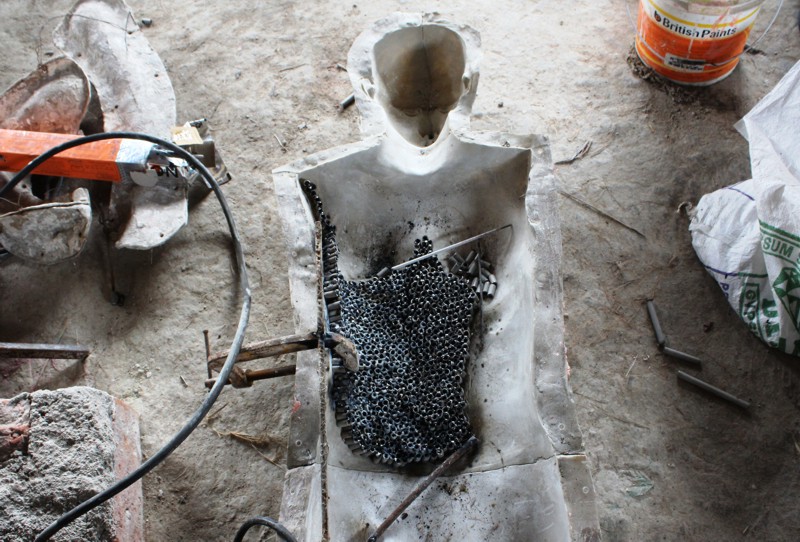 An artwork under process at the workshop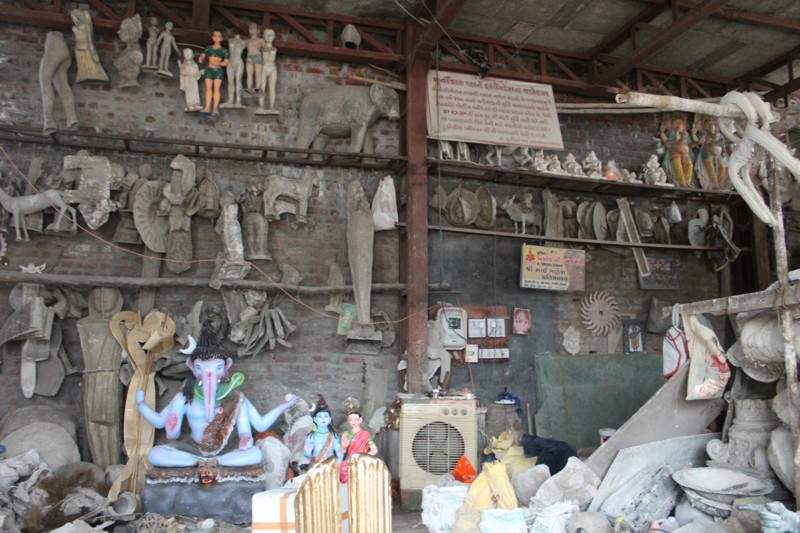 Inside view of Ajmeri's Shri Sai Ganesh Pratimalay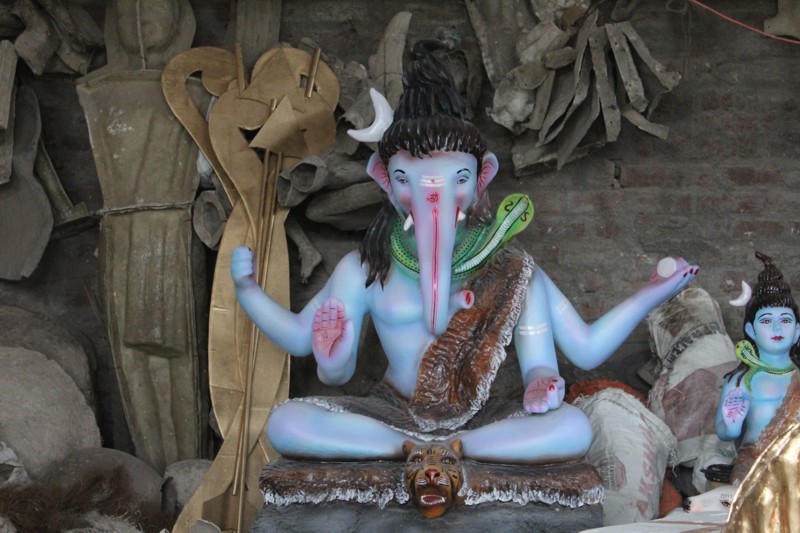 Idol with Ganesha-Shiva fusion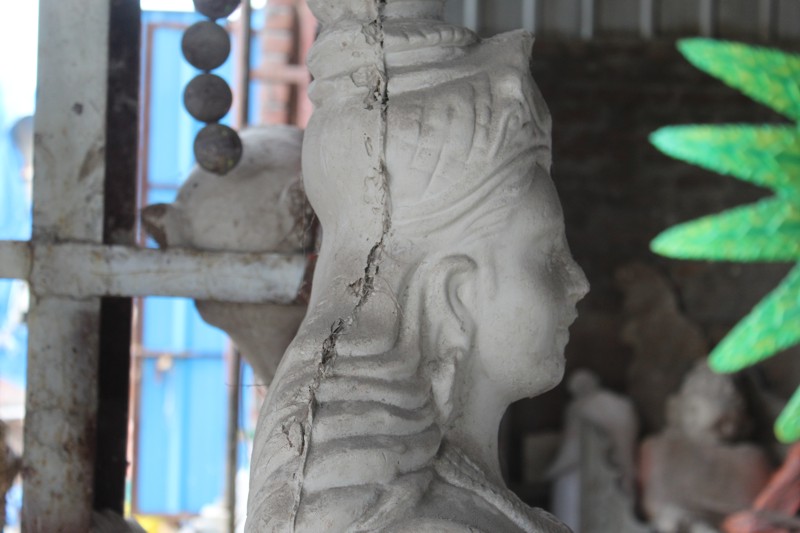 Side view of Durga idol
Photo Credits: Aditya Tripathi