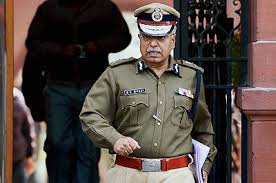 BS Bassi, Commissioner of Police, Delhi summoned to the PMO in the week beginning February 15, 2016
From one of India's pioneering Information Commissioners about a crudely aspiring one. Gandhi was part of a countrywide movement to ensure due application of the Right to Information Act, a law that was finally enacted in 2005 after years of struggle by individuals and movements devoted to transparency and accountability. Gandhi brought verge and vigour to the post. Today he writes in perturbation to the Cabinet Secretary of Prime Minister Narendra Modi, on the rumours that BS Bassi, the controversial police commissioner of Delhi is angling for the post. The Cabinet Secretary, PK Mishra has been a loyal aide of Modi since 2001-2002.
Text of Shailesh Gandhi's Open Letter
February 18, 2016
To,
Mr. PK Sinha, Cabinet Secretary,
Government of India.
There are news reports that Mr. Bassi is likely to be made an Information Commissioner in the Central Information Commission. This would be a travesty of the process. There should be a transparent process for selecting an Information Commissioner in line with the spirit of the Right to Information Act.
I concede that the final selection is a political decision as per the Act, but there should be a transparent process for short-listing the panel to be presented to the selection committee. Not doing this is doing great harm to the RTI Act.
At this particular moment when Mr. Bassi appears to have acquiesced to an open subversion of two of the estates of our nation, his choice would be very unfortunate. By his collusive inaction journalists were attacked and the sanctity and respect for the judicial system and the courts was diminished. Even when a citizen does this, it is unacceptable.
From a public servant charged to uphold the law, it deserves the strongest condemnation. Julio Ribeiro has stated with sadness "I would have arrested the lawyers from their homes at night. I would never condone such acts," and "I always had a good opinion about Mr Bassi. Unfortunately, circumstances have changed my opinion about him. He is angling for a post-retirement job. "
If the government now makes him an Information Commissioner it would be a sad day for democracy, and people will believe that the denigration of the two estates of governance had the approval of the government. I have faith that this will not be true.
Please convey this to the Prime Minister.
Best regards
Shailesh Gandhi