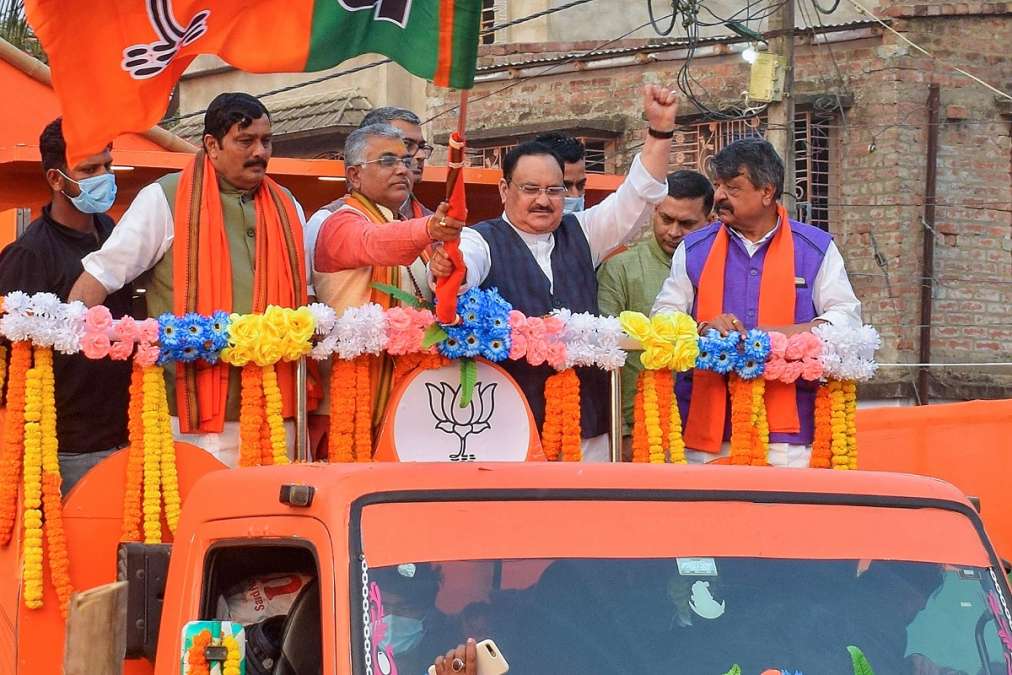 Image courtesy: PTI
Amit Sengupta in Kolkata
The news of elections in eight phases in West Bengal has been received with a pinch of salt here, especially in the social media. Like most institutions in contemporary India, the current Election Commission (EC), especially the Election Commissioner, does not inspire much confidence in Bengal. The current EC, critics argue, carries a baggage of bad faith, ritualistic bias, partisan decisions and a tacit and overt tilt in favour of the ruling regime in Delhi, while overlooking the grave election code violations of BJP leaders in the past.
Right or wrong, the declaration of polls for the 294 assembly seats from March 27, for the first time in eight phases here, when compared to Tamil Nadu and Kerala, where they will be held in only one phase, has drawn the obvious heckles among political observers.
"While earlier assembly elections too were scattered in phases, this time it seems it has been driven by the desperation of the BJP to win Bengal at any cost, by hook or crook, something they could never even imagine in their wildest of dreams," said social activist Biplab Mukherjee in Kolkata. "It might still turn out to be a pipedream."
While the BJP has predictably welcomed the EC's announcement, chief minister Mamata Banerjee, in her characteristic style, declared with great confidence that even in "the 23-day election game", she will defeat the BJP as she has her feet firmly planted on the ground. "I know the very nooks and corners of West Bengal very well, and will foil all conspiracy," she said.
"In South 24 Parganas, since we are strong, elections are (being) held in three phases. Is it at the instructions of Narendra Modi and Amit Shah," she said, while asking why certain police observers have been appointed before the polls. One of them, she said, was positioned here in 2019 Lok Sabha polls, and it is obvious that she does not like it.
CPM leaders in Bengal, Biman Bose and Mohammad Salim, have also questioned the rationale behind dividing districts in part one and two for polling, something unprecedented. Bose said that this last happened in 1958. Salim said cryptically that people "have understood the game".
CPM General Secretary Sitaram Yechury said that defeating the BJP is of paramount importance. "These elections are going to be crucial. The overall objective today is to keep the BJP at bay, which is making all unscrupulous attempts in order to capture power in these states. In Bengal, the basic alternative that is emerging, on the strength of the people's struggles in the past few months, braving the repression of the TMC government, is the secular democratic alliance of the Left-Congress," he said.
"Five-day test match in Chennai becomes a two-day affair in Ahmedabad. One-day election in Tamil Nadu gets stretched over eight phases in West Bengal. Can any of you explain this numbers game?" tweeted CPI(ML) General Secretary Dipankar Bhattacharya, who has strongly pushed the line that the Left in Bengal should consider the BJP as the principal enemy, contradicting the CPM's tactical line that the Trinamool and BJP are equal enemies.
Despite all the hype and show, seemingly, the BJP is finding itself on a sticky wicket. As of now, despite the daily hyperbole, it is far from riding a wave. It could be instead slipping and losing ground.
While the situation unfolds on the ground, and while voters are tight-lipped, there are several indicators, confirmed by political observers that prove that all is not well within the BJP. First, the high-profile visits of Amit Shah and JP Nadda with massive paraphernalia and convoys of cars, seems "a lot of pomp and show with no actual consolidation on the ground," says Biplab Mukherjee. "They have money, muscle, cars, media support, but that is all they seem to have right now. It is just not translating into mass support. Despite that they might just about win 100 assembly seats."
Clearly, the Poribortan Rath Yatras have not taken off, and neither the slogan of Jai Shri Ram in a state of Durga, Kali, Shakti and Krishna worshippers. The yatra started from five points across the state, often flagged by Nadda or Shah, but it has not been able to gather crowds, either at Nabadwip or at Coochbehar. The Nadda visit to Barackpore got jinxed. First, the local BJP MP Arjun Singh claimed that the police stopped it. Then, he retracted the statement and said that the rally will surely happen. All in all, the rath yatras have not triggered any great adulation for a party which is desperately trying every trick in the trade to push a dominant narrative.
At the busy Garia residential area in South Kolkata last week, their public meeting in support of the rath yatra had less than 20 chairs and a dais with speakers. Seated on them were the wives and kids of local BJP leaders dressed in saffron sarees. The audience had another 20 men and bystanders, even while fiery speeches were being made using the same cliché: "What Bengal thinks today, India thinks tomorrow."
A local IT cell leader of the BJP gave a long speech on how the state is driven by fear and only the BJP can fight this terror machine. He said Maryada Purshottam Ram was the best king India has had ever, but he is not getting the respect he deserves in Bengal. He said the Trinamool leadership is uneducated. And then he said, what is the basic, insidious BJP propaganda, especially among a certain middle-class population with entrenched communal underpinnings, sections of non-Bengali settlers from UP and Bihar, and Hindu refugee communities from Bangladesh.
He said that he does not want to talk about Muslims and then did precisely that. He said, look how poor they are, how poor are their living conditions, how dirty they are, how dirty are their living conditions. He claimed that 'certain people' in Bengal want to join West Bengal with Bangladesh, and thereby change the map of India. He claimed that many people, meaning Muslims, are always saying bad things about Hindus, and this will just not be tolerated. They cannot remain in Bengal and speak against Hindus, etc.
The paltry audience remained passive and unmoved. "If they cannot get a crowd of more than 40 in a street-corner meeting in Garia residential area close to South 24 Paragana, where is the BJP wave," said a local.
In a state where the big picture as well as the micro ground reality has been largely secular, in day-to -day life as much in political and cultural discourse, Bangladesh or Bangladeshis are not enemies, nor are Bengali Hindus salivating on hate politics. Instead, there is a cultural, social and historical affinity across the borders of East and West Bengal, in terms of a shared social history, and landscape, inheritance, literature, music and cinema, cuisine, rituals, festivals and food, and, of course, sweets and the sweet language. Therefore, pitching West Bengal versus East Bengal or Bangladesh, might just not work.
What is working of course is a similar campaign among Hindu refugees from Bangladesh, especially those who have arrived after the 1980s. Many of them have valid identities and have been assimilated in the mainstream, but there is an uncanny undercurrent against the Muslims of Bangladesh. They blame them for their exile into India from their essential homeland, though this basically happened during the regime of Khaleda Zia which was backed by Islamic fundamentalists.
Curiously, the refugee colonies and communities, since the days of the Partition, used to be the scaffolding of the Left in Bengal. And it is true that the Left actually helped thousands of these marooned refugees, devastated and brutalized by the violence of Partition, to resettle and redefine their lives.
Hardworking, stoic and resilient, these communities have since found their social and economic space in Bengal, some actually doing very well, while a huge section has been compelled to languish in ghettos and refugee colonies in harsh and difficult circumstances. The refugees who have arrived after the 1980s are particularly economically vulnerable and insecure with their wounds fresh and simmering. It is this vote bank in the border areas which the BJP is trying to cultivate with its typical brand of collective insecurity and xenophobia. Indeed, the CAA was brought in Assam and Bengal precisely to woo these communities.
(To be Continued)
(The author is a senior journalist, media commentator and academic and presently Executive Editor Hardnews)
Related:
Take a train, visit Tripura, vote to keep BJP out of Bengal: Manik Sarkar
We fear communally charged violence if BJP comes to power
Battleground Bengal: Communal hues grow darker
Battleground Bengal: From bomb blasts to 'bandobast'
Will Rajbanshis play kingmaker in West Bengal assembly polls?