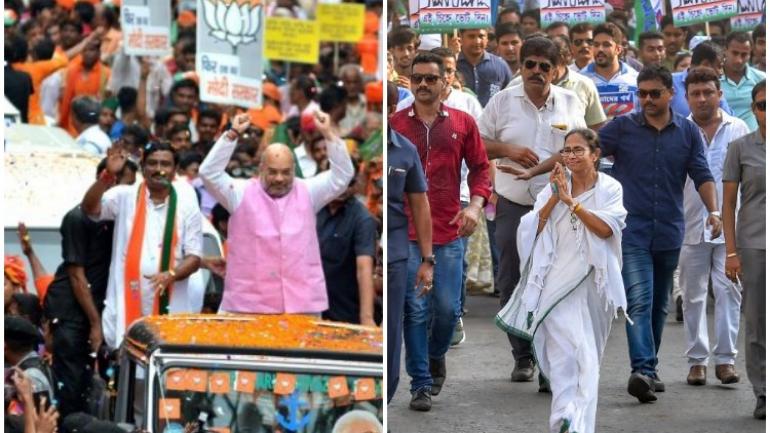 The Election Commission of India (ECI) is laying the groundwork for the upcoming state assembly elections in West Bengal, where the electoral drama has taken decidedly violent hues in the run-up to a showdown between Chief Minister Mamata Banerjee's Trinamool Congress (TMC) and an ambitious Bharatiya Janata Party (BJP) that is using the opportunity to blame the Banerjee administration for the failing law and order situation in the state, thus augmenting the argument for deputation of security forces.
According to NDTV, at least 12 companies of the Central Armed Police Force (CAPF), have already arrived in the state. EC officials told NDTV that last week, two companies of the central forces reached Durgapur by train, one company got down at Burdwan. Five companies reached Dankuni in Howrah. Meanwhile, four companies reached the Kolkata railway station in the Chitpore area by train.
A newswire service had reported last Friday that the ECI intends to deploy a total of 125 companies of central forces in West Bengal by February 25 for the upcoming assembly elections citing a senior official. These would include 60 companies of the Central Reserve Police Force (CRPF), 30 companies of the Sashastra Seema Bal (SSB) and five companies each of the Central Industrial Security Force (CISF) and the Indo-Tibetan Border Police (ITBP).
But while all this plays out, it is noteworthy that election dates haven't even been announced for the state, though they are expected to take place sometime in April-May this year. Meanwhile, violence has escalated in the state. On Wednesday night, TMC state Minister and Jangipur MLA Jakir Hossain was severely injured when unidentified men hurled a crude bomb at him at Nimtita railway station in Murshidabad district.
Chief Minister Mamata Banerjee has alleged that Hossain was being pressured to switch parties, and attacked because he refused. Speaking to media persons after taking stock of Hossain's condition at the SSKM Hospital where he was admitted in the Trauma Care Unit, Banerjee had said, "It was a preplanned attack on minister Jakir Hossain. It is a conspiracy." She added, "Some people were pressuring Jakir Hossian to join them for the last few months. I don't want to disclose anything more as investigation is on." The matter is being investigated by the state Crime Investigation Department (CID).
Meanwhile, the BJP has used the incident to blame the Banerjee government for the deteriorating law and order situation in the state. BJP president Dilip Ghosh told The Telegraph, "The incident shows that West Bengal is not safe even for ministers. The government has failed to control the law and order."
On February 20, he accused TMC workers of "hurling bombs" at his rally. He tweeted, "#PoliticalTerrorists of TMC attacked and hurled bombs today at our #PoribortonYatra held at Minakha, Basirhat (North 24 Parganas zela). An orchestrated and planned attack to create terror in people's mind. People of Paschim Banga will put in their mandate at the right time."
#PoliticalTerrorists of TMC attacked and hurled bombs today at our #PoribortonYatra held at Minakha, Basirhat (North 24 Parganas zela).

An orchestrated and planned attack to create terror in people's mind.

People of Paschim Banga will put in their mandate at the right time.

— Dilip Ghosh (@DilipGhoshBJP) February 20, 2021
Related:
West Bengal court summons Amit Shah over a criminal defamation case