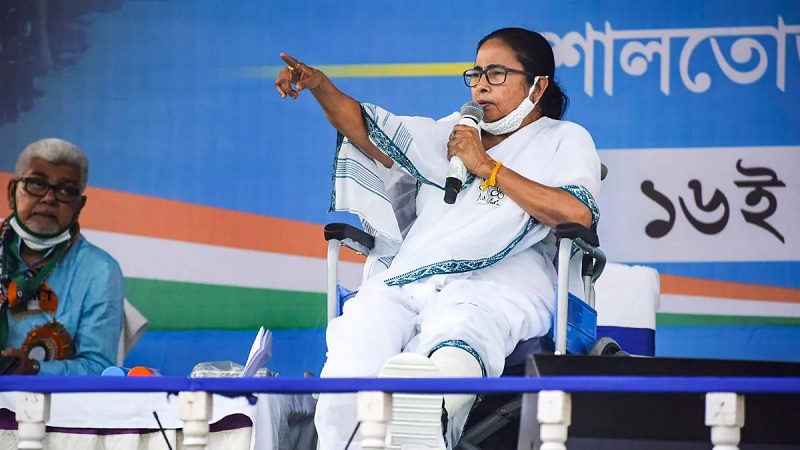 Image Courtesy:indiatoday.in
Even as he was on his way out, Sunil Arora, whose term as Chief Election Commissioner ended on April 12, 2021, issued an order banning West Bengal Chief Minister Mamata Banerjee from campaigning for 24 hour hours starting 8 P.M on Monday.
This is an unprecedented move against a sitting Chief Minister and suggests that the order was issued at the behest of the vindictive regime at the Center. The ban on campaigning comes in the middle of assembly elections where violence has been escalating with each passing phase. Indeed, phase four was the bloodies with four people being killed in firing by paramilitary forces and a fifth person gunned down by unknown assailants in Sitalkuchi in Cooch Behar district.
The reason for issuing the 24-hour campaign ban against Banerjee as stated in the EC order is her non- response to two notices, both dated April 8, 2021, issued to her in connection with two separate complaints:
– When she allegedly appealed to Muslims to ensure their vote does not get divided
– When she allegedly asked women to gherao (surround) personnel belonging to paramilitary forces if they try to disrupt voting
Mamata Banerjee paints a picture of defiance
At the very outset, Banerjee called out the EC for targeting her and announced plans to protest the move saying, "To protest against the undemocratic and unconstitutional decision of the Election Commission of India, I will sit on dharna tomorrow at Gandhi Murti, Kolkata from 12 noon."
To protest against the undemocratic and unconstitutional decision of the Election Commission of India, I will sit on dharna tomorrow at Gandhi Murti, Kolkata from 12 noon.

— Mamata Banerjee (@MamataOfficial) April 12, 2021
True to her word, Banerjee arrived at the Gandhi statue and sat quietly in her wheelchair. After some time, she started painting.
"Great protests are great art works"- Diego Rivera#BlackDayForDemocracy pic.twitter.com/tjAwmQw6GJ

— Didi Ke Bolo (@DidiKeBolo) April 13, 2021
Dear Emperor, She'll draw your destiny on her canvas.. #BlackDayForDemocracy pic.twitter.com/YQLEpucD76

— Debangshu Bhattacharya Dev (@ItsYourDev) April 13, 2021
Banerjee left the protest spot at around 3 P.M. According to The Telegraph, she is expected to resume campaigning after the ban ends at 8 P.M, but has to wind up by 10 P.M as tonight is the last phase of campaigning for phase five of the Assembly elections for which polling will take place on April 17.
But tomorrow, Banerjee is expected to visit the Mathabhanga sub-divisional hospital where three people who were injured in the Sitalkuchi firings are receiving treatment. Banerjee had showed images on her phone of bullet injuries sustained by people in their upper bodies during a press conference after the shooting. She had asked at that time, "This was genocide. The central force just sprayed them with bullets. They fired at the upper part of the body," adding, "They should have fired below the waist, but the bullets were fired at the neck and the chest."
Is the regime using EC to intimidate Mamata Banerjee?
Earlier too, the EC had issued orders to transfer police officials and public servants deemed close to Mamata Banerjee.
On Friday, April 9, just a day before voting was to take place for phase four, the EC removed Asoke Chakraborty, an SP rank officer posted in Mamata Banerjee's security detail. The reason given was security lapse that led to Mamata Banerjee getting injured in Nandigram on March 10. In fact, on March 14, the EC, in an unprecedented move, had suspended Vivek Sahay IPS, Director Security for Mamata Banerjee and directed that charges be framed against him for his failure to protect a Z+ protectee (Mamata Banerjee). The EC had also directed that a Committee of Chief Secretary and DGP shall identify "the other proximate security personnel below Director Security, who failed in their duties to prevent the incident and protect the Z+ protectee VVIP and take suitable action for their failure under intimation to the Commission". This move is noteworthy, as these "proximate security personnel" have been working with Banerjee for years. It thus appears to be a rather sensitive step, given how it is basically a move directed at taking Banerjee's trusted inner circle of security personnel away from her.
The decision to suspend and transfer senior officers was taken based on a report and recommendations by Special General Observer Ajay Nayak and Special Police Observer Vivek Dubey. The same Vivek Dubey whose report in the Sitalkuchi matter insists that CISF personnel "fired in self-defence".
Also, on April 9, the EC transferred Bhangar police station inspector-in-charge Shyam Prasad Saha alleging he was "playing a partisan role to help the Trinamul candidate."
On Wednesday, April 7, the EC removed three District Magistrates: Nikhil Nirmal of South Dinajpur, Enaur Rehman of East Burdwan and Purendu Maji of West Burdwan. While polling will take place in East Burdwan in two phases: Phase 5 on April 17 and Phase 6 on April 22, both West Burdwan and South Dinajpur will go to polls during the seventh phase on April 26.
Action against BJP
As far as action against members of the BJP goes, Suvendu Adhikari was served notice for calling Banerjee "Begum" and alleging "She will turn Bengal into mini-Pakistan". On Tuesday, Rahul Sinha has been barred from campaigning for 48 hours following his remarks that more people ought to have been shot dead in Sitakuchi. He reportedly said, "Eight, not four people should have been shot," at an election rally in Habra. The ban starts on April 13, at 12 noon and ends at 12 noon on April 15.
Meanwhile, a notice has been served to Dilip Ghosh who openly threatened to replicate the Sitalkuchi shootings in other locations if "naughty boys" failed to fall in line. He has been given time till Wednesday morning to explain his remarks. The notice was in response to a complaint filed by the TMC.
Addressing a rally at Baranagar, Ghosh had dubbed the victims of the firing as "dushtu chhele (naughty boys)". He went on to say, "Aar jodi barabari korey, Sitalkuchitey dekhechhen ki hoyechhe. Jaygaye jaygaye Sitalkuchi hobey (If they cross the limits, you've seen what happened in Sitalkuchi. There will be a Sitalkuchi everywhere)."
However, there has been no response to the allegations of bribing voters using Rs 1000 encashable coupons in Raidighi. There has also been no response to attack on a female TMC candidate outside a voting booth during phase three.
Are the BJP's intimidation tactics backfiring?
Mamata Banerjee is no novice. She has faced violence first-hand in a political career spanning forty years. In fact, she has developed quite a reputation as an indomitable streetfighter who refuses to bow down to threats or even violence.
Even though the Central government has allegedly targeted her using different agencies such as the CBI and EC, she has never backed down or appeared even remotely compliant to their agenda. She did not allow action against her top police officers, she refused to bow to pressure when her nephew Abhishek's wife was implicated in a case of allegedly stealing coal, and when the CBI was allegedly used to re-examine cases in the Saradha scam for amounts as little as Rs 5,000.
Even after being injured on March 10 in Nandigram, an attack Banerjee alleges was carried out at the behest of the regime, she has been making appearances in her wheelchair, holding marches, protests, rallies… and perhaps getting extra attention for the same.
Related:
Battleground Bengal: Five killed in Sitalkuchi, EC and Central forces under scanner again
Battleground Bengal: Was BJP attempting to bribe voters?
Why has CAPF man on poll duty, accused of molesting EC a minor not been arrested yet?
Battleground Bengal: Security adviser's powers seized
Battleground Bengal: Unprecedented action by ECI
CBI reinvests vigorously in WB chit-fund case investigations