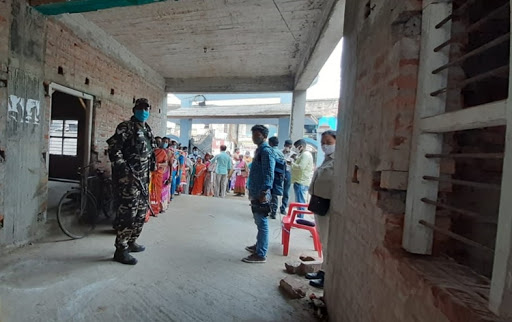 Representation Image

After coming under scathing criticism for scheduling Assembly Elections on the day of Eid in two constituencies of West Bengal where candidates had died due to Covid-19, the Election Commission (EC) has revised its previous schedule. Elections will now take place on May 16, 2021 instead of May 13.
The Election Commission had previously rescheduled Assembly Elections in West Bengal's Samserganj and Jangipur constituencies on May 13. According to the Islamic calendar, this is the day Eid will most probably be celebrated in India. It is noteworthy that both, Samserganj and Jangipur are located in the Muslim dominated Murshidabad district, which led to questions being raised about the EC's choice of dates.
Rescheduling was necessitated in wake of the death of two people: Rezaul Haque, the Congress candidate from Samserganj who died due to Covid-19 on April 15, and Pradip Kumar Nandi, the Revolutionary Socialist Party (RSP) candidate from Jangipur on April 16.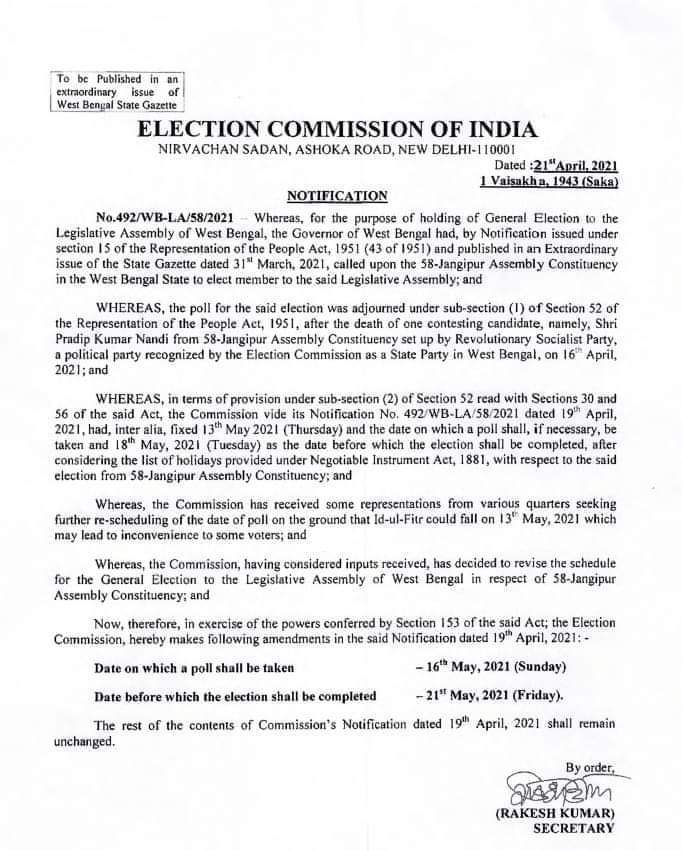 After their deaths, all parties except the Bharatiya Janata Party (BJP) had appealed to the EC to club the last two phases of the election in wake of the spread of the Coronavirus that has of late spread so far and wide, that over two lakh new cases are being reported daily. This has sent alarm bells ringing across West Bengal where Assembly Elections are taking place in eight phases, of which only five have concluded, and the sixth is underway today on April 22. According to The Telegraph, Trinamul's Goalpokhor (North Dinajpur) candidate Gulam Rabbani and Jalpaiguri nominee P.K. Burma, are both Covid positive.
But the EC shot down the plea to club the phases and rescheduled elections in line with provisions of Section 52 (1) of the Representation of People Act, 1951. According to this section:
(1) If a candidate set up by a recognised political party,—
(a) dies at any time after 11.00 A.M. on the last date for making nominations and his nomination is found valid on scrutiny under section 36; or
(b) whose nomination has been found valid on scrutiny under section 36 and who has not withdrawn his candidature under section 37, dies, and in either case, a report of his death is received at any time before the publication of the list of contesting candidates under section 38; or
(c) dies as a contesting candidate and a report of his death is received before the commencement of the poll, the returning officer shall, upon being satisfied about the fact of the death of the candidate, by order, announce an adjournment of the poll to a date to be notified later and report the fact to the Election Commission and also to the appropriate authority: Provided that no order for adjourning a poll should be made in a case referred to in clause (a) except after the scrutiny of all the nominations including the nomination of the deceased candidate.
Related:
Battleground Bengal: Will assembly elections be held in Samserganj on Eid?
Battleground Bengal: EC denies request to club remaining phases, reduces campaigning hours
Battleground Bengal: Demand for clubbing phases after surge in Covid cases