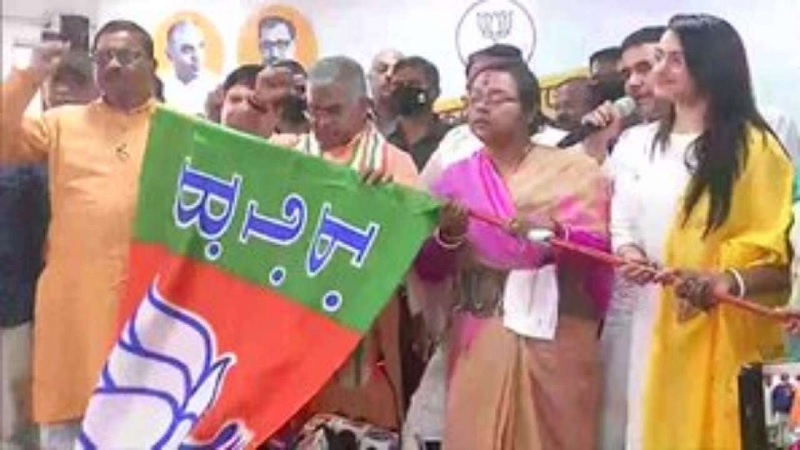 Image Courtesy:economictimes.indiatimes.com
A day after Prime Minister Narendra Modi held a rather lackluster rally in West Bengal, five sitting Members of Legislative Assembly (MLA) of the Trinamool Congress (TMC) jumped ship to the Bharatiya Janata Party (BJP). These are Sonali Guha, Jatu Lahiri, Dipendu Biswas, Rabindranath Bhattacharya and Sital Sardar.
While Guha's switch was expected, given how she had openly expressed displeasure when her name was not included in the candidate list released on March 5. "I was not informed about the decision and not taken into confidence," she had told media persons soon after discovering the exclusion of her name. Then on Sunday, the MLA from Satgachia (South 24 Parganas) spoke with BJP national vice president Mukul Roy who facilitated her induction into the party the following day at the party's Hastings office. Her seat was offered to Mohan Chandra Naskar.
85-year-old Jatu Lahiri is a four-time legislator. He is the sitting MLA from Shibpur (Howrah) was also disappointed when his seat was given to Manoj Tiwary. Retired professional footballer Dipendu Biswas, who is the MLA from Bashirhat South (North 24 Parganas) also exited the TMC when his seat was given to Dr. Saptarshi Banerjee. 88-year-old Rabindra Bhattacharya is a Singur movement veteran, whose name was excluded from the candidate list. The TMC candidate from Singur (Hooghly) seat is Becharam Manna. Sital Sardar is the sitting MLA from Sankrail (Howrah), a constituency reserved from Scheduled Caste candidates. However, this time instead of Sardar, the seat was offered to Priya Paul.
TMC candidate from Habibpur (Malda), Sarla Mumru also joined the BJP despite being given the ticket. She was reportedly displeased as she wanted to contest from the Maldaha constituency. It is noteworthy that while Habibpur seat is reserved for a candidate belonging to a Scheduled Tribe (ST), Maldaha seat is reserved for a Scheduled Caste (SC) candidate. The TMC then revoked her candidacy and replaced her with Pradip Bhaskar, just three days after naming her as their candidate citing her "ill health".
Chief Minister Mamata Banerjee will contest from Nandigram opposite the newly defected Suvendu Adhikari. She has vacated her Bhawanipore seat from where Sohandeb Chattopadhya is now the TMC candidate.
On March 5, TMC had released a list of 291 candidates including 50 women, 42 Muslim, 79 (SC) and 17 (ST) candidates. TMC has not pitched any candidates from Kalimpong, Darjeeling and Kurseong. Assembly elections for 294 seats will take place in eight phases in the state starting March 27.
Related:
Dinesh Trivedi, Mithun Chakraborty join BJP
Death and defection haunt TMC in Bengal
Amit Shah welcomes Suvendu Adhikari in Bengal BJP