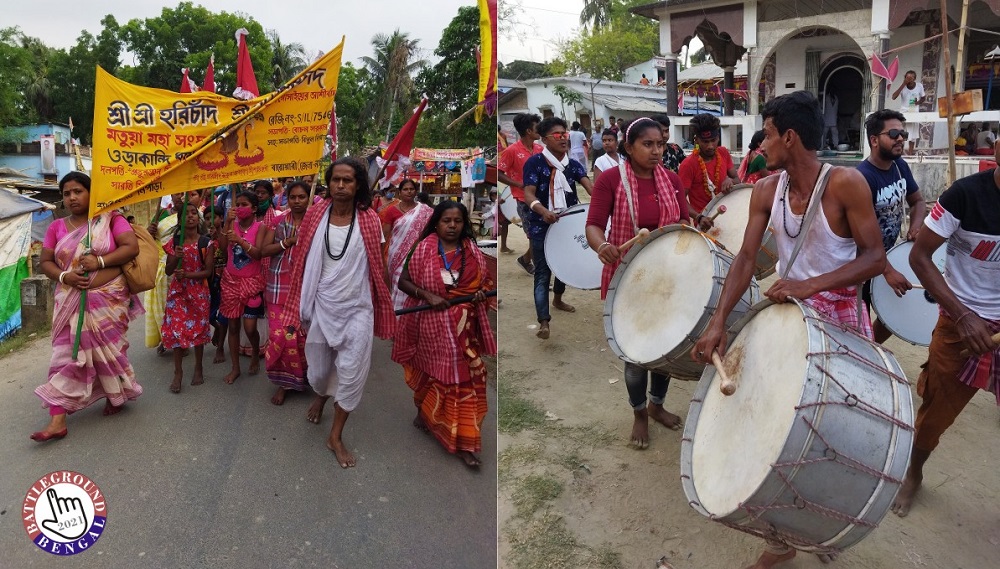 If I can't dance, I don't want to part of your revolution.
Emma Goldman
Chonde, utsaber anande.. (in verse, in the ecstacy of an utsav). On the board of a shop in Thakurnagar, the message is transparent. It's an utsav out here.
The air is heavy with the smell of heat, humidity and the heady texture of human bonding. A celebration, it's happening, on the streets, and inside the soul and hearts and bodies of hard working human beings, who know so well the seasons of the earth, and the seasons of land and its fertile soil. A great joy seems to be travelling on the streets with singing and dancing processions, boys and girls playing drums, men and women in a spell of total rejoicing, immersed in poetry, song and dance. Bolo Hari…Hari bol… A festival of great humanism, love, sharing, collective catharsis, all in the times of Corona.
The polls and the pandemic have yet again become a major obstacle of this annual shared human bonding. The tens of thousands have not arrived this time from across the various rural landscapes and town and village bylanes of Bengal. And, yet, the festivity is so infectious, and it spreads like wings of desire, beauty and love, as people stream in, with the dancing groups, and drummers, with shunkhs and ghantas, the subaltern reassertion of freedom, enlightenment, empowerment and liberation from the human condition.
This is the utsav of a kaleidoscopic explosion of colours, drums, shunkh, slogans and chanting: Bolo Hari… Hari bol. The name of Krishna chanted in unison, in a similar symphony and synthesis like the Vaishnav-Bhakti tradition of Chaityanya; but it is different in originality out here, in specific play, in playful dance, in meditative trance, in purity and unity, in beauty and sacredness, in human freedom, in the celebration of manush-dhormo, the religion of humanity, of humanism, of social transformation and life-affirmation, in the collective assertion of the oppressed, the marginalised, the voiceless.
Hear their voice, as they move in a spiral of dancing processions, their bodies in rhythmic motion, sharing verses in the angular streets, drums resonating, bare male bodies moving to and fro, women in red saris and red blouses, yellow saris and red blouses, and pink saris and red blouses, old and young women, grandmothers, wives, daughters and sisters, school girls, singing and dancing with such a magical sense of freedom. They are all dancing in abandon, in togetherness, on the streets, without a care in the world, one procession moving into another, like colourful cinema in motion, a dance-drama of human salvation, a spiral of resurrected memory and aspiration.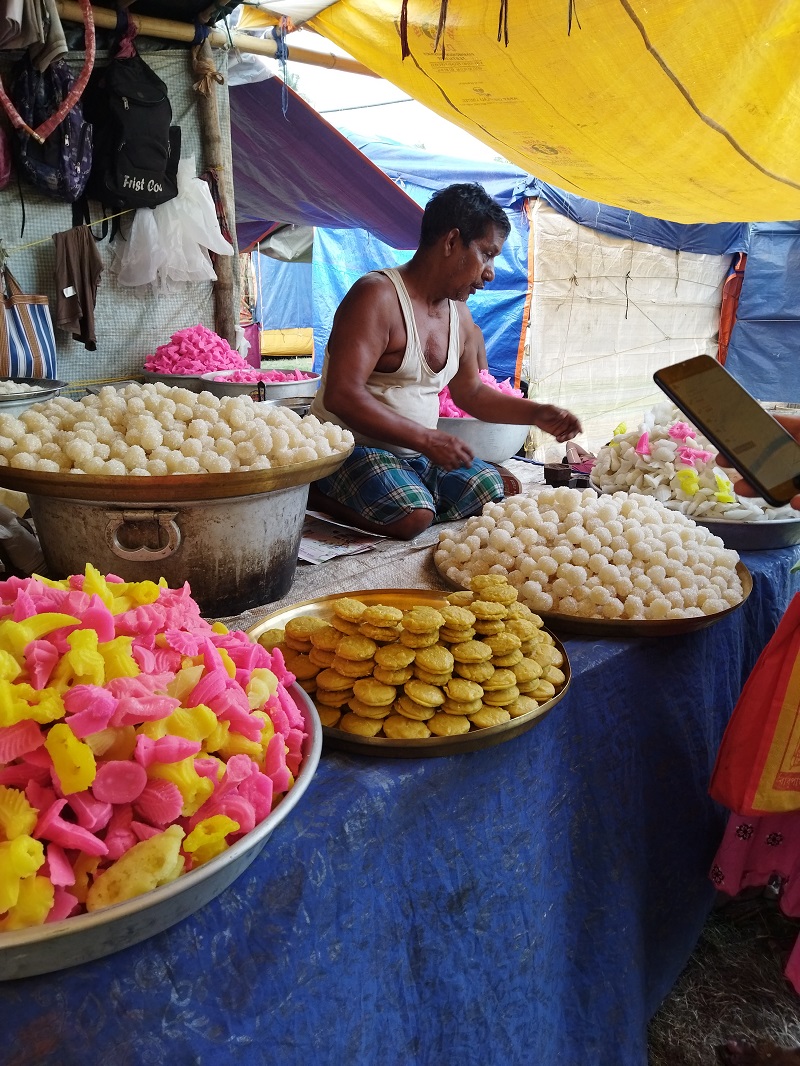 Songs of Hari, in chants and slogans and melody; hidden behind the songs are expressed and shared spaces, of past narratives and the human condition, of secular tolerance, of the urge to be together, in musical togetherness, like an infinite and relentless documentary of great human joy and freedom. It's a song for Hari, but it hides the unstated songs of the green expanse of endless paddy fields, jute, fruits, and potatoes, vegetables in various colours, pottery as art and craft, and sweets, delicious, in a variety of flavours, and, of course, flowers.
Rajnigandha everywhere, surprise surprise. And genda, bursting in their yellow, local flowers, jaba in varied hues, sunflowers. The flower market is as famous here as the Thakurbari of their icons. It's a continuous song of invisible sense and sensibility, hard labour and special multi-dimensional skills, honed over centuries, of migrations, messages and memories, of lost and imagined homelands, of secular and plural inheritances, of bad memories and bad faith, of hope and the desire to find new boundaries, cross new thresholds, change their lives and their worlds, become liberated, socially, in education, in humanism, in secular unity.
The songs are for Hari, Krishna, as much as for Harichand Thakur, their great reformer, symbol of social transformation, education, empowerment and enlightenment, and their original icon of all seasons. There are no Hindu gods here, the town celebrates human beings who changed the world for the voiceless community and showed them a different path out of suffering and injustice.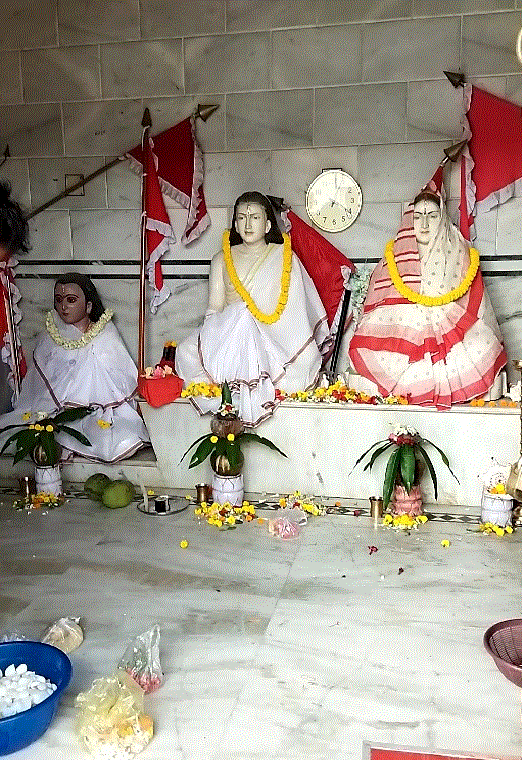 They are the Matua community, scattered across East and West Bengal, listed as scheduled castes in bureaucratic registers, historically downtrodden, exploited and landless, the labouring classes, ostracized and oppressed for decades. They are legendary for their meticulous, inherited, trained and brilliant skills as farmers and crafts-persons. They know the earth and the seasons of the earth like the back of their rough, darkened hands. Basically a landless peasant community which lived with the soil and know the seasons of the earth, they are seasoned agriculturalists, specialists in multi-tasks, workers and crafts-persons, hard-working, stoic, and resilient, full of aspirations and inspirations. They have refused to admit defeat over decades, reasserting despite repeated persecutions, mass displacement and poverty, often without citizenship or fundamental rights, often invisible and on the margins, but refusing to succumb nevertheless, moving from dream to dream, verse to verse, a text of hope and aspiration.
They are 30 million plus strong in Bengal, with their original roots across the border, April 9, soon after dol or holi, mark the celebration of the birth anniversary of Guruchand Thakur, the legendary social reformer, and son of Harichand Thakur. His mother, Shantimata, an equal visionary in this emancipator journey, highly respected and admired in the community.
The festival draws hallucinatory collectives from across several districts of Bengal to Thakurbari, their shrine and temple made in honour of their social reformers, their only icons and gods. It starts with a dip at the 'pond of longing, desire, and wish-fulfillment' in the morning: Kamana Sarovar. Followed before and after, and later in the day and much through the night, with poetry, song, dance, and collective sharing of food, memories, folk and oral traditions, the will to live and change, and the resurrection of the original idea of the Thakurbari with its authentic message of radical humanism, enlightenment and education, and tolerance, pluralism and secularism.
On the Jessore Road and the Military Road which leads to Petralpal at the Bangladesh border, there are also memories of refugees streaming in thousands, into the borders of India during the Bangladesh liberation of 1971. They were then welcomed with open doors and open hearts by the people of Bengal. Now, many of them are dancing on the same long road, across and beyond and Thakurbari.
On the Military Road, a procession of women dressed in beautiful red saris, splashing gulal, singing and dancing. In Thakurnagar market, a group of young teenagers, in white dhotis and banyans, wearing dark goggles, playing drums, dancing to their heart's delight. At the shrine near the Kamana Sarovar, streams of women and men from the villages, in a trance, in a dance, in romance, celebrating the collective community's catharsis in praise of Hari.
In this election season, it's a 'fifty-fifty' political scenario at the epicenter of the 30 million strong Matua community in Bengal. At Thakurnagar in Gaighata in the Bongaon subdivision of North 24 Paraganas with several assembly constituencies, it's a tough fight, even while the community apparently claims that there are no social division due to politics or elections.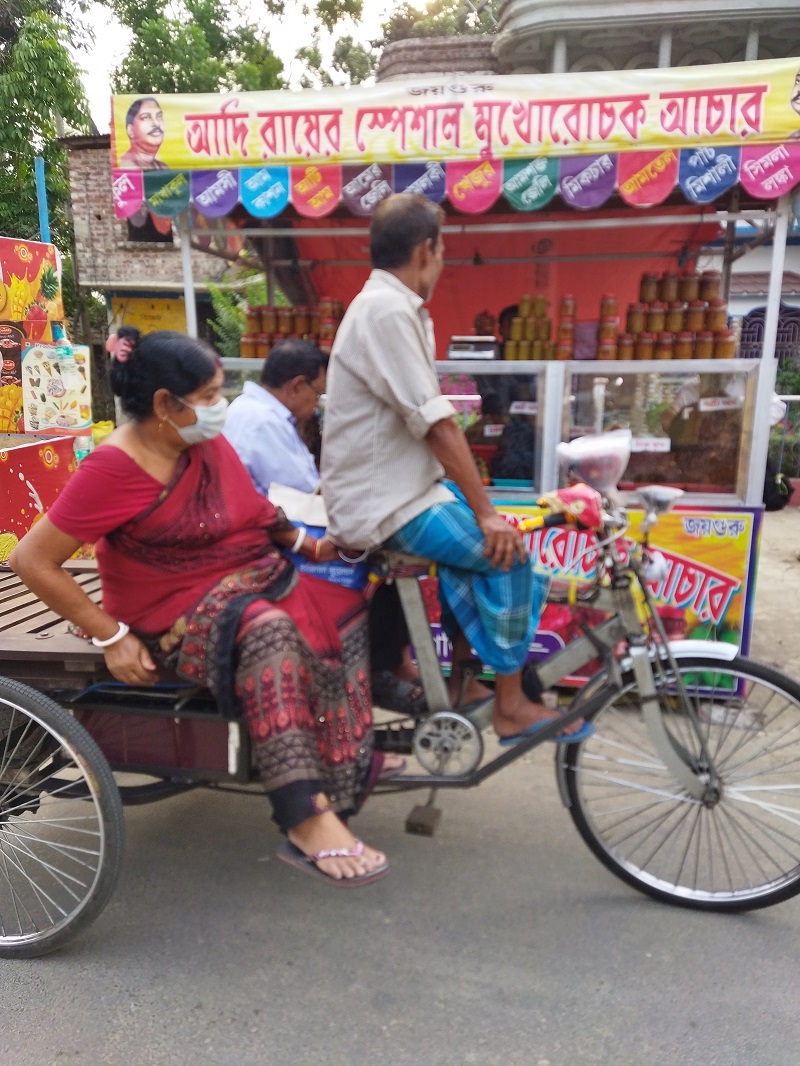 With voting scheduled next week, it's a neck-to-neck contest here, around Gaighata and other constituencies, with the scion of the Thakurbari family. Subrata Thakur of the BJP, in a straight contest, with another strongman, Narottam Biswas of the Trinamool Congress (TMC). Biswas traces his family roots to the original and sacred Orakandi temple in Gopalganj in Bangladesh, where the founder Harichand Thakur, started his remarkable journey of social transformation in early 19th century. The Biswas family was apparently very close to Harichand Thakur, so it is both precious memory and strong lineage which is in contest against the BJP in Thakurnagar and around. The Thakurbari family anyway is split in the middle between the BJP and the TMC.
The prime minister visited the Orakandi temple on March 27, on the first day of polling in Bengal, even as Mamata Banerjee accused him of violating the model code of conduct. The PM was obviously wooing the strong Matua community in Bengal which can influence polls in several constituencies, though it seemed rather unusual and bizarre – visiting a neighbouring country to send a message in West Bengal in India!
The BJP is out to woo the community, part of which massively backed it in the 2019 Lok Sabha elections because it wanted the CAA. But this time, it's no cake walk, even as the BJP does not know what to do with CAA or NRC. While locals remain tight-lipped or go round in circles, it's clearly a fifty-fifty scenario in the epicenter of Thakurnagar and around with the original Thakkur family split in the middle, and Didi still highly respected for her developmental work, especially among women.
However, as of now, it's an utsav out here, as people, across religions, Hindus, Christians, Muslims, the Matuas themselves, open their doors and hearts and courtyards for the dancing processions to eat, rest, sleep and tell their original stories. The Christian paara (mohalla) next to the Thakurbari happily hosts the visitors. As is the tradition, homes and courtyards of ordinary people across communities and religions are open for those who have arrived from long distances. In this great, secular festival of colours, music, prayers and human bonding, where all religious communities join, the bitterness of elections seems far away.
Indeed, as of now, it's not hate – its love and joy in the air.
A dip in the pond, a pulsating rhythm on the streets, the sound of drums, a prayer, a verse, a dance, a song. A sort of trance.
To be concluded
(Photos by Snehasish Mistri)
Related:
Battleground Bengal: So, is it Advantage Didi in Singur and its neighbourhood?
Battleground Bengal: Notes from Furfura Sharif and village bylanes
Battleground Bengal: Security adviser's powers seized
Battleground Bengal: Not one Vote for BJP finds a curious resonance
Battleground Bengal: Lukewarm response to Modi rally at Brigade Ground