This is not 2019 and this is not the Lok Sabha elections. And it's not hunky dory for the BJP anymore.
There is no apparent wave in its favour which will clean sweep all its opposition into the Bay of Bengal. Neither here in Bongaon, nor in the rest of the Bengal, though the BJP certainly has its share of committed, loyalist, or, silent and floating voters, including those who have been polarized, those who hate the Trinamool Congress for various reasons, and those who want some kind of change at the top. However, it is still not clear if that would help them cross the 100 mark in the 2021 assembly. Seasoned journalists say that even 80 could be tough.
Indeed, in the Bongaon region of 24 North Paragana, which they considered to be their bastion since 2019, there are clear signs of an uncanny desperation in the BJP camp, especially since it dumped the CAA promise following nation-wide protests, especially in Assam and the North-east, much to the anger of the Matua community in West Bengal . The BJP had in 2019 dangled the CAA to the restless community as a seductive lollypop, many of whom have migrated in streams to India from Bangladesh since after Partition in 1947, the Bangladesh war of liberation in 1971, and in the 1980s and thereafter. Since then, there is an underlying longing for the idea of a confirmed, legitimate citizenship, especially since the NRC phobia was unleashed in Assam. The metaphor of 'termites' floated by the Union home minister, did not help either.
Despite possessing photo identity cards, among other valid documents, many of them still want further proof of citizenship. This was especially triggered and activated by the BJP after it floated the CAA (2019). Now that the BJP has reneged on the CAA promise, apparently so, many in the community feel betrayed. The promise that it will be resurrected and was suspended due to the pandemic does not seem to hold on the ground. There is a feeling of betrayal.
When asked, why do they want the CAA when they have all the documents, including voter identity cards, Aadhar cards, even passports etc — many of them seem to become tight-lipped and at a loss for an answer. It's as if they want to say that, please, this is not a quiz I want to join!
Others are more forthright. When we have all the documents, what is the need for a CAA, they say. It's a BJP game, they seem to be sure.
The Matuas, mostly landless labourers and sharecroppers in East and West Bengal, were oppressed Dalits in the colonial era and after. They are a highly skilled, determined and cohesive community, legendary for their crafts, wood work, as florists and vegetable farmers, and most crucially as brilliant agriculturalists, extremely hardworking, productive and resilient. Social reforms and collective awareness over the years has only strengthened their skills and dignity as a community.
Indeed, with education coming their way in recent times, they seem to be excelling at multiple levels with high literacy and exalted levels of aspirations and ambitions. They are truly and originally a stoic and secular community who want to have a share of the fundamental rights under the Indian Constitution, a considerable pie in the development work, and not in subjugation, but in full enlightenment, with social reforms and empowerment, primary and higher education, economic upliftment, rapid mobility towards modernity and success, and, of course, political power. More than that, they don't want to be branded or treated as refugees. They want full and complete status as dignified citizens of India,
Since then, the BJP has been trapped in a Catch-22 scenario because the community remains largely secular and tolerant despite the BJP's transparently divisive politics, their past persecution in Bangladesh, and their collective difficulties in India. At the great festival in early April at Thakurbari, where the Matuas collect from all over Bengal, all communities welcome them and open their doors and hearts for them, Muslims, Christians, other Hindu communities, including the upper caste communities. Besides, not all Namashudras, who are equally resilient, hardworking and skilled, are Matuas, and, yet, there is a shared symphony between them, despite some social, cultural and spiritual differences. There is no apparent Hindutva working among within the community as an ideology, it seems.
As Subroto Biswas, an encyclopedia on the history of Thakurbari, says, "You need not be a Matua to be a Matua. It's a kind of Matutva… metein jaba… to be lost in a spiritual and humanist trance. You can be a Matua without being a Matua."
Even while he says this, long processions of dancing men, women and youngsters pass by, with drums, songs and gulaal, singing Bolo Hari, Hari Bol, very similar to the bhakti/vaishnav tradition of the followers of Chaitanya Mahaprabhu, but very different and original in this specific case because they don't have Gods, nor temples of Hindu gods. All their temples at Thakurbari or at other places in Thakurnagar are simple structures with no paraphernalia or ritualism – devoted to their social reformer icons – all human beings, inheritors of the Thakurbaris, the symbols of their unity, identity, empowerment, worship, song and dance.
Mothers touch the stairs of one such temple dedicated to a social reformer, and touch their fingers on the faces and heads of their children as blessing. Women do shastaang pronama at the temples. Others sing and dance in abandon. But, there are no Hindu rituals.
Prime Minister Narendra Modi and Chief Minister of West Bengal Mamata Banerjee might be upping the ante to woo the crucial Matua community in the Bongaon subdivision of North 24 Paragana, and the nearby districts, like Nadia, with Thakurnagar as its epicenter, but the ground situation is fluid and open to interpretation and change. As of now, it's not going to be a comfortable cake walk for either the BJP, which won handsomely in the last Lok Sabha elections from here in 2019 with overwhelming support of the community, nor will it be an easy ride for the Trinamool Congress (TMC), even while the Left, which looked at this region as its once-upon-a-time bastion, might just about increase its vote percentage at the third position. This, locals say, will surely help the TMC.
Thakurnagar is the epicenter because the Thakurbari is located here. The Thakurbari is the second most important sacred and revered space for the 30 million strong Matua community in West Bengal, of which around 15 million could be legitimate voters. The first important sacred space for the community is at Orakandi in Bangladesh, earlier in East Pakistan, much earlier in East Bengal in undivided India under the British and before.
This is where Modi went on March 27, the day polling began in Bengal, to pay homage to the founder of the Matua Mahasangh, Harichand Thakur, when he went to Bangladesh recently. Predictably, Mamata Banerjee said that it was a clear violation of the model code of conduct – amounting to campaigning and wooing a community with shared historical and social links in a neighbouring country. Predictably, too, it had no impact on Modi, nor on the 'neutrality' of the Election Commission.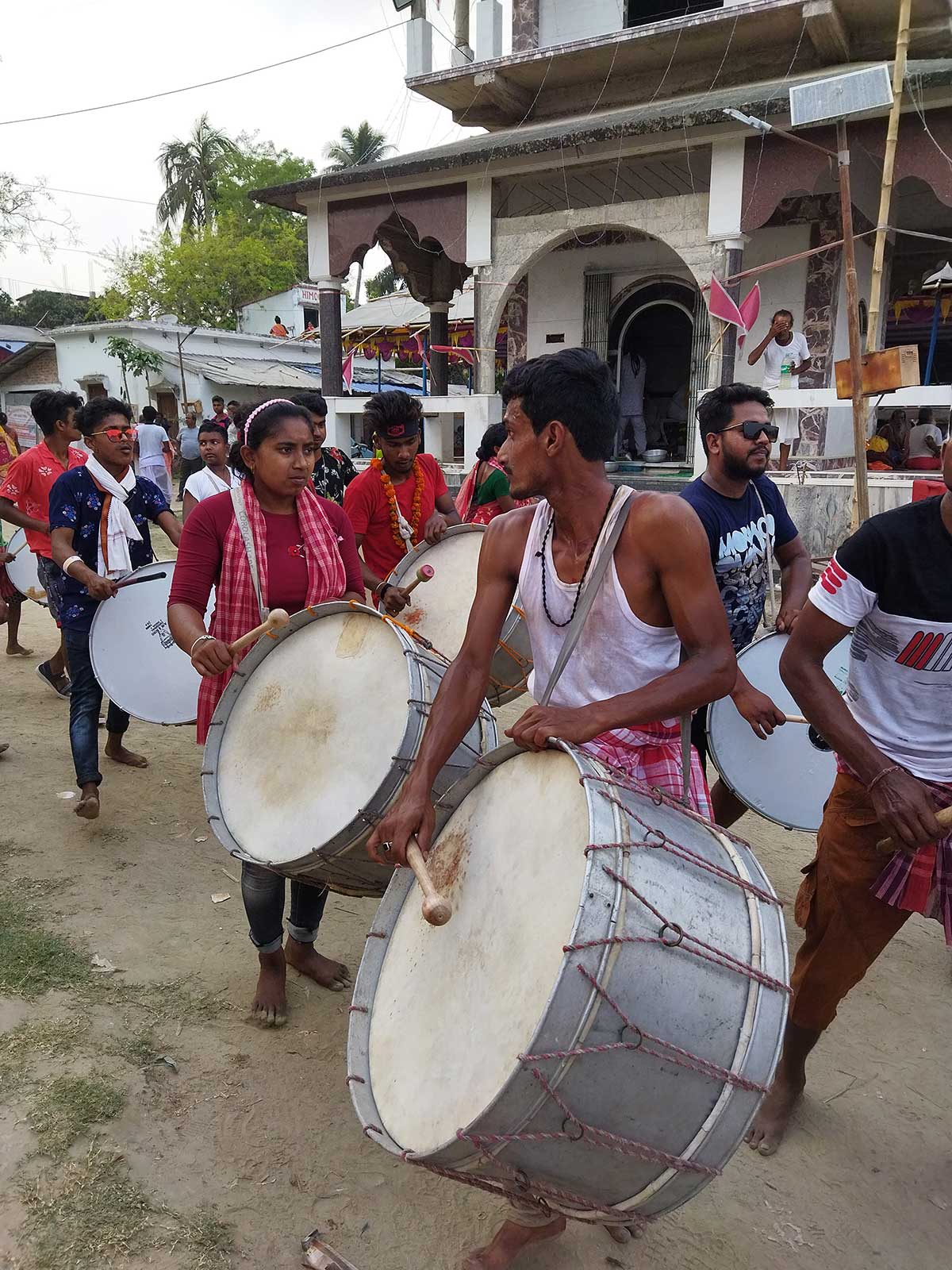 Orakandi in district Gopalgunj is the birthplace of Harichand Thakur, who started the first social reform and enlightenment movement for the oppressed and landless Dalit/Namashudra community in East Bengal in early 19th century, followed by his son Guruchand Thakur, equally revered, and then his great grandson, Pramatha Ranjan Thakur (PR Thakur), a barrister, who later established Thakurbari as the never-centre of the community in India. Harichand Thakur established the Matua Mahasangha. PR Thakur was a member of the West Bengal assembly as a Congress candidate after winning the elections in 1962. This was a reserved seat for the scheduled caste community.
Significantly, the wives of PR Thakur and his great grandfather Harichand Thakur, Binapani Devi Thakur and Shantimata Thakur, were equal partners and visionaries in the radical social reforms movement and the educational, spiritual and political emancipation of the 'Namashudra' community of the Matuas in East and West Bengal, and are highly respected here. Their statues accompany their husbands in the temples. Significantly, after her husband's death, Binapani Devi became the iconic figure-head of the community at Thakurbari, highly respected and revered, and was referred to as 'Boro Ma', Elder Mother.
She was especially close to Mamata Banerjee, who referred to 'Boro Ma' again with great respect and fondness in her speech recently late evening at Barasat after she was banned from doing public meetings by the Election Commission. Among other things, Mamata Banerjee said that she took care of the treatment of 'Boro Ma' for more than two decades, built the road to the Thakurbari, constructed new, modern structures around the sacred pond and around the temples of their icons, built the government college at Thakurbari in the name of PR Thakur, and is building an university, among other things, like providing cycles for girls, financial incentives for girl students, helping the farmers, health insurance for women etc. Indeed, even BJP supporters agree that all the development work here has been done by Mamata Banerjee, while she was the first leader to bestow them with a sense of collective dignity and identity, until the BJP entered the scene.
The social reform movement among the Matuas, which began in the 19th century and continued after the British era, should also be seen in the backdrop of the pioneering work done by Jogendra Nath Mandal in Bengal under colonial rule, especially in the political and social empowerment of Dalits and other oppressed communities in Bengal, and thereby sending a signal to the rest of India. This was much earlier than Dr BR Ambedkar, the founder of the Indian Constitution and revolutionary intellectual, thinker, and emancipator, who created the theoretical and radical paradigm for Dalit emancipation in India. Sensing the unease, discomfort and hesitation of the top Congress leadership, Mandal persuaded Ambedkar to become a candidate for the Constituent Assembly from Bengal in 1946 with support from Dalits, Anglo Indians, the Muslim community and others. This was path-breaking mobilisation of the subaltern forces at that time. Mandal later became the first law and labour minister in independent Pakistan, but quit thereafter in disillusionment with the nature of secularism, among other issues, in 1950.
At the small temple dedicated to PR Thakur near the Thakurnagar railway station, again constructed by Mamata Banerjee, the priest, dressed in a blue shirt and trouser, says that no rituals are performed here. Hari bol on Thursdays and once in a month a big programme of songs and music with shared food. So, who is winning, the son of BJP's Manjul Thakur, (the youngest son of PR Thakur), Subroto Thakur, or Narottam Biswas, the formidable candidate of the TMC, who traces his family lineage as very close associates of Harichand Thakur in Orakandi?
The priest, as usual, is tight-lipped. "Everyone here has his own mind. Both are equally respected," he says.
This seems to be the guarded refrain around the town. PR Thakur's eldest son, Kapil Thakur, was earlier an elected leader here from TMC. After his death, his wife, Mamata Thakur, became a TMC MP. Now, Manjul's other son, Shantanu Thakur, is the BJP MP. The original clan is divided in the middle.
Others say, if the BJP was so confident of winning, why did Modi travel all the way to Bangladesh to pay homage to the Matua temple. "It was a clear sign of desperation," they ask.
Says a sweets shop owner, very confident: "Well, both are respected here, and there is no social division or bitterness among their supporters. Besides, I am not from the Matua community, but, I, like others who are not Matuas, have respect for the Thakkurbari family. If you ask me, it's a fifty-fifty scenario this time. A tough contest here at Gaighata, I tell you."
To be concluded

(Photos by Snehasish Mistri)
Related:
Battleground Bengal: So, is it Advantage Didi in Singur and its neighbourhood?
Battleground Bengal: Notes from Furfura Sharif and village bylanes
Battleground Bengal: Security adviser's powers seized
Battleground Bengal: Not one Vote for BJP finds a curious resonance
Battleground Bengal: Lukewarm response to Modi rally at Brigade Ground