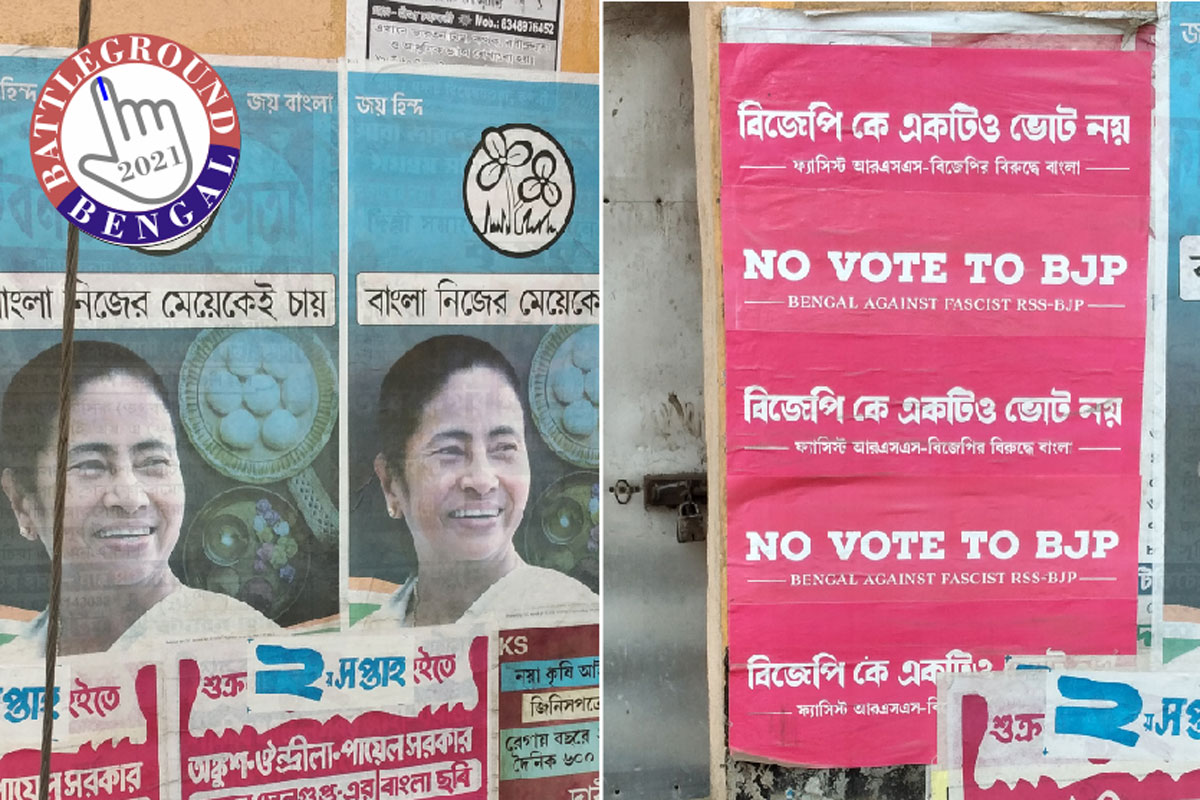 Image: Amit Sengupta / SabrangIndia

Long winding roads and by lanes, some pucca roads, some with potholes, no police presence, very few people on the road, few shops, an old mosque there, a little temple here, dusty and familiar. Surrounded by an infinite expanse of green paddy fields, little ponds, big ponds with fish, zigzag by lanes between the density of the flowing green, a spark of red as a woman farmer finds her way through the agricultural fields, a hot afternoon, the wind cool, flowing through the beautiful expanse, like shifting the quiet pages of the village story book full of simple illustrations.
It's simple, serene, laid-back and peaceful here. There seems no poll tension on the face of it in the Haripal and Jangipara constituency in Hooghly district, but there are great expectations, as always, hidden in the little nooks and corners, behind the faded walls of humble homes. It thereby remains a puzzle as to why the Election Commission is obsessed with such high security in Bengal, even while poll violence has been almost absent this time, and most of the rural hinterland is as quiet and restrained as if they are all resting after a long festival.
Even the wall writing, the graffiti and the posters seem to have withdrawn into the lazy afternoon, as a farmer crosses the lane in his cycle with his farm equipment. And another walks by barefoot, very angry at the TMC for giving a low price for potatoes, adamant on giving the BJP a chance, even while he agrees that only 25 per cent in his neighbourhood would vote for the BJP. His farmer friend on bicycle quickly moves away as he beckons him to join him in his diatribe against the Trinamool government. His bitterness seems genuine. He is a poor farmer and seems to have had a bad deal in life, and seems desperately looking for hope in the BJP.
On the wall of an empty house with locked wooden windows, as if they have not been opened for years, is the jora phool ghash – the Trinamool symbol. It kind of moves into the simmering pond with clean waters in the backyard, even while some faded pictures of Didi share the space: Bangla nijer meinkeyin ke chai… Bengal wants its own daughter. Next to it are posters in red with a categorical declaration in white repeated again and again in Bengali and English:BJP Ke Ektiyo Vote Noi… No Vote to BJP (literally, not one vote to BJP). The sub-heading says in both languages: Bengal against Fascist RSS-BJP.
From Balrampur Bati to Banmaalipur to Furfura Sharif, crossing several little villages, market places and railway crossings, few posters of this 'No Vote' campaign in red and white seem to be out there. They suddenly disappear.
The BJP is strikingly absent on the walls, but is forever popping up in local narratives. Their propaganda has been a success, undoubtedly, however fake it might be on the ground in many constituencies. The lanes and by lanes remain quiet, slowly winding into obscure squares and little residential quarters with dusty bamboo, banana and coconut trees, and all you can see is the optimistic site of school girls on their cycles or walking, with their school bags, back home after a long day at school — cool, calm, confident, happy and chatting with each other.
Three school girls in white salwar kameez and a red chunni, two of them in cycles. No one is wearing a mask. No one wears masks in rural areas here. It seemsno one wear masks anywhere in the countryside in India.
Across rural and small town Bengal, women in saris and girls on cycles is a common sight, many of them wearing mask. The cycles gifted by the TMC government has also helped working women and school girls, locals say. The girls are sharing goodbyes and last minute notes outside the gate. Behind them is an old school surrounded by paddy fields.
One of them waves to our auto to stop. Schools have re-opened, how is it? "It's nice," she says. What is the seating arrangement in the class? "We sit keeping physical distance."
The auto driver seems to know her stop. Near Furfura Sharif. It is a Muslim neighbourhood. A sweet shop here, a grocery shop there, a woman selling vegetables on the road. All in shared symphony in the slow and silent rhythm of a content village with old landmarks. No one seems to be in a hurry.
The schoolgirl pays him some coins which he does not count. And then she walks briskly, with not a care in the world, her chunni fluttering in the wind from the fields, quickly crossing the narrow street, into a humble house with the outside, temporary wall made of loose bricks. There is no door at the small entrance between the wall of loose bricks. She lifts the thin curtain, an old sari which compensates for the door, adjusts the curtain back for privacy, and walks into her humble, childhood home.
The urge for education, for knowledge, for higher studies, to achieve greater heights: this is a unanimous aspiration across all identities and social structures, especially among the low income group and poor communities in the margins in 'invisible India', and here it is no different. In this rural area, it is reflected in its high literacy, of about 80 per cent. The poverty line index, sadly, stays hovering around 30 per cent in the Hooghly district, though the entire landscape is richly endowed with resources so typically prevalent in Bengal: good multi-crop fertile land where farmers grow paddy, jute, potatoes, vegetables, bananas, across the seasons. There is fish in the ponds. There is no lack of electricity or water, there are reasonably good roads barring some stretches, efficient and quick local and long distance transport to Kolkata and elsewhere, and there has been peace around here in the last ten years, claim the locals. Since the Singur land struggle against the Tatas and the CPM government.
A student at the office of the Indian Secular Front at Furfura Sharif, who studies at Jamia Millia Islamia in Delhi, has seen it all in the last two years: the attack on Jamia, the brutal lathicharge inside its library, the peaceful anti-CAA protests, the mothers and daughters at Shaheen Bagh in the relentless day and night non-violent vigil for weeks in the freezing cold surrounded by portraits of Indian freedom fighters, from Ashfaqullah Khan and Bhagat Singh to Mahatma Gandhi, Sarojini Naiduand Babasaheb Ambedkar, the demonization of the mothers and the students of Jamia, the violent attacks by ABVP goons tacitly backed by the police on JNU students, the joint midnight protests against the attacks outside the Delhi Police Headquarters by students of Jamia and JNU, and, then, the North-east Delhi killings, instigated by BJP leaders in police protection, with the victims and peaceful students now being accused, condemned and imprisoned. He has seen it all and he is still in his early 20s.
He is cool. He smiles rarely, but he smiles. He is not afraid of his future. He is stoic. "The BJP should not enter Bengal. Bengal has nothing to do with communal politics. We will try our best to stop it," he says.
He smiles:"Bhaijaan is secular, I tell you. His rallies are becoming bigger. You meet him on Friday, he will meet you. Come again – CPM leader Mohammad Salim is coming to this area." Abbas Siddiqui, ISF leader and aggressive speaker, is called 'Bhaijaan' here.
His friend laughs when this reporter points out at his Virat Kohli hairstyle. He, obviously, loves sporting it, wearing a jeans and a black T-shirt, perched on his bike. "We are not communal. We are secular," he insists.
"This entire area has been secular for decades. People are calm and peaceful here. There is a shared tradition here and in the neighbourhood," says the student from Jamia. He says there is too much of hate politics and he can see that in the trolls. He says that his name resembles a Hindu name, so the troll industry can't spot him. "But the venom and the viciousness – it is unimaginable," he says.
This area has earlier seen strong support for the Left, and it is a fact that Muslims in Bengal have traditionally voted for the Left. Besides, they have never felt threatened, cornered, ghettoized or demonized ever before in the shared, social and cultural history of post-Independence Bengal, either under the Left rule, or with the Trinamool at the helm, despite differences and failed aspirations, political observers point out. "Bengal is not UP or Gujarat," they say."This time, the Muslims are feeling threatened."
While 'Bhaijaan' is drawing good audience in his rallies, says Ashish Chakrabarty, auto driver, and a proud 'Brahmin', this area with Singur, Haripal and Jangipara, will finally make Didi victorious. He, like others, believes that there was a big rumour that BJP is coming in Bengal and that they will win. It all turned out to be hyperbole created by their PR machinery, he says. On the ground, there is no wave, at least in this area, and it seems a straight contest between the Trinamool and the Left-Congres-ISF alliance. Other auto drivers, who move across the belt all day, share his views.
Chakrabarty's father was a committed CPM supporter for decades. He says, "He used to gather people and go to Brigade Ground for their rallies, surviving on puffed rice and bataasha (batasa). He worked for them relentlessly on the ground. But the party did not give him respect. You see, without respect, samman, what is the point of dedicating your life for a party and a cause?"
He says that Didi gave his father samman. Becharam Manna visits his house to meet his father. The Trinamool is different.
Becharam Manna won the nearby Haripal constituency in 2011 by a margin of 22,000 votes. He won the 2016 elections from here with a margin of 31,000 plus. Before 2011, this was a CPM bastion.
His wife Korobi Manna is contesting from Haripal this time. Becharam Manna was the Minister of State of the Agriculture Department for a while. He is now contesting from Singur and thereby hangs a tail.
Becharam Manna comes from a poor sharecropper family, locals say. He worked in a jute mill earlier. He was one of the prominent leaders of the Singur land struggle. He is the convener of the Krtishi Jami Raksha Samiti, which fought for the land rights of the farmers of Singur.
The land rights question still remains simmering and unresolved in some cases, and there is resentment against Trinamool because of that, but that has not dented his popularity and image as a mass leader coming from a poor background, aligned with the local issues of the farmer, and who is easily accessible. His wife shares his work and popularity and is a popular leader. Locals say he was one of the first to challenge the Tata group at Singur, and the CPM government, during the land acquisition for the Nano car company.
The twist in the tale is the story around 'Master Moshai' – 88-year-old Rabindranath Bhattacharya, a respected veteran and Singur MLA from Trinamool. There seems to be a constant conflict between him and Becharam Manna in Singur, for local influence and power. The latter almost quit Trinamool with an eye on BJP last year, but was stopped by the crisis managers of the party, while the Trinamool leadership did a mix of warnings and appeasement to keep Manna in control. This time Bhattacharya was denied a ticket along with five others, and all of them, overnight, joined the BJP.
The twist is that the local BJP cadre and leadership have been outraged at this turn of events. A man who was with the Trinamool in Singur till last night, literally, became their candidate in a hot spot like Singur – this was just not acceptable. The BJP party office was vandalized, there was much heart-break and chest-beating, and the party rebellion became a big media story.
'Master moshai', 88, seems unruffled, according to his committed followers. He is very much in the race. And, yet, it will hard to break the mass popularity of Becharam Manna in Singur, says Ashish, who claims that Bhattacharya is his relative, and, yet, he is sure, he will lose.
"With all the respect he has, and all the good work he has done, Rabindranth Bhattacharya is too old, now in a party with its cadre against him. He might be fit, but the odds are against him. This overnight shift has divided the BJP ranks," said a journalist.
And, thus, it seems, in Singur and Haripal constituency, which falls in the Arambagh Lok Sabha constituency which Trinamool won in the last polls in 2019, it is the husband-wife Manna couple of the Trinamool which might have the advantage in the current scenario. As of now, they are on top, days before the vote. The BJP, it seems, is lagging behind in this area.
At Jangipara, with Snehasis da (Chakrabarty) calling the shots for Trinamool, even Abbas Siddiqui might not be able to push his candidate, Sheikh Moinuddin. "Sheikh will try very hard. Abbas Siddiqui has promised a knowledge city –- that will be really good, isn't it? It will create jobs and it will be big. Sheikh will make it really tough for Snehashish da, who is much loved in the constituency. Sheikh will really fight to the last with all the means at his disposal, including the backing of the Left and Bhaijaan. It will be a hard fight. But Snehashis da will make it,finally, it seems" says a local, young and articulate.
An old Muslim at a market crossing is emphatic: "Didi will win, I tell you. A lone woman fighting against this formidable machinery from Delhi. This is all propaganda that the BJP is coming. People know her work in the last 10 years. She will stay."
In a discussion here with locals, no one seems to object to the old Muslim veteran's argument. The Left supporters are always categorical that Didi too plays the card to polarize votes, that she wants polarization to help her consolidate secular votes in her favour. And, yet, sooner or later, all will come around to the same narrative: is the BJP coming?
"Not here, not in this area," they will then all agree.
"Not in Bengal," a dissenting disclaimer will arrive, loud and clear. "Not this time."
And then they will all agree that the BJP is not coming. And Didi will make it this time.
Only time will tell, as the cliché goes. The tense tale of Bengal in the summer of 2021.
Concluded
Related:
Battleground Bengal: Notes from Furfura Sharif and village bylanes
Battleground Bengal: Security adviser's powers seized
Battleground Bengal: Not one Vote for BJP finds a curious resonance
Battleground Bengal: Lukewarm response to Modi rally at Brigade Ground