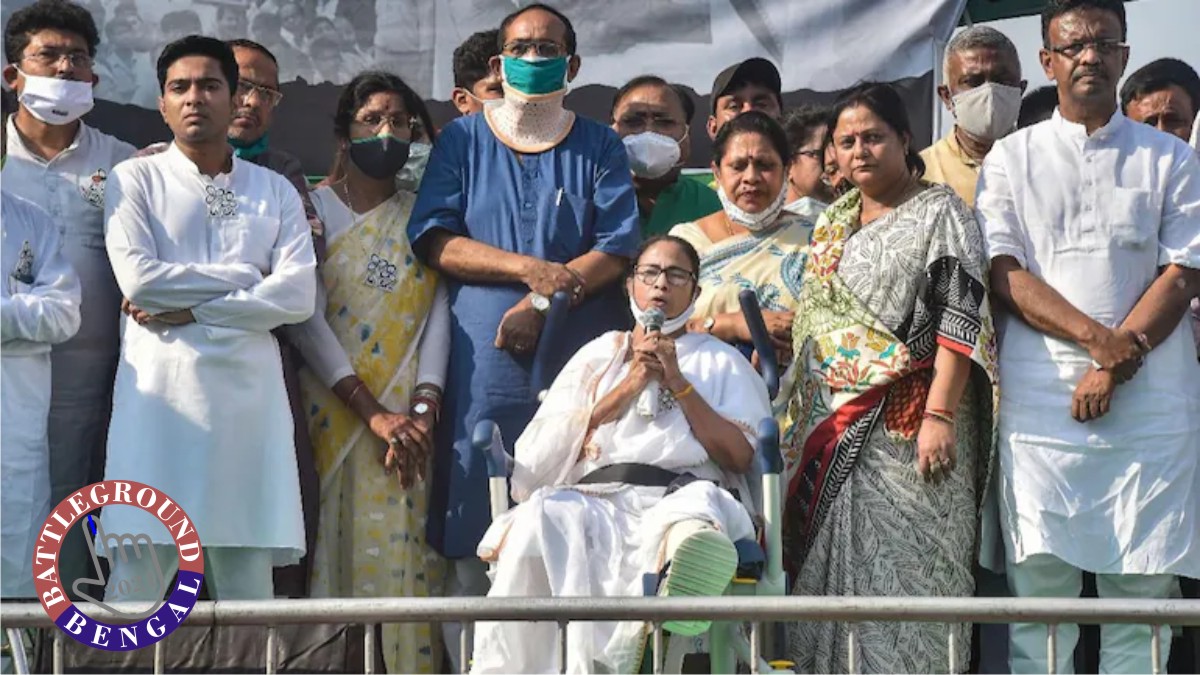 Original image: PTI
On Sunday, March 14, 2021, the Election Commission of India (ECI) in an unprecedented move either suspended or transferred some of the top most Indian Administrative Service (IAS) and Indian Police Service (IPS) officers in the state of West Bengal for their failure to prevent the injury caused to Chief Minister Mamata Banerjee on March 10 in Nandigram.
Heads have rolled… and how! The most high-profile suspension was that of Vivek Sahay IPS, Director Security. The ADG rank officer is highly respected in Bengal's police establishment, and his suspension has raised eyebrows. The ECI has directed, "The charges must be framed against him within a week for grossly failing in discharge of his primary duty as Director Security to protect the Z+ protectee." It has further directed, "A Committee of Chief Secretary and DGP shall identify within next three days the other proximate security personnel below Director Security, who failed in their duties to prevent the incident and protect the Z+ protectee VVIP and take suitable action for their failure under intimation to the Commission by 1700 hours on 17th March 2021." This move is noteworthy, as these "proximate security personnel" have been working with Banerjee for years. It thus appears to be a rather sensitive step, given how it is basically a move directed at taking Banerjee's trusted inner circle of security personnel away from her.
Pravin Prakash, SP Purba Medinipur was also suspended and the ECI directed that "charges shall be framed against him for major failure of bandobast." He was replaced by Sunil Kumar Yadav, a 2009 batch IPS officer. Additionally, Smita Pandey, a 2005-batch IAS officer was posted as DM and DEO, Purba Medinipur immediately, replacing Vibhu Goel, who shall be transferred to a non-election post.
Details of transfers and suspensions ordered by the ECI may be read here:
The decision to suspend and transfer senior officers was taken based on a report and recommendations by Special General Observer Ajay Nayak and Special Police Observer Vivek Dube. It is noteworthy that a previous report by West Bengal Chief Secretary Alapan Bandyopadhyay that was submitted to the EC on Friday evening, was found to be unsatisfactory and dubbed "sketchy".
According to India Today, the Chief Secretary's report had concluded that the injury to Banerjee's leg was caused by the car door, though the report does not clearly mention what led to the door slamming on her leg in the first place. The Trinamool Congress (TMC) was also dissatisfied because the report does not state whether some people deliberately closed the door on Banerjee's foot.
The report submitted by Special General Observer Ajay Nayak and Special Police Observer Vivek Dube, after they undertook a detailed inspection of the accident site in Nandigram was expected to shed light on these key issues. But according to India Today, their report says that the injury was accidental. Times of India also reported that Nayak and Dube's report rules out a premeditated attack.
Now, the question is, if the ECI believes that the injury was accidental, isn't it an overkill to suspend and transfer officers? And if their suspension was warranted, doesn't that mean that there was an element of deliberation which corroborates Banerjee's own version where she says she was attacked?
But former Chief Election Commissioner of India, SY Quraishi does not think the ECI's actions are excessive. "Action has been taken regularly against IPS and IAS officers for all kinds of acts of omission and commission," he told SabrangIndia. "In this case EC has all the facts, I don't. But if they have taken a decision it doesn't appear to be out of line. A person who has been provided Z category security, has to be protected at all times. Now even if it was a mob that pushed her, it shouldn't have been allowed to happen in the first place," he explained.
On March 10, Chief Minister Mamata Banerjee, who is contesting elections from Nandigram, was campaigning in East Midnapore when she was allegedly heckled and pushed by some people when she was interacting with villagers in Birulia Bazar. Shortly after the attack Banerjee told media persons present at the spot, "I was standing next to my vehicle when 4 to 5 men pushed me. Look at my swollen leg."
Doctors at the SSKM Hospital where she was admitted told media persons that Banerjee had sustained injuries to her left ankle, foot, right shoulder, forearm and neck. She also complained of chest pain and breathlessness. Shortly afterwards her nephew Abhishek had tweeted a picture of Banerjee in hospital, her leg in a cast.
.@BJP4Bengal Brace yourselves to see the power of people of BENGAL on Sunday, May 2nd.

Get READY!!! pic.twitter.com/dg6bw1TxiU

— Abhishek Banerjee (@abhishekaitc) March 10, 2021
But Mamata Banerjee has a reputation of being a streetfighter and bounced back from the attack, leading a march despite sitting in a wheelchair on Sunday, March 14. The Telegraph reported that the 66-year-old covered 5 kms from the Gandhi statue at the Maidan to the Hazra crossing in a time span of 80 minutes, all under the blazing afternoon sun. Addressing her supporters after the march she said, "Sitting in this wheelchair, and with this broken foot, I shall travel across Bengal. And khela hobe (the game is on)." She then went on to issue a chilling warning to her opponents saying, "Don't forget an injured tigress is more dangerous than a dead one."
The BJP also doesn't appear to be taking any chances, parachuting as much star power as they can into the state. In just the last 48 hours, Nitin Ghadkari, Smriti Irani and even Amit Shah himself, have addressed rallies in Bengal.
Meanwhile, Banerjee's rival and former TMC man who switched recently to the BJP, Suvendu Adhikari, has now demanded the suspension of all officials appointed by Banerjee's nephew Abhishek. Adhikari told media persons, "Not just DM and SP of this district, all those who have been appointed by 'bhaipo' must be removed." The word 'bhaipo' is used by the BJP for Abhishek, and they have repeatedly accused Mamata Banerjee of nepotism in promoting the political career of her nephew.
It is also noteworthy that on Friday, a delegation of BJP leaders led by Union Minister Piyush Goyal and MP Bhupinder Yadav had met with EC officials in New Delhi. The same day a six-member delegation of the TMC also met EC officials demanding a high-level probe.
Then on Sunday, the BJP wrote a letter to the Chief Electoral Officer of West Bengal asking for details of Mamata Banerjee's treatment in wake of her injuries to be made public. According to India Today, BJP's letter asks for SSKM Hospital to furnish all the diagnostic and treatment details. These include the nature and extent of Banerjee's injuries and as to whether necessary standard operating procedures (SOPs) and conventional medical guidelines were followed. India Today, quoted an excerpt from the letter: "It is extremely important that the entire medical records of her treatment be put out in the public domain It's necessary that the truth be brought out before the public so that staged incidents do not repeat to deceive the masses and manipulate their voting choices."
Related:
Battleground Bengal: Mamata Banerjee injured in Nandigram
Mamata dubs attack on BJP convoy "nautanki", Dilip Ghosh promises revenge