




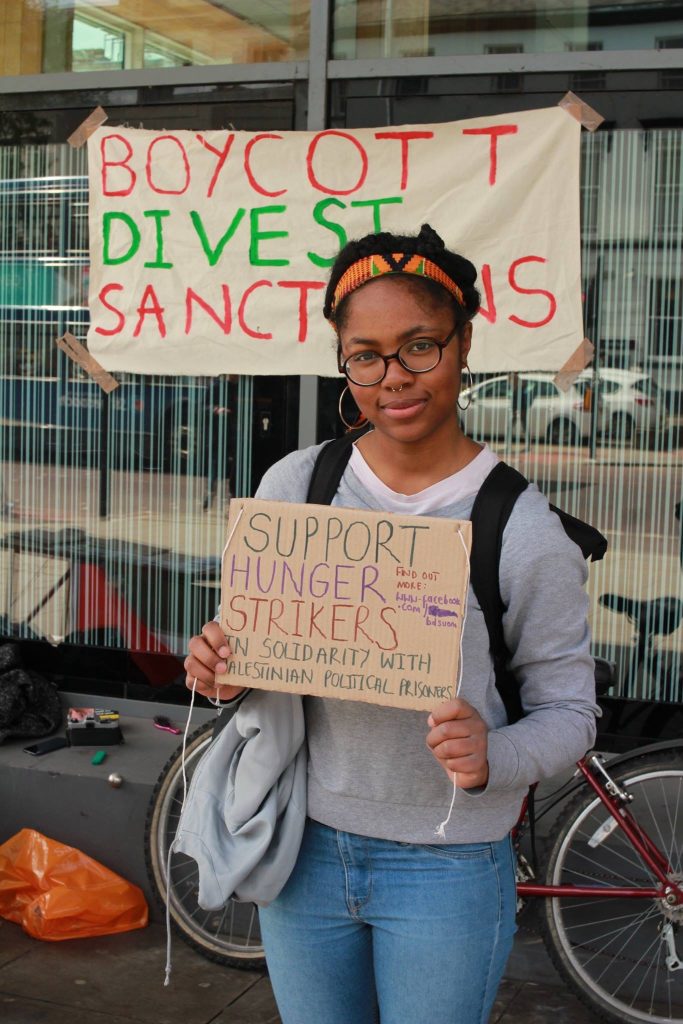 BDS activists at the University of Manchester in the UK are planning a hunger strike in solidarity with Palestinian prisoners. (Photo: thetab.com)
Today, the mass hunger strike by Palestinians in Israeli prisons is in its critical fourth week, at which point the hundreds of hunger strikers may find standing up difficult or impossible. Heeding the call to action issued on May 6 by the Palestinian Prisoners' Movement leading this strike to end Israeli violations of Palestinian rights and to ensure dignity and humane conditions for political prisoners, the Palestinian BDS National Committee (BNC) calls:
For the Palestinian Authority to immediately end its so-called "security coordination" with the Israeli occupation forces. This collaboration is against the Palestinian consensus and in violation of a March 2015 decision by the PLO, the sole legitimate representative of the Palestinian people.
For legal action against Israeli officials, including Minister of Public Security Gilad Erdan and officials in the Israeli prison administration and intelligence agencies for their respective roles in the serious crimes committed against Palestinian prisoners, including torture. Since Israeli courts are failing to hold them accountable, foreign courts must uphold universal jurisdiction and ensure that gross human rights violators are not granted impunity.
For physicians worldwide to reject force-feeding as a form of torture and reject the credentials of any doctor who agrees to participate in this crime. There are reports that Israel plans to import foreign doctors to force-feed Palestinian prisoners, and these plans must be condemned and opposed.
For intensifying BDS campaigns to hold Israel accountable for its crimes against the Palestinian people, including its cruel and inhumane treatment of Palestinian political prisoners. Hewlett-Packard (HP) and G4S in particular are companies that should face escalating boycotts for their complicity in Israel's brutal system of incarceration and abuse of Palestinian political prisoners.
Support for the demands of the Palestinian prisoners' mass hunger strike has spread through several Arab countries, especially Egypt, Jordan, Lebanon and Morocco, with a growing number of celebrities joining the #SaltWaterChallenge. Palestinian trade unions have also expressed their support, as have human rights defenders around the world.
The BNC is confident that this hunger strike demanding dignity and freedom will further nourish nonviolent popular resistance to Israeli injustice and advance the BDS movement's aspirations for freedom, justice and equality.

This article was first published on mondoweiss.net.