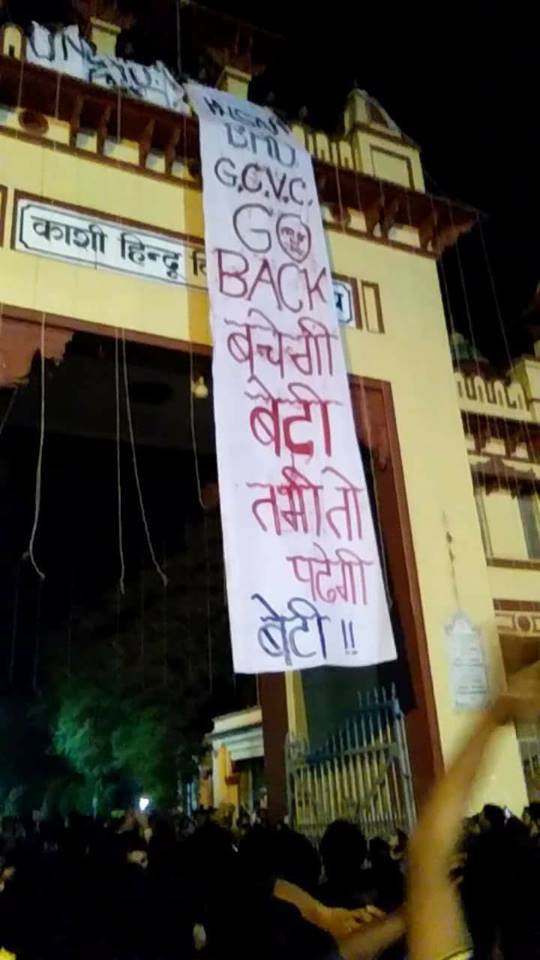 On September 21, 2016, a woman student of BHU was groped and molested on a campus street by some motorcycle borne men. Guards posted on the campus did not come to help her, she alleged. And what is worse, when she along with other students approached the Proctor and administrators asking them to check CCTV footage and help identify the molesters, she was told "Don't you know the Prime Minister Modi ji is visiting Varanasi – we're busy the next couple of days till he leaves. But why were you out on the streets in the evening?"

The same night, women students of Triveni gathered and demanded the Administrative Warden meet them. The Administrative Warden, in turn, said nothing could be done till after Modi's visit. When the survivor of the molestation demanded that lights be installed on dark streets on the campus the Warden said, "Why do you need to go out on the dark streets? Several girls stay out late – till 9-10 pm – and wear provocative clothes, it's they who create the climate in which incidents of molestation happen."

Dawn on September 22 saw something extraordinary: women students began gathering at the BHU Main Gate from 5 am onwards, and their numbers kept swelling till night. That was the day the PM Modi – who is also Member of Parliament from Varanasi – was to visit Varanasi, and was due to cross the street in front of the BHU Main Gate.

Students hung a huge banner on the main gate that said: "BHU GC VC Go Back – Bachegi Beti Tabhi To Padhegi Beti (a reference to Modi's Beti Bachao Beti Padhao slogan, reminding him that women need safety from sexual harassment in order to study.) Reportedly, Modi had to change his route to avoid crossing this banner and this infuriated BHU students.

The protest continued on the night of the September 22 and throughout the day on the September 23, with male students of BHU joining the women students in support and solidarity with their demands. The demands included that the GSCASH (the body against sexual harassment) be made active and gender-sensitive; gender sensitization of all administrative personnel on the campus; that the discriminatory rules (including restrictions on Wi-Fi availability, discriminatory curfew timings, and a ban on non-vegetarian food) for women's hostels be scrapped; street lights on the campus; and other measures to ensure that women students can walk freely and without fear on the campus.

ABVP Tried To Censor 'Unsafe BHU' Slogans
One of the main slogans of the BHU students movement has been against 'Unsafe BHU'; another demanded 'Pitrsatta se azaadi' (Freedom from Patriarchy). These slogans, the BHU ABVP unit declared, were 'anti-national.' The ABVP men began arguing with the women students that BHU was 'Shiv ji ki nagri, bhole baba ki nagri' (the town of Lord Shiva) and so could not be called 'unsafe'. "We support our sisters and will protect them', said the ABVP, 'but don't call the campus unsafe. Don't raise slogans demanding freedom – these are Leftist slogans and intended to turn BHU into JNU." But this stand of the ABVP was roundly rejected by the women students, who declared, "BHU is indeed unsafe, why should we not call it so?" The women students were simply unwilling to accept the paternalistic 'Big Brotherly' protection offered by the ABVP men in exchange for silence on sexual harassment. They got solidarity from hundreds of men students of BHU – but it was the ABVP that refused solidarity and tried to censor the slogans used by the women students. On one occasion, an ABVP man literally tried to snatch the mike away from a woman student of BHU.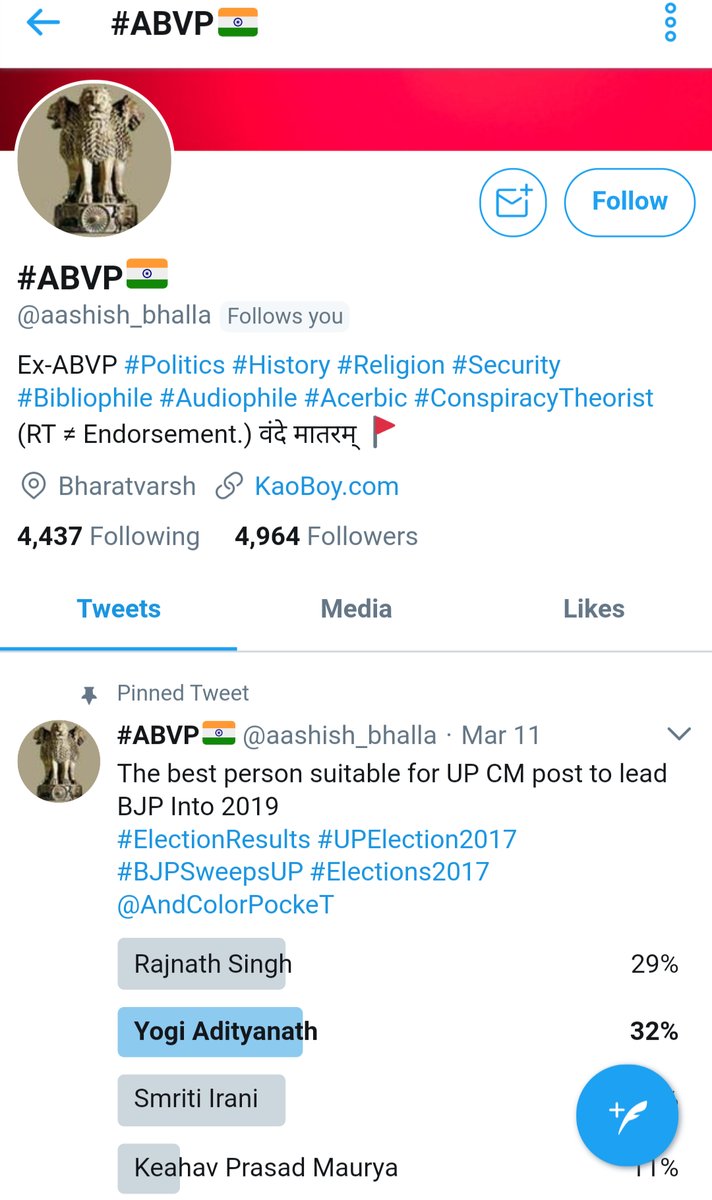 It was after this that some miscreants set fire to a motorbike outside one of the BHU gates, and pelted stones, one of which reportedly hit a policeman. I am told by BHU students that it is a total fabrication that any of the student protesters pelted any stone or indeed indulged in any retaliatory violence. Rather the stone pelting and arson by the unknown men was a pretext for the police to rush into the campus and use tear gas, lathis and rubber bullets against protesting students – injuring several severely.

The BHU women students have been agitating for equality for a long time – against the rules imposed on them by the Vice Chancellor who is a proud member of the fascist RSS Their movement against sexual harassment is now making history. ABVP tries to tell BHU women to be "well-behaved" unlike JNU's "anti-national, badly-behaved" women. But women everywhere are rejecting these attempts to divide them into categories of "sluts" and "sati-savitris," "good women" and "bad women." They're rejecting the attempts to pit BHU women against JNU and DU and Jadavpur women. They're refusing to allow anyone to tell them that demanding freedom from patriarchy is "anti-national." Jadavpur and West Bengal

JNU does, indeed, have a functioning, autonomous GSCASH that is widely recognized as a model for other campuses – and the JNU VC, another BJP appointee like the BHU VC GC Tripathi has just made an attempt to dismantle it and replace it with a puppet body that will basically function under his own thumb.

RSS Deeply Resents Women's Movements For Equality
The RSS in fact wanted Manusmriti (which is anti-Dalit and which says women must be always subordinate to fathers, husbands and sons) to be India's Constitution This is what Mohan Bhagwat means today when he says that India's Constitution should be brought in line with "Indian values." The RSS finds it impossible to swallow the fact that women's struggles for liberation could and should be counted among "Indian values." Bhagwat has said, elsewhere, that the RSS stands for "familyism not feminism" – and that's the problem. "Familyism" offers so-called "protection" as long as "mothers, sisters, daughters" are willing to accept patriarchal authority and avoid asserting individual identity, autonomy, and independence. This is precisely what the ABVP tried to tell the BHU women students – but failed to get them to accept.

What the RSS "familyism" means is also made clear by the UP Chief Minister Yogi Adityanath who quoted the Manusmriti in his 'Matrshakti' article, saying that "a woman is protected in her childhood by her father, by her husband in her youth and by her son in her old age — so that way a woman is not capable of being left free or independent." In that piece he had said that women's reservations in Assembly or Parliament should not be considered till there was an assessment of whether women's reservations in panchayats had affected their "primary role as wives and mothers." He had added for good measure that women who "acquire manly qualities" (i.e assert their independence and equality) become like "demons." Is it any surprise that in Yogi's UP, women students demanding freedom from patriarchy are being lathicharged?

The RSS bid to 'capture' campuses requires them to suppress any demand for freedom by women. In November 2015, the Panchjanya (RSS organ) carried a cover feature which proclaimed that the inclusion of "human rights, women's rights, religious freedom, discrimination and exclusion, sexual justice and secularism" in the JNU curriculum and the setting up of academic centres like the Centre for the Study of Discrimination and Exclusion, Centre for Women's Studies and North East India Studies Programme was due to a conspiracy of Leftists. The article also described the JNU campus students' movements for "secularism, minority rights, human rights, women's rights and the rights of deprived sections of society" as "the flourishing crop of such poison" that "can be seen all over the University in the slogans, posters and pamphlets that cover its walls."

Clearly, the RSS see the demands of women or other oppressed sections for equality and liberation as 'anti-national' and 'poisonous.' This is why it scares them deeply to find that these demands are not confined to JNU; they are not even a JNU export: campuses from DU to HCU to Jadavpur to Mahendragarh (Haryana) to Thiruvananthapuram to AMU and BHU have seen similar movements that refuse to be shamed, silenced or suppressed.

Like the BHU ABVP, other RSS and BJP voices too have expressed discomfiture not only about women students' demands for rights, but about the very presence of women in higher education. BJP's West Bengal President Dilip Ghosh, now a BJP MLA from the state, declared that Jadavpur University's women students who accused ABVP members of molesting them, are "shameless" (behaya) and that women who did not want to be molested should not go out to protest. He said "Those who fear so much for their modesty, why did they go there? This is shamelessness. Making such allegations (of molestation) is very cheap" (Indian Express, May 15, 2016).
Modi says 'Beti Bachao' – but this is promise of paternalistic protection is dependent on the 'daughters' being docile and obedient and silent. If the 'daughters' speak up loudly and as equals, the ABVP mindset promptly says (see screenshot of tweet by an ex-ABVP supporter of Yogi Adityanath) that "Rogue daughters deserve this treatment" (i.e deserve to be beaten up by the police.
It's time to enlighten Modi and his ABVP cadre that Indian women do not have to "become like foreign women" in order to demand their rights. BHU women do not have to "be like JNU women" to demand their rights. Rather, women anywhere in the world are asserting the radical idea that they have a right to be treated as human beings – not as "mothers and sisters" who receive protection conditional on good behavior; not as "goddesses" to be worshipped in the abstract and beaten, raped and killed in the real world.

Salaam BHU's women students: you have written a new, inspiring chapter in India's women's movement and student movement!

(The author is is Secretary, All India Progressive Women's Association, AIPWA)
Related Articles:
1. Harassment of Women in BHU Invites Mass Protest: Banaras