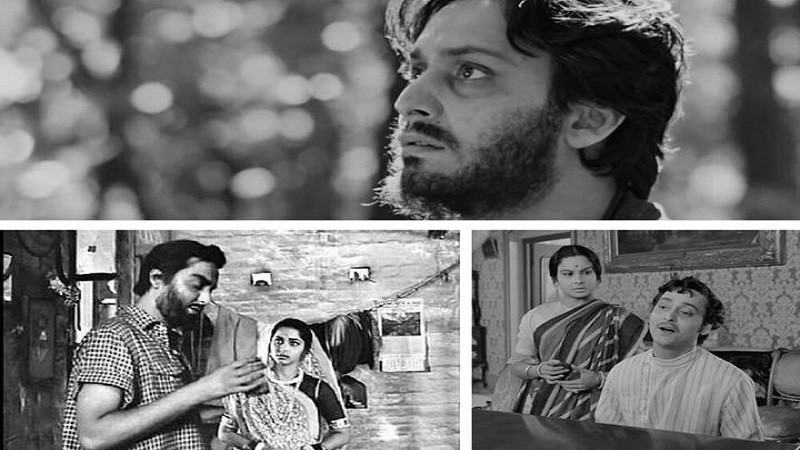 Image Courtesy:huffingtonpost.in
A gloomy cloud hovers over Bengali cinema and its lovers as they await news of the miraculous recovery of celebrated Bengali actor and poet Soumitra Chatterjee who tested positive for Covid-19 earlier in October, 2020.
The beloved culture icon's health worsened over the last few weeks. Recent news reports stated that Chatterjee was put on ventilator support. This short break in Chatterjee's 85-year-long career gives us a chance to take stock of the man's numerous achievements.
Chatterjee is best known for his debut film Apur Sansar (The World of Apu) and nearly 13 other movies of renowned Bengali film director Satyajit Ray. However, the seasoned actor has worked in nearly 250 movies over the years, earning him the 'Officier des Arts et Metiers', the highest award for arts given by the French government, and a Lifetime Achievement Award from Italy. In India, he received the much-coveted Dadasaheb Phalke award in 2012 along with three other national film awards, four civilian awards of which two were from France, eight Bengal Film Journalists' Association Awards and four Filmfare awards.
At the peak of his acting career, Chatterjee rivalled popular actor Uttam Kumar who already had about 70 films under his belt by the time Chatterjee entered the scene. They were seen as two opposites wherein Chatterjee provoked thought whereas Kumar swayed hearts. Yet, by Chatterjee's own account, he viewed Kumar as his brother.
Fans of Chatterjee hold him in high regard for two reasons: his great talent as an artist that has received international acclaim; his preference to stick with Bengali cinema despite his global popularity.
While Kumar chose to try his luck in Bollywood, Chatterjee stuck to his roots and earned a name that became deeply entangled with director Ray's (although to Chatterjee's credit he also worked with many other prominent directors such as Mrinal Sen, Tapan Sinha among others.)
He acted in movies like Jhinder Bandi (The Prisoner of Jhind, 1961) opposite Kumar, well-portrayed the tumultuous emotions of a taxi-driver in Abhijan (The Expedition, 1962) and proved the mettle of his acting by delving into research for his role in Charulata (The Lovely Wife, 1964.)
Chatterjee also starred in award-winning movies like Koni (1984) and Asookh (Illness, 1999) that highlighted important themes such as the struggle of a girl to gain success and a father-daughter relationship respectively.
Yet, in 2016, Chatterjee talked about his disappointment with the contemporary state of Bengali cinema during a Livemint interview. In it, he said that Bengali cinema was slowly losing its focus from society. Chatterjee said that while, films became more cunning, fashionable, they also used explicit language and talked about sex without any deeper thought.
He pointed out that films rarely bothered to discuss the sexual crisis of women or expressed any valuable thoughts on society.
"There is no politics or ideology in the films, only a way to control and hold on to power," he said during the interview.
Acting isn't Chatterjee's sole talent. He is a poet, playwright, theatre director, and spoken word artist with two published volumes of his collected plays as well as a huge collection of poems. He even co-edited a Bengali cultural magazine called 'Ekkhon.'
However, Chatterjee's charisma wasn't simply limited to his artistic work. His fans also hailed him for his up-front attitude about his political views and eloquent criticisms on ruling regimes. Most recently, Chatterjee had supported Kolkata rallies that protested the ban of Bhobishyoter Bhoot, a political satire about a group of ghosts including one politician who assembled in a refugee camp in a bid to seem "relevant." According to sources, certain parts of the movie were critical of the ruling Trinamool Congress.
However, Chatterjee – a huge proponent of political ideology and aesthetics – described the state government's move to ban the movie as an act of autocracy and called upon his fans to participate in the city-wide marches.
He also wrote a scathing open-letter to the Mamata-led government in which he called the West Bengal administration fascist. The contents of the letter were as follows:
"I am shocked to hear that the movie Bhobishyoter Bhoot has been taken off theatres in Kolkata only a day after its release. This sounds like a vengeful act. There is enough reason to think that the administration has taken such a step because of certain statements made by director Anik Dutta at the last Kolkata International Film Festival. I can't even find words to criticise this incident. Does this mean that no form of free speech will be tolerated in this country? Can we not keep anything in our films that the powers-that-be don't approve of? I oppose this kind of fascist policy – no matter how hidden. I hope that people understand who is responsible for this, how undemocratic it is and will thereafter protest against this act."
Similarly, two years after the demonetisation process initiated by the Modi-government in 2016, Chatterjee expressed his displeasure regarding the poor execution of the scheme. Talking to then Bharatiya Janata Party (BJP) Secretary Rahul Sinha, Chatterjee said he disliked the impractical manner in which the initiative was undertaken.
"I don't know about the long-term effects as I am not an economist, but it was very troublesome for the general people as a big amount of money had to be changed at one go," he had then said.
Despite his exhaustive achievements, Chatterjee does not enjoy the same fame as some of the Bollywood actors in the country. However, his impressive flood of fans continue to stand resolutely by the actor, waiting to celebrate the moment he announces his good health.
Related:
You must stop the name of Ram from being defiled: 49 celebs write to PM
From 1 to 1.5 lakh: Modi swamped with copies of open letter by celebs in sedition protest