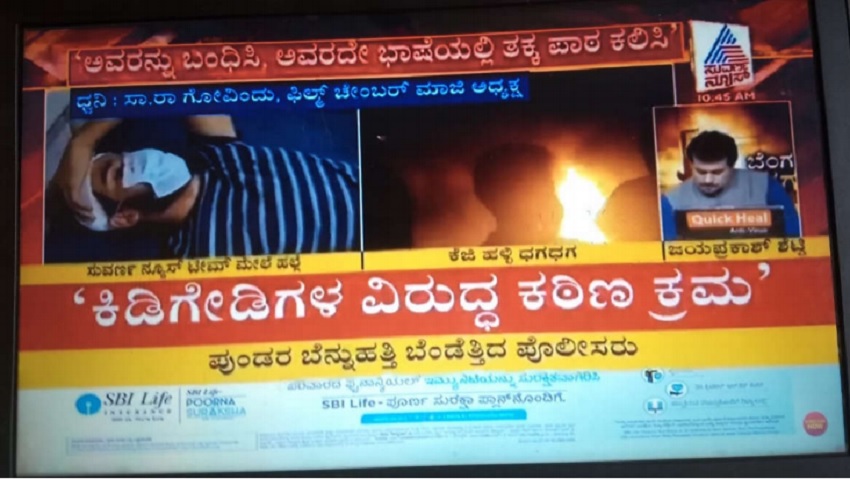 Campaign Against Hate Speech, a group of concerned activists, parents, lawyers and academics working to combat hate speech by sections of media and public personalities and on social media, has written to Karnataka State Minorities Commission (KSMC) highlighting instances where the reportage of the recent Bengaluru riots may have sparked further hate and even incited violence.
In their complaint letter the group says, "… the irresponsibility with which the media has covered this incident is unforgivable. They sensationalized the incident with playing on loop visuals of physical violence, burning vehicles, police retaliation whilst playing intense background music." The letter further says, "…these programs carried headlines such as "Bangalore inflamed", "They should be arrested and taught a lesson in their own language" (They refers to the Muslim community)."
The goes on to give examples of this reportage by showcasing screengrabs and reportage from TV 9 and Suvarna News. Many of these examples showcase a clear anti-Muslim bias in the reportage and even the manner in which some anchors conducted themselves on air. The letter then goes on to give examples of hate speech on social media platforms like Twitter.
The group calls upon the KSMC to discharge its duties in accordance with the following mandate as per Karnataka State Minorities Commission Act, 2000, Sec 9:
"(d) to conduct studies, research and analysis on the questions of avoidance of discriminations against minorities; f) to make recommendations for ensuring, maintaining and promoting communal harmony in the State; (g) to make periodical reports at prescribed intervals to the Government; (h) to study any other matter which in the opinion of the Commission is important from the point of view of the welfare and development of minorities and to make appropriate recommendation; (i) to consider the grievances of the minorities and to suggest appropriate solution from time to time;"
The Campaign states, "The media reportage in this case has been sensationalised, creating a narrative of us vs them, blaming the entire Muslim community for the violence, defaming Muslim dominated localities by airing unverified and provocative statements." The Campaign wants the KSMC to issue notices to "TV9 channel, Suvarna channel and Hosa Digantha newspaper for their communally charged coverage which is in violation of the Rule 6 Programme and Advertising Code and Section 295 A, Section 298 and 505(2) of the Indian Penal Code, 1860 respectively." It also wants KSMC to issue "directions to the police to initiate criminal action against social media users who were propagating hate including the registration of FIR under Section 153A, 153B, 295A, 295B, 298,505(2) and ensure their arrest."
The entire complaint letter may be read here:
Related:
To ban or not to ban: K'taka cabinet yet to decide SDPI-PFI fate
B'luru riot: Govt to ask HC to appoint claims commissioners to assess damages to property
Karnataka CM invokes UAPA against Bengaluru rioters