Over 300 people gathered to reclaim their streets and protest against the stigma around women who go out after sundown.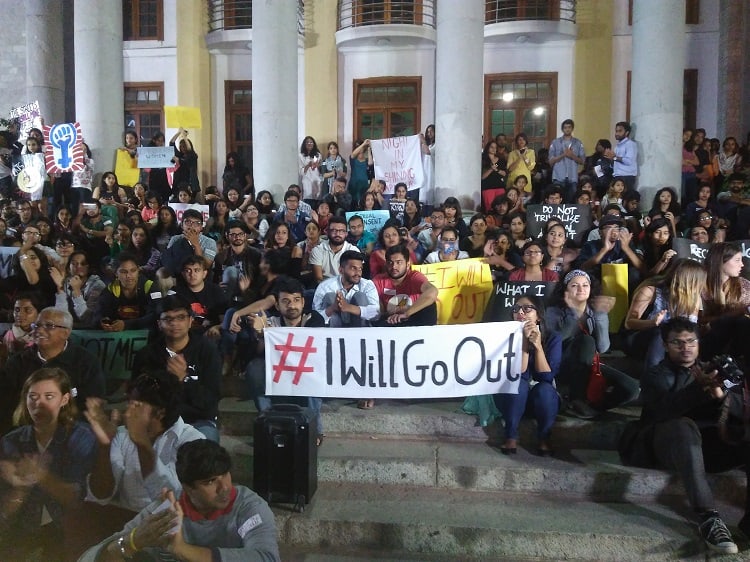 Following the spate of molestation cases that unfolded in Bengaluru after New Year's Eve, women in the city are eager to ensure that their right to public space is asserted even as the question of safety is debated. On Wednesday, a group of young women called Night In My Shining Armour organised a silent protest and open debate, tagged #IWillGoOut, outside the city's Town Hall.Over 300 people gathered at the protest venue to reclaim the streets and protest against the stigma surrounding women who go out of their homes after sundown.
"The reason why we are here today is to make women comfortable with the idea that it is completely normal to be out on the streets after sundown. It is not just a protest but an open debate, where people share their experiences in connection to the stigma, and where people who are looking for answers get them just by talking about it," said Aashima, a member of the group.
Additional Commissioner of Police, Malini Krishnamoorthy, reassured the protestors that the Bengaluru Police were always there to help women who come forward.
"If we have to catch the perverts on the streets then you should come forward and report these instances. Even if you witness it happening to someone else, please report these crimes. The police will take you seriously. There are helplines which have been set up and messages can be sent through WhatsApp as well. We have to work together to catch the perpetrators," Krishnamoorthy added.
Among the many experiences shared at the event, one point that arose repeatedly was the indifference or lack of support from bystanders or witnesses to public molestation. One participant narrated such an experience in a BMTC bus in September 2016, adding that there was no official response in her case either.
"I was on my way to work. The bus stopped at Corporation Circle and a man, who was relatively drunk, got into the bus. I was sitting in the ladies' seat, and he sat next to me. He then leaned on me heavily and I pushed him back. Throughout the ride, he kept staring at me. I informed the conductor and the driver. I also looked for help from the commuters. No one bothered to help me. I took a picture of the man and posted it on the Bengaluru City Police Facebook page but got no response. I reported the incident but no one did anything about it," said one of the protestors.
A law student, who witnessed an incident of molestation, spoke of his regret for being a bystander. "The incident happened four years ago, on New Year's Eve. I was on my way to Catholic Club and got stuck in traffic. I was looking out and observing what was happening and I saw some men who were catcalling. They were looking at three women and leering at them. I felt disgusted by their behaviour, but I also did not speak up against it. I regret that. I think it's time we all speak up and intervene if we witness such incidents," he added.
Many participants also said that the discussion of equal rights ended with private conversations between friends and did not go further.
"The first time I got drunk, it ended with me being molested. I cried about it to my friends and they shared similar experiences. It consoled me momentarily, but talking about it to your friends and family, discussing equality at the dinner table is not going to solve the issue. We need to try and change the mindset. We need to make our friends more conscious that a sexist joke made passingly is not okay. It has to start with everyday interaction," said a 23-year-old theatre professional.
The debate also touched on aspects where the change will occur with the change in the mindset. "This change has to begin from home. Some of us may have parents who themselves believe that women have to be back home after sundown. This is the conversation we need to have with our parents first," said another 24-year-old protestor.
Courtesy: The News Minute