It is a vindication of thousands of women safai karmacharis who threw off their baskets of slavery after 4,000 years, says Bezwada Wilson in an exclusive telephonic interview with Sabrangindia. Acclaimed Carnatic musician TM Krishna is also recipient of the award this year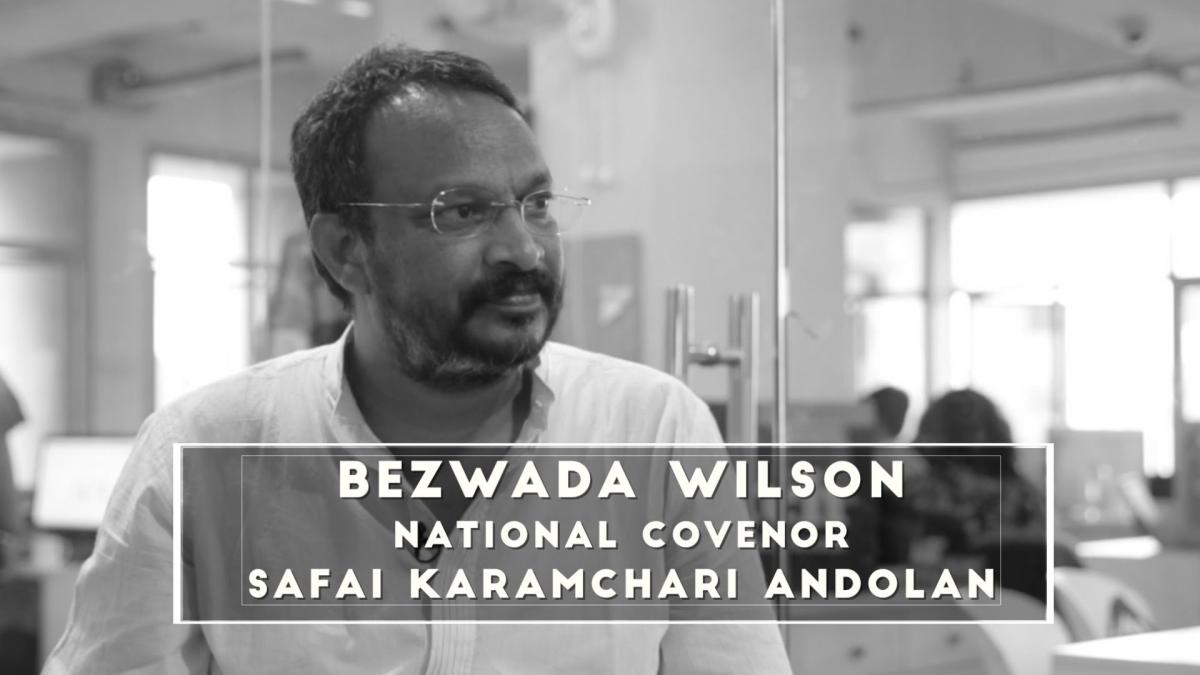 "I don't feel it is me receiving the award but it is the first one I have not refused," Bezawada Wilson to Sabrangindia

"It is a tribute to the ourageous women who flung off their signs of slavery and marched across India's districts in the Bhim Yatra over 2015-2016"

"Women will feel empowered, when the government is not supporting them, when compensation is not being given as is their legal due, that someone in the world cares for their plight and respects the organisation built to fight for justice for them"
The Citation of the Award reads:
"In electing Thodur Madabusi Krishna to receive the 2016 Ramon Magsaysay Award for Emergent Leadership, the board of trustees recognizes his forceful commitment as artist and advocate to art's power to heal India's deep social divisions, breaking barriers of caste and class to unleash what music has to offer not just for some but for all," his citation read.
As for Bezwada Wilson, he has been recognised by the board of trustees for 'asserting the inalienable right to a life of human dignity.'
"In electing Bezwada Wilson to receive the 2016 Ramon Magsaysay Award, the board of trustees recognizes his moral energy and prodigious skill in leading a grassroots movement to eradicate the degrading servitude of manual scavenging in India, reclaiming for the dalits the human dignity that is their natural birthright," his citation read.
"Fifty years old, Bezwada Wilson has spent 32 years on his crusade, leading not only with a sense of moral outrage but also with remarkable skills in mass organizing, and working within India's complex legal system. SKA has grown into a network of 7,000 members in 500 districts across the country. Of the estimated 600,000 scavengers in India, SKA has liberated around 300,000," it read.
On April 22, 2016 after the conclusion of the 125-day long Bhim Yatra, Sabrangindia had done this interview with Bezwada Wislson
Swacch Bharat Abhiyan invisibilises the linkage between Caste and Sanitation and glamourises the Broom among Scavenging Communities: Bezwada Wilson
Bezwada Wilson, National Convener of Safai Karmachari Andolan in conversation with Subhash Gatade

The 125 day Bhim Yatra which started from Dibrugarh and traversed 30 states and 500 districts to reach Delhi is now over. Sabrangindia.in has been following the yatra since its first steps to concientise Indians.
This country-wide mobilisation culminated in a massive rally and People's Hearing where families of those victims who died while cleaning sewers and septic tanks shared their plight at the hands of State and fellow citizens. 'Stop Killing Us' was the call given by these brave marchers seeking to shake the conscience of state and society,

How do you see the impact of 'Bhim Yatra' ?
As far as those people who are still condemned to do scavenging is concerned, the 125 day Bhim Yatra has made an impact at two significant levels :
– First, it has made people aware that a new law (the 2013 act) has come into existence for elimination of manual scavenging and they should make use of it for their liberation.
– Second, is that (because of this mass countrywide mobilisation) people are realising that we should not do this work, we should leave this work altogether. Babasaheb's teachings that depressed classes should leave all such professions which are stigmatised and which further help stigmatise them has reached a broader cross sections of people engaged in cleaning and scavenging.
The slogan 'Leave the Broom, Take the Pen' is slowly reverberating across people especially among the youth.
How do you look at the response of the civil society towards manual scavenging in general and the Bhim Yatra in particular?
As anybody can see civil society can play an important role in eradication of this practice by popularising the law(s) or policies formulated to eliminate it or become proactive by intimating the police if violations of the law occurs but it does not do it. The fact that there was no conviction under the 1993 act and the passage of the 2013 act has also not made any change in the situation on the ground is definitely a reflection of the 'silence' and 'connivance' in the continuation of this practice.
The question that arises is why 'civil society' – which seems aware enough to join other causes – prefers to resort to a silence when the issue of manual scavenging crops up. My understanding is that civil society is definitely aware of this practice but seems more worried about the immediate future regarding removal of human waste and prefers to keep mum about it. Citizens become worried over the possibility that if the Safai Karmcharis decide to quit this demeaning profession one day, who will clean their shit? Perhaps they will have to get ready to dirty their own hands?
Also there is another aspect to this limiting and hypocritical attitude: whenever the issue of manual scavenging comes up, the discussion centres around the manner in which people are condemned to do such 'dirty' work; the discussions never move beyond to, for instance, how do we promote, rehabilitate those who leave this profession?
Coming to the Bhim Yatra specifically, it has actually shaken off this avoidance and complacency: many citizens joined the processions held at different places and also addressed meetings, in solidarity. The Yatra also evoked positive response in sections of the media.

What is your future plan after the Yatra ?
We have given memorandums to different statutory authorities and asked them to take immediate steps to eliminate this ongoing practice, as is mandated by the law. We clearly want that there should be no further delay, no more shifting of deadlines.
Seventy years since Independence but the Scavenging Communities still yearn for real freedom from age-old slavery of a very different kind, demeaning work which is debilitating and also leading to untimely deaths of manual scavengers. Indians should not forget that Safai Karmacharis of all kinds have a shorter life span than other workers since under the name of occupational hazards they are exposed to poisonous gases and dangerous substances and also meet with fatal accidents.
One thing is clear. If the government does not listen to us we will come in our thousands and thousands to Delhi and would sit before the Parliament to pressurise it so that it mends its ways.
In fact, we have been emphasising this point throughout our public meetings held during the Yatra that Ours is a Struggle for Dignity and it is a struggle which we not only have to take forward and but one that may demand huge sacrifices. Yes, other justice loving people would definitely join us, but if we are not ready to protest, struggle and sacrifice how can the rest of the people help us?
There are many other routes open to continue the struggle. For example, we also plan to approach the Courts for a strict implementation of the 2013 act. We also realise that merely giving petitions, moving courts or organising sit-ins is not going to solve the problem, it is time that Safai Karmacharis organise themselves at the national level and declare a strike –stop to clean everyone's shit!–only then society and state wake up from its deep slumber.
There are many like-minded parties and organisations who are working for the cause of Safai Karmacharis and we also plan to contact them or interact with them so that there is large scale mobilisation at the national level. At the immediate level we also plan to focus on the six states where according to government survey only no of dry latrines is significant.
What is your assessment of the Swacch Bharat Abhiyan ('Clean India Campaign') which was launched with much fanfare by the present government ?
The basic problem with the Swacch Bharat Abhiyan is that it de-contextualises the issue of sanitation from its social roots. It is since 1991 – after the b1rth centenary year celebrations of Babasaheb Ambedkar (born on April 14, 1891)—that we first initiated this campaign of Safai Karmacharis. Through this agitation and the propaganda around it, an awareness slowly built that reflected our argument which was essentially this: in the Indian context 'sanitation is a caste based, patriarchy based profession' and must be understood as such.
This argument slowly began to receive a wider acceptability, also. The cumulative impact of our intervention as well as other initiatives could be noticed in the fact that the Central Government deemed it necessary to have a new law replacing the earlier law vis-a-vis manual scavenging, where the very definition of manual scavenging was widened and sewer workers and workers cleaning septic tanks were also included within its ambit.
The communities which are engaged in the work of cleaning because of the hierarchical caste system based on purity and pollution also witnessed a new awakening and at many places people especially women came together to demolish dry latrines, deciding at the same time not to compel the younger ones of the family to continue with this profession.
The way Swacch Bharat Campaign looks at the work of cleanliness is deeply problematic. It calls it everybody's work – one can even look at the Swacchata Pledge administered by the Honourable PM to everyone when he launched the campaign "Ab hamara kartavya hain ki gandagi ko door karke Bharat Mata ki sewa karein" (Now, it is our duty to serve Mother India by removing the dirt).
This whole approach not only invisiblises the inter-linkages which exist in India between cleanliness and caste, where you (the caste system and caste hierarchies) have condemned a number of communities – called by different names at different places – to do this work and only do this work. It also, by exclusion, hides the achievements by mobilisations and movements of the Safai Karmacharis which have tried to contextualise the issue of cleanliness in this part of South Asia. It is these mobilizations that have succeeded in highlighting the fact that without addressing the issue of caste it is impossible to deal with the question of cleanliness.
You can also notice the huge gap between what is being said (at the top level) and how things unfold on the ground. The Swacch Bharat Abhiyan was launched, celebrities came, and there were Photo-Op sessions with brooms in their hands. But, today who is cleaning the dirt? Not the celebrities, not the stars but it is we who are doing it. In a way, the Swacch Bharat Campaign tries to further glamourise the broom among those communities for whom the broom –and headloads of shit — is an unspeakably undignified burden. We have been doing this work for centuries, it is undignified work, demeaning work, invisible work and we have declared that we will not do it!

(Based on the discussion with Bezwada Wilson; the conversation has been edited by Sabrangindia)
References:
1.Stop Killing Us: the Bhim Yatra of India's Manual Scavengers tells the Indian government
2. Bhim Yatra: 'Stop Killing Us in Dry Latrines, Sewers and Septic Tanks'
3. Dignity for Those Who Clean Our Filth
4.Bhim Yatra- Golaghat(Assam) and Dimapur(Nagaland)
5. Swacch Bharat Abhiyan Invisibilises Caste and Glamourises the Broom: Bezwada Wilson
6. Dignity for Those Who Clean Our Filth
7. Bhim Yatra- Golaghat(Assam) and Dimapur(Nagaland)
8. 100 day Accountability Yatra- Rajasthan
9. Swacch Bharat Abhiyan Invisibilises Caste and Glamourises the Broom: Bezwada Wilson