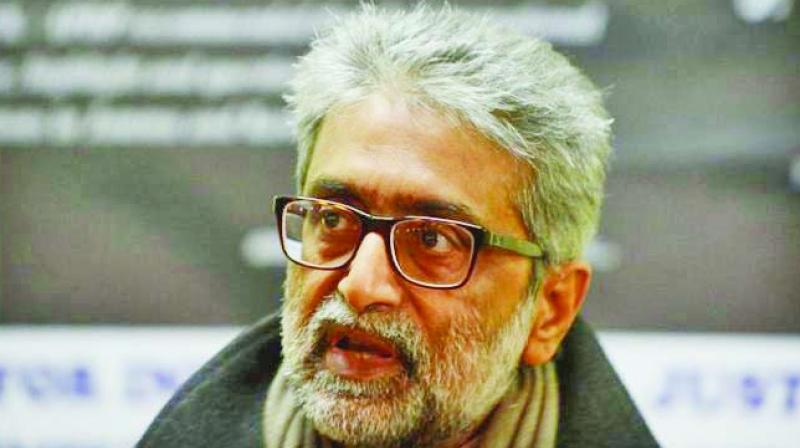 Gautam Navlakha, accused in the Elgar parishad case has been denied default bail by a special Court in Bombay. Navlakha had surrendered to the National Investigation Agency (NIA) in April this year and was lodged in Tihar jail from where he was transferred to Taloja jail in Mumbai, during the lockdown. He is facing serious charges under the draconian Unlawful practices prevention Act (UAPA) along with other social activists for being allegedly involved in inciting caste based violence at Elgar Parishad in Pune.
Navlakha's counsel Advocate Ragini Ahuja argued stating that as per section 167 of the CrPC, the investigating agency, NIA, had failed to complete its investigation and file a chargesheet within the stipulated period of 90 days and hence Navlakha was entitled to default bail. The Assistant Solicitor General, Anil Singh, appearing for NIA argued that the application for default bail was not maintainable and sought extension of time for filing chargesheet to 180 days. The Judge D.E. Kothalikar accepted NIA's plea and granted the time of 180 days for filing chargesheet thus effectively dismissing Navlakha's bail plea which means he will have to continue to remain in NIA's custody in Taloja jail. Further, the NIA has been granted Navlakha's custody for 10 days for the purpose of questioning him in the Bhima Koregaon case. After he was transferred from Delhi to Mumbai he has been kept in a quarantine facility in Taloja where the conditions, per his own account to his partner Sahaba Hussain, are deplorable. NIA also sought extension of time for 180 days to file chargesheet in this case, for another accused, Anand Teltumbde and the same has also been granted by the special court.
The special court at Mumbai has repeatedly denied bail to all accused in this Elgar parishad case whereby the case is that the accused are a part of a maoist movement and they were involved in inciting caste based violence that took place during the Elgar parishad held on December 31, 2017 to celebrate the 200th anniversary of the Bhima Koregaon Battle. The other accused in the case, Vernon Gonsalves, Varavara Rao, Surendra Gadling, Anand Teltumbde, Mahesh Raut, Rona Wilson, Arun Ferreira and Sudhir Dhawale are lodged at Taloja while Sudha Bharadwaj and Shoma Sen are lodged in Byculla jail. None of the accused in the case have managed to secure bail till date.
His bail proceedings were pending before the Delhi High Court when he was removed from the court's jurisdiction by bringing about a quick transfer from Delhi to Mumbai. The Delhi high court had termed this transfer of Navlakha from Delhi to Mumbai as "hasty". The Delhi High Court had in fact sought the details of the proceedings of the production warrant issued by the Special Court in Mumbai. The same was challenged before the Supreme Court and the apex court stayed the proceedings before the Delhi High court stating that Navlakha's remedies lie in Bombay. The apex court also expunged the Delhi high court remarks against the NIA calling the whole transfer procedure hasty and whimsical.
On July 12, family members of Varavara Rao, a renowned Telugu revolutionary poet, aged 79, in a video meeting spoke about this deteriorating physical and mental health as he remains lodged in Taloja jail. His co-prisoners, including Vernon Gonsalves also informed his family members during a routine telephone call that he was delirious and unable to perform daily tasks, thus in dire need of urgent medical care.
While these social activists are languishing in jail, the accused in another FIR, Milind Ekbote has been roaming free on bail since 2018. He, along with Sambhaji Bhide was accused of instigating and orchestrating the violence at Bhima Koregaon, while the case against Bhide was withdrawn for lack of evidence, Ekbote who is the president of Samasta Hindu Aghadi was arrested for a brief period. He, in fact enjoys relaxed bail conditions as he is allowed to speak to media and attend public rallies since January 2019. Ekbote has been a former BJP corporator in Pune, while Bhide who is also known as Bhide Guruji as per the Quint's report, has close connections to PM Narendra Modi himself.
Related:
Don't Kill Varavara Rao in Jail!
Mahesh Raut, Bhima Koregaon-11's youngest activist spends another birthday in prison
SC stays Gautam Navlakha's bail proceedings at Delhi HC; NIA says HC acted without jurisdiction