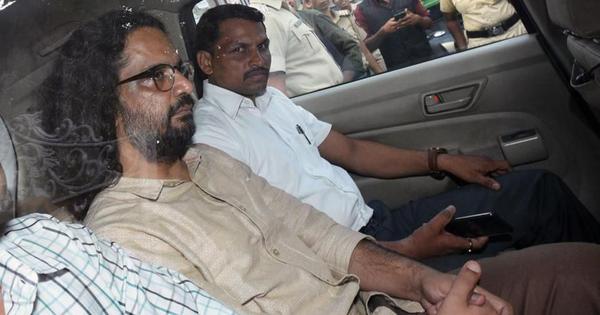 Image: Hindustan Times

Special National Investigation Agency (NIA) Court's Judge DE Kothalikar has granted interim bail to Bhima Koregaon accused Rona Wilson from September 13 to September 27 to attend the ceremonial mass scheduled on September 16, 2021 by his family. Rona's father Jacob Wilson, breathed his last on August 18.
According to a LiveLaw report, Wilson has been directed to furnish a personal bond of Rs 50,000 with two sureties and submit details of his travel and stay in Kerala to the Superintendent of NIA. Judge Kothalikar has imposed other bail conditions on Wilson, like reporting to the local police station on September 14 and 24 and not leaving Kerala. He has also been reportedly asked to surrender his passport to court and submit the addresses of at least three relatives for verification.
He was arrested on June 6, 2018, and has been accused of being a member of the banned Communist Party of India (Maoist). He has been further accused of contacting accused Sudhir Dhavale, who was working through the medium of Kabir Kala Manch, a troup or folk artists who use music and drama to highlight social ills like caste and gender-based discrimination. It was also alleged that the members of Kabir Kala Manch spread hatred through their songs, plays and speeches causing enmity between different communities. As a result, there were incidents of violence, arson and stone pelting near Bhima Koregaon.
Wilson had sought bail for two weeks from September 13, 2021, citing a ceremonial mass and that if he is allowed to meet his family, it would bring him solace. But NIA had opposed his plea for interim bail.
According to Bar & Bench, NIA had opposed the application, while submitting that the family prayer for the death of Wilson's father could be done by Wilson's brother and other family members. Their reply read, "The applicant/accused presence indeed does not necessitate neither it is proved by the applicant/accused that the gathering/ceremony will not be or cannot be carried in his absence, as such no relief is called for."
Special Public Prosecutor Prakash Shetty had also submitted before the court that the final rites were already over, hence Rona Wilson was merely creating a ground for release and may carry out illicit activity or tamper with prosecution evidence.
Recently, co-accused Surendra Gadling was granted interim bail on humanitarian grounds to complete the rituals related to his mother's passing. His mother died in August 2020 but his plea for bail was denied then by the Special NIA court and the last rites and other rituals could not be conducted due to the Covid-19 pandemic.
In his case too, the NIA had opposed his plea while pointing to the seriousness of the allegations and the role attributed to Gadling. NIA also assailed the tenability of the prayer as the very reason for which the grant of temporary bail was sought, does not survive any more. NIA also contended that the new reasons cited by him are untenable as the rites and rituals can be performed by any other family member.
Another plea filed by Rona Wilson is pending before the Bombay High Court based on the Arsenal report that concluded that evidence was planted on his laptop via a malware called Netwire. He has demanded an inquiry by a Special Investigation Team (SIT) into this possible planting of evidence on his laptop.
Related:
NIA court failed to take humanitarian approach: Bom HC grants temporary bail to Surendra Gadling
Bhima Koregaon: Surendra Gadling gets interim bail to perform mother's death anniversary rituals
Bhima Koregaon: Jailed activist Rona Wilson's father passes away
Rona Wilson moves Bombay HC, demands probe into 'planted evidence'