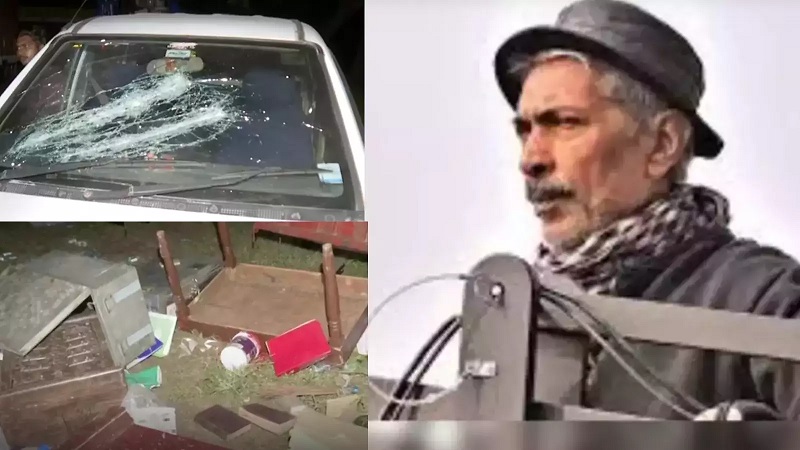 Image Courtesy:timesofindia.indiatimes.com
Madhya Pradesh, which has seen a spurt in hate filled occurrences, recorded another unfortunate incident of vandalisation and assault in the capital city of Bhopal on Sunday, October 24. Bajrang Dal, a right-wing group affiliated to the wider Sangh Parivar, vandalised the set of filmmaker Prakash Jha's web series, Ashram, featuring actor Bobby Deol, as they claimed it was an assault on Hinduism.
The members went on a rampage, chasing crew members and beating one with a metal light stand. Apart from vandalising cars, the members also threw ink at Jha.
Activists of the Bajrang Dal allegedly went on the rampage during the ongoing shooting of Prakash Jha directed web series Ashram-3 in Bhopal, ransacking property, including vehicles and also assaulting crew members @ndtv @ndtvindia pic.twitter.com/VbQvGtxqOy

— Anurag Dwary (@Anurag_Dwary) October 24, 2021
In a video by NDTV, Bajrang Dal leader Sushil Surhele said, "Madhya Pradesh encourages filming but you cannot use our land to disrespect Hinduism. There are many ashrams and gurukuls in the country." He has further stated, "Prakash Jha showed in Ashram that the guru was abusing women. Does he have the guts to make such a film on a church or madrasa? Who does he think he is?"
Interestingly, sexual harassment and assault cases in Ashrams have not escaped judicial scrutiny. Self-styled godman, Asaram Bapu, is currently serving life sentence in Jodhpur Central Jail for raping a minor 16-year-old girl. As per reports, there is another pending case against him and his son in Gujarat filed by two sisters for illegal confinement and repeated rape.
NDTV also quoted Sushil saying, "Bajrang Dal challenges him, we won't let him make this film. So far, we have just blackened Prakash Jha's face. We are looking for Bobby Deol. He should learn something from his brother (Sunny Deol). He made such patriotic movies." In this series, Deol is reportedly playing the role of a preacher whose followers have blind faith in him, but he is a conman.
As per an IE report, four people have been detained in connection with this case and Bhopal's DIG Irshad Wali, said that no FIR has been registered and no complaint has been made by Prakash Jha or the crew member who was assaulted.
In 2017, Director Sanjay Leela Bhansali was attacked by right wing group members, Karni Sena, on the sets of "Padmaavat" (earlier Padmaavati), for allegedly showing Rajputs in bad light. They also forced the filmmakers and producers to change the title of the film. The Kshatriya community had even announced a reward of Rs. 1 crore to a person who would chop off Deepika Padukone's ears and nose.
In another instance, Amazon Prime web series, Tandav, was embroiled in a controversy where BJP members filed an FIR against the makers of the show for allegedly hurting the sentiments of Hindus by disrespecting Hindu Gods. The director, producer and writer of the series and Amazon's head of India Original Content, were accused of promoting religious enmity and defiling a place of worship. The Supreme Court, for now, has granted the Amazon Prime Video's India head Aparna Purohit, protection from arrest.
Related:
Aamir Khan: Surviving in the regime's crosshairs
Is Madhya Pradesh steadily turning into a communal hot bed?
Tandav controversy: SC grants interim protection to Amazon India content head
Tandav controversy: Convenient distraction from an on ground crisis?